Saturday, November 18, 2023
Make Ready Your Hearts, So Your Name Will Be Found in the Lamb's Book of Life
A Message from Saint Michael The Archangel Given to Beloved Shelley Anna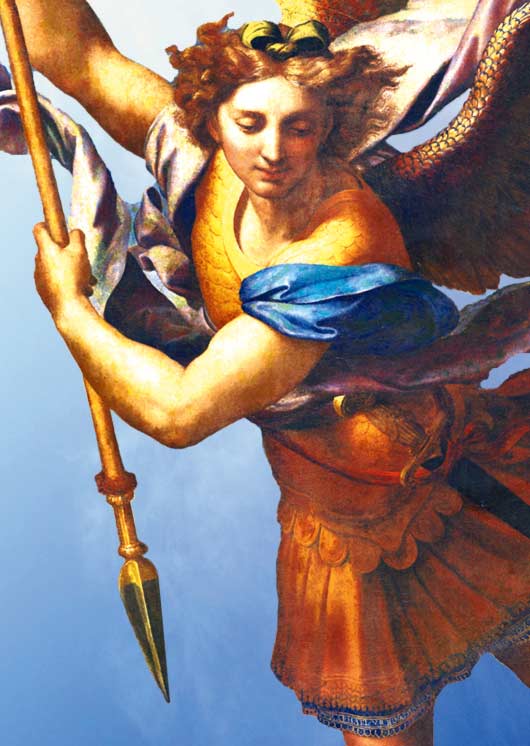 As Angelic feathers overshadow me, I hear Saint Michael The Archangel say,
Beloved Heart-dwellers of Christ Jesus
Receive the Blessings that flow forth from Our Lord and Savior's Sacred Heart this day!
No one knows the day or the hour!
Use your senses!
Awaken from your slumber and acknowledge the signs that are all around you. Signs that signal and point to Our Lord's Return.
The sun and the moon will grow dim as the heavens lament and the earth travails. A darkness will descend as the bride of Christ makes ready for her departure.
The elements of earth will soon issue forth God's bowls of anger, as the trumpets begin to sound.
The Lamb of God will begin breaking open the seals of seven, the number of completion.
Beloved Ones of Our Lord and Savior
Make ready your hearts, so your name will be found in the Lamb's Book of Life.
FALSE PROPHETS
Proclaim false messages to instill fear, and promote panic amongst the human creature with unestablished faith.
Pray for discernment as you watch and pray by the light of your blessed candles.
LOOK UP!
Your Redemption draws nigh!
Beloved Heart-dwellers of Christ
You will not face the trials of the great tribulation!
I, Saint Michael The Archangel, will defend you with My sword unsheathed, and My shield always before you.
Thus saith, Your Watchful Defender.
Daniel 12:1-2
At that time Michael, the great prince who protects your people, will arise. There will be a time of distress such as has not happened from the beginning of nations until then. But at that time your people—everyone whose name is found written in the book—will be delivered. 2 Multitudes who sleep in the dust of the earth will awake: some to everlasting life, others to shame and everlasting contempt.
Conformation Scriptures
1 Thessalonians 5:9-11
For God has not destined us for wrath, but to obtain salvation through our Lord Jesus Christ, who died for us so that whether we are awake or asleep we might live with him. Therefore encourage one another and build one another up, just as you are doing.
Mark 13:5-6
Jesus said to them: "Watch out that no one deceives you. Many will come in my name, claiming, 'I am he,' and will deceive many.
Psalm 17:6-8
I call on you, my God, for you will answer me; turn your ear to me and hear my prayer. Show me the wonders of your great love, you who save by your right hand those who take refuge in you from their foes. Keep me as the apple of your eye; hide me in the shadow of your wings
Philippians 3:13
Brothers, I do not consider myself yet to have taken hold of it. But one thing I do: Forgetting what is behind and straining toward what is ahead, I press on toward the goal to win the prize for which God has called me heavenward in Christ Jesus.
Matthew 7:15
Beware of false prophets, which come to you in sheep's clothing, but inwardly they are ravening wolves.
Revelation 21:27
And there shall in no wise enter into it any thing that defileth, neither whatsoever worketh abomination, or maketh a lie: but they which are written in the Lamb's book of life.
Acts 2:19
And I will shew wonders in the heaven above, and signs on the earth beneath: blood and fire, and vapour of smoke.
Luke 21:25-26-27-28-31-30-29
And there shall be signs in the sun, and in the moon, and in the stars; and upon the earth distress of nations, with perplexity; the sea and the waves roaring;
Men's hearts failing them for fear, and for looking after those things which are coming on the earth: for the powers of heaven shall be shaken.
And then shall they see the Son of man coming in a cloud with power and great glory.
And when these things begin to come to pass, then look up, and lift up your heads; for your redemption draweth nigh.
So likewise ye, when ye see these things come to pass, know ye that the kingdom of God is nigh at hand.
When they now shoot forth, ye see and know of your own selves that summer is now nigh at hand.
And he spake to them a parable; Behold the fig tree, and all the trees;
St Luke 21:7-11
And they asked him, saying: Master, when shall these things be? and what shall be the sign when they shall begin to come to pass? Who said: Take heed you be not seduced; for many will come in my name, saying, I am he; and the time is at hand: go ye not therefore after them. And when you shall hear of wars and seditions, be not terrified: these things must first come to pass; but the end is not yet presently. Then he said to them: Nation shall rise against nation, and kingdom against kingdom. And there shall be great earthquakes in divers places, and pestilences, and famines, and terrors from heaven; and there shall be great signs.
Matthew 24:36
But about that day or hour no one knows, not even the angels in heaven, nor the Son, but only the Father.