Wednesday, January 4, 2012
Message from Our Lord Jesus Christ
To His Beloved Daughter Luz De María.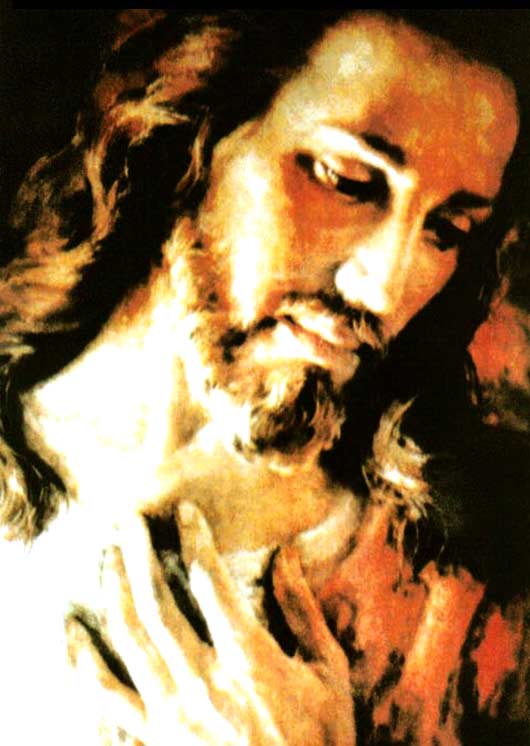 My beloved children:
MY FOOD IS LOVE AND WITH IT I GUIDE YOU.
The instant will arrive in which My Children will say that I measure out very harshly the path already traveled. Humanity will have forgotten that it has abused of My Mercy.
TOO MANY WILL FALL BY THE WAYSIDE,BEING LUKEWARM. IT WILL BE A GREAT STRUGGLE FOR THOSE WHO PROPOSE TO MAINTAIN THE EYES OF THE SOUL CLEAN.
The flesh will siege man and will be one of the great temptations. The modernisms against morality are a great offense towards My Heart and still those who call themselves My Followers fall into the sins of the flesh, since the human mind is totally invaded so as to lead you to not detach yourselves from those pleasures. Sensuality is a trap that is placed before man so that he continues in serious errors. Evil fights for souls in a bloody struggle.
I invite you to oxygenate the windows of the heart so that you empty them of all that is dragging you towards perdition. The fashions gradually cause women to fall and men dress as women. Femininity is exploited for evil and is a cause of temptation.
The instant will arrive, although late, in which man will realize that the love for the earthly drags him toward evil. Only the desire of each human being of being respected will truly lead him or her to respect his or her neighbor.
These are instants in which the pupils of the eyes of man have not been able to remove the cobweb that prevents them from seeing everything in a different way. Human reason and intelligence have been dirtied with everything that surrounds them.
Children, do you wish to change the world? First change yourselves and you will see abundant fruits. Do not be like the hypocrites who claim to do what in reality they do not do.
THIS INSTANT IS FOR THE HEROES WHO DO NOT LOOK AT THEMSELVES BUT GIVE EVERYTHING FOR ME.
THIS INSTANT IS NOT FOR THOSE WHO CLAIM TO LOVE ME AND KEEP HUMAN RESPECTS. THIS INSTANT IS NOT FOR THOSE WHO ARE NOT FRANK AND RELEGATE MY MATTERS FOR THEIR PERSONAL INTERESTS.
In each act and work that I allow, I pour out blessings in abundance.
The ignorance of the majority before the events that loom over humanity has invaded the shrewdest. All those who should discuss about the scientific events that are going to make peace and truth fall in the world are silent out of fear.
THE WATERS ARE SHAKEN STRONGLY, THE CHANGES WILL HAPPEN SUDDENLY, HUMANITY WILL SUFFER FROM NATURE TO THE THRONE OF PETER, WHICH WILL FIND ITSELF SHOCKED AND MY PEOPLE WILL FALL INTO THE WRONG HANDS.
The great changes lie ahead, because man has not changed no matter how many benevolent announcements that I send. That is why you will receive the fruit of your tepidity. The instant is depleted more each time…
Evil is fanning the fire of free will. Scientific advances will cause more harm than man could ever have imagined and will be fruit of the lack of control in their management. As for food, there will be surprises, it will be contaminated with radioactivity.
The lament begins, inside the earth boils like a cauldron, the great pains begin their trajectory. You will learn that you must give to Caesar what is Caesar's, and to Me, what is Mine.
You wish to change too many rites in My Church and you scourge it severely. Man does not stop to think on the sate of his soul, of his behavior and of his morality. The last shall be first and the first shall be last.
The chaos makes Me descend to rescue My People, in Glory and Majesty. I will come for those who have remained in faith and eagerly await My Second coming. These same ones, however, do not prepare to receive Me, they continue their life the same, talking and discoursing, but they do not make the firm intention of amending their path.
I SPEAK FOR THOSE WHO ARE SILENT. I AM A SHEILD FOR MY FAITHFUL.
I AM WHO AM.
I PROTECT MY PEOPLE.
I AM A COLUMN OF CLOUDS, I AM MANNA, I AM MERCY, PEACE AND HUMILITY.
Woe to those who beat their breast and on the inside keep it full of filth!
I Am hope, you are not alone, remain faithful to My calls. You do not walk alone, I am the way.
This instant is for reconsidering and deciding on a total change. I do not want children of actions contrary to My requests or My Commandments. These souls live in constant danger of falling and not getting up anymore.
Look on high, the signs do not wait for you to discern.
The goodness of My Mercy remains with the merciful.
MY TRUTH WALKS WITH THE ONE WHO LIVES AND PRACTICES TRUTH.
MY WISDOM REMAINS WITH THE ONE WHO IS HUMBLE.
I love you.
Your Jesus.
HAIL MARY MOST PURE, CONCEIVED WITHOUT SIN.
HAIL MARY MOST PURE, CONCEIVED WITHOUT SIN.
HAIL MARY MOST PURE, CONCEIVED WITHOUT SIN.