Wednesday, January 25, 2012
Message from the Blessed Virgin Mary
To Her Beloved Daughter Luz De María.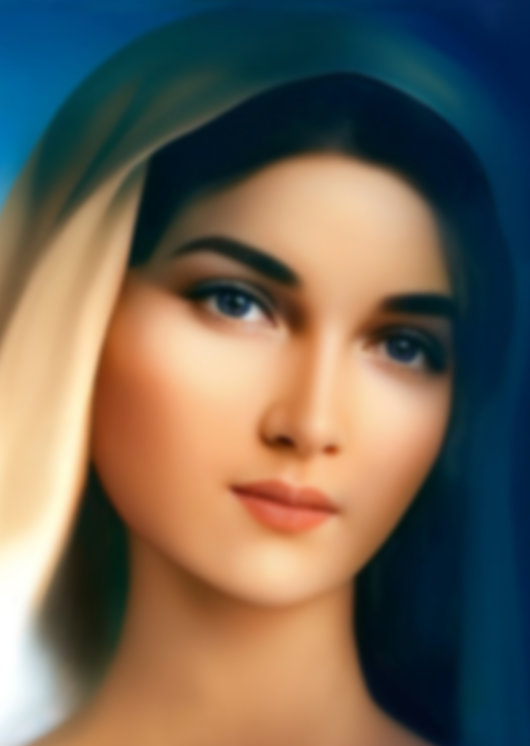 Beloved children of My Immaculate Heart:
I LOVE YOU, I BLESS YOU, AS PILGRIM MOTHER OF HUMANITY.
ONCE AGAIN MY CALL IS UNIVERSAL.
From here where I find Myself, surrounded by My Priests, favored sons of My Heart, Consecrated faithfully to the service of the Church, favored of My Son Jesus Christ. Surrounded by My beloved religious sisters, Wives of My Son. Surrounded by these faithful souls who fight consciously, instant to instant to take steps of Eternal Life. From here I address the whole world, all of humanity.
INSTANTS ARE COMING THAT ARE EXTREMELY DIFFICULT SPIRITUALLY AND IN ALL THE OTHER ASPECTS OF HUMAN LIFE.
EVERYTHING CAN BE CONQUERED IF THE PERSON IS FILLED WITH FAITH AND IT IS FIRM AND SOLID, SET UPON IMMOVABLE ROCK AND NOT UPON QUICKSAND.
Beloved children:
In this instant you must be willing and ready to suffer a spiritual metamorphosis so that you allow that Jesus, living and beating who dwells within each one of you, to be reborn within you.
All human beings are Tabernacles, but human will prevents Him and My Son finds Himself imprisoned and thrown far away from those Temples created in the image and likeness of the Divine Image.
IN THIS INSTANT HUMANITY MUST BE AWARE OF THE INDISPENSABLE NECESSITY OF A RADICAL
CHANGE. THOSE WHO ARE LUKEWARM,
THOSE WHO ARE LUKEWARM I WILL VOMIT SAYS THE DIVINE WORD.
And I as Mother, come to implore My children to listen to My Call and My Lament because I do not want any of you to be lost.
You must distance yourselves from that leprosy you carry with you, from that leprosy of misconduct, of bad habits, but above all from that leprosy of human egoism that grows each day like a giant and excels above spiritual values. This leprosy has a name, that leprosy is egoism, the human "ego" that has risen in you from birth and has led you to grow improperly.
YOU HAVE AN OPPORTUNITY TO CHANGE IN EVERY INSTANT AND THIS IS THE PRECISE INSTANT IN WHICH ABOVE WHAT YOU WANT, WHAT YOU SIGH AND PINE FOR, ABOVE HUMAN DESIRE IS THE COMMANDMENT OF LOVE.
WHEN YOU CEASE TO LOOK AT YOURSELVES AND LOVING ONE'S BROTHER AND SISTER PREVAILS, THERE YOU WILL HAVE SUFFERED THAT SPIRITUAL METAMORPHOSIS.
All have that infinite beauty of the Divine Image, you carry it within, but you maintain it imprisoned and the leprosy gnaws not only your flesh, but it has reached and transcended to the heart gnawing your soul.
Beloved children, how I have announced that times will come in which My beloved Church, because it is My Son's Church and My beloved Church, will be crucified again! Times in which apostasy will come and My Son's Faithful will have to gather as the first Christians did. And this is because humanity has preferred a science contaminated by evil to a Divine Science.
You call technology; you call scientific advancement that which is actually a scientific retrogression, since science and technology in this instant are orientated to kill the spirit and to kill the human being, to bring spiritual death and death to life, WAKE UP, WAKE UP!
When I invite you to see the signs given in the firmament it is not only so that you marvel or to infuse fear in you, but so that you see that from Heaven Light emanates towards the Earth, and that that Light must be visible in the being of each one of you.
YOU MAKE EVIL GROW AND WITH EVIL THE DEVIL GROWS.
THE DEVIL EXISTS AS LONG AS MAN FEEDS HATRED, INCOMPREHENSION, LOVELESSNESS, INDIFFERENCE AND EGOISM, AMONG OTHERS.
Beloved children of My Immaculate Heart:
Know the Scriptures so that you love Him who across human history, in the Old and New Testament, has given man Eternal Life, giving in the Old Testament, His Word as Father through His Prophets, and in the New Testament giving Himself in His Son, My Son Jesus Christ and leaving His disciples so that they continue throughout time to bring His Word and inviting man to conversion.
I have spoken of those days in which many of My Priests out of human respects will no longer call My Son's People with all the necessary intensity so that they change, but as Mother of Humanity I must call each thing by its name.
Religious groups exist, but this Mother comes to beg to those religious groups to be communities where human beings love in spirit and truth. That they be spiritual cenacles in which My Son's Word is truly lived, where jealousies and envy do not exist but you love one another as brothers and sisters, where human selfishness is crushed with pain but with true awareness so that those children that dwell within each one of you are reborn and that must radiate light towards all of humanity.
TRANSFORM YOURSELVES, LOOK AT YOURSELVES!
NOW is the instant of instants in which I cry out for prayer again for Japan which will suffer.
In which I cry out and have cried out for prayer insistently for the United States, which will suffer greatly.
In which I cry out for prayer for Chile.
In which I cry out for each human being.
HELP EACH OTHER, EACH ONE INTERCEDING FOR HIS OR HER BROTHERS AND SISTERS EVEN THOUGH YOU DO NOT KNOW EACH OTHER PHYSICALLY.
I have spoken about times that will come in which you will see some of your brothers and sisters rise to proclaim My Son's Word and take My Word to humanity. Do not be a stumbling block for them. That the heart of those true spiritual children who pray and who help those that carry My Son's Word throughout all humanity rejoice and exult! Blessed are the doors of the homes that open to give lodging to those who share My Son's Word with their brothers and sisters!
Blessed are the hands that help, blessed are the feet that aid the path of My Evangelizers… and woe to those who are stumbling blocks!
I have been entrusted from previous apparitions to be the Messenger, to be Mother, to be Giver, to be an Ark of Salvation for this generation. Here I am before you who give testimony of this so that humanity believes.
TIME IS NOT TIME AND BEFORE YOUR EYES YOU WILL SEE FULFILLED WHAT I HAVE ANNOUNCED.
WITH ASTONISHMENT YOU WILL SEE IT,
BECAUSE THIS MOTHER DOES NOT COME TO HER CHILDREN WITH EMPTY WORDS.
Pray, ask the Holy Spirit to illuminate your mind and the conscience of the youth so that they return to being children of profound spirituality. That spirituality that is lacking in the youth is a reflection of the spirituality that is lacking in adults.
CHILDREN, TRANSCEND, LEAVE THAT CONTAMINATED FLESH THAT HAS REACHED EVEN TO THE
HEART AND HAS HARDENED IT; ALLOW ME WITH MY HANDS TO SOFTEN YOUR HEARTS OF STONE
AND ABANDON YOURSELVES ENTIRELY IN MY SON'S ARMS.
Everyone has Eternal Life before them, but each one must fight because Eternal Life is personal.
Let each one of you be a messenger of My Son's Love, of the Love of this Mother, of this Christ who, being innocent, gave Himself up for you and who currently still continues to be crucified instant to instant.
Be the ones to listen, read and treasure My Calls, be comfort for My Son and for this Mother.
The unity of My children is the antidote so that evil does not penetrate into the Church, into homes and communities.
ONWARD BELOVED CHILDREN, ONWARD IN UNITY AND FULFILLING THE COMMANDMENT OF LOVE.
Remain in My Son's peace.
Mother Mary.
HAIL MARY MOST PURE, CONCEIVED WITHOUT SIN.
HAIL MARY MOST PURE, CONCEIVED WITHOUT SIN.
HAIL MARY MOST PURE, CONCEIVED WITHOUT SIN.