Wednesday, March 14, 2012
Message from the Blessed Virgin Mary
To Her Beloved Daughter Luz De María.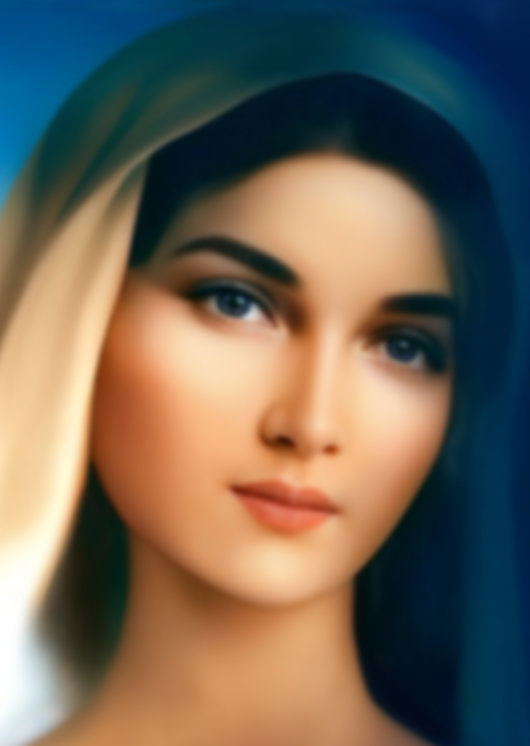 Beloved children of My Immaculate Hart:
I BLESS YOU, I LOVE YOU, I CARRY YOU WITHIN MY MATERNAL HEART.
Like in a desert, so My Heart aches at not receiving the correspondence of love from all My children entrusted to Me at the foot of the Cross. My children, because you are My Son's children, and as His Mother, so I consider you and love you.
I CALL YOU TO ACCOMPANY MY SON PRESENT IN TABERNACLES where He is forgotten and abandoned, disrespected and on occasions offended. Make reparation for this, for this very grave offense to My Son.
I INVITE YOU TO COME TO ME. My Son has entrusted this final instant of this generation to Me so that I guide you lovingly by the path of faith, of humility, of charity, but above all inviting you and guiding you with My Maternal Love so that you eliminate from yourselves all that is not love, all that does not belong to My Son, all that is worldly and has come to take the place that corresponds to My Son.
How much damage an atomic explosion causes humanity and Creation! And how much damage you cause yourselves through sin when it takes possession of the internal terrain, which must be more spiritual, more of My Son, more divine and is totally made worldly by you!
I INVITE YOU TO RETURN TO THE PATH, TO STOP AND EACH ONE LOOK AT HIMSELF OR HERSELF, but truly look/see yourselves to face this spiritual battle that is being carried out and will increase in the coming instants.
IT IS ESSENTIAL THAT YOU ARE CONSCIOUS THAT MY SON IS THE KING AND YOU HIS CHILDREN. It is essential that you totally give yourselves to Divine Love and banish forever those mundane gods that today saturate not only the mind and thoughts but the eyes, the ear, the heart and the body of some of My children, some… who are the great majority.
WITH HOW MUCH MERCY HAS MY SON TRIED TO GUIDE YOU,
AND LIKE A PEOPLE EXCEEDINGLY DISOBEDIENT YOU DO NOT RESPECT THE DIVINE VOICE!
How many of the powerful in the world will execute their will without even thinking for an instant in the harm they will cause innocents, irreparable harm! Behind the great powers exist evil spirits, they will cause damage to all of humanity, to all of Creation and this harm will have repercussions on all the Cosmos.
Children of My Immaculate Heart:
HEED THIS PLEA FROM THIS MOTHER WHO ASKS, WHO BEGS FATHERS AND MOTHERS OF FAMILIES TO TAKE THE REIGNS OF THE LIFE OF YOUR CHILDREN, because these youths have handed themselves over into the hands of satan. But it is not late, My Son is very merciful, take the place that corresponds to you and fill those empty hearts with Divine Love and fill them with words of power. Fathers and mothers have the gift, given from on high, of using the word to impart blessings upon their children, to decree freedom over their children, to loose the worldly bonds of their children. Use the gift of the word and with strength and power and with faith, return your children to God, present them before the Cross of glory and majesty.
And you, fathers and mothers of families, be guardians of these treasures with which Heaven has blessed you, of those shoots who look to you as guides and are your faithful mirrors. You, who are the ones that guide the household, I call you to see the evil you exercise when you do not fulfill the Divine Will and instead let yourselves be guided by debauchery, by infidelity and you are not a testimony of a living and present God. Turn to this Mother, for I will not hesitate to guide you.
TO MY BELOVED SONS THE PRIESTS, I INVITE YOU TO PREACH STRONGLY. These are very important instants that will not be repeated, and you must proclaim My Son's Word with strength, with power and courage, because you are responsible for the Flock My Son has entrusted to you. The Temples remain empty, and it is because the Mystic Body needs preachers who encourage a radical change, a total transformation of the human being form within so that they are more spiritual. How you can preach about the Sacred Scripture but preach it with strength and with courage so that the Mystic Body returns to having the necessary consciousness being more spiritual and thus face the fulfillment of the prophecies.
Children of My Immaculate Heart, People of My Son, Mystic Body:
ALL THE PROPHECIES CONVERGE IN THESE INSTANTS. THEY ARE NOT A FANTASY THEY ARE TRUTH. Heed these calls so you do not hurt when in the midst of the Tribulation, you do not find how to cry out for Mercy to My Son.
THE MASTER OF SIN, SATAN, TAKES A GREAT BOOTY AND
IT IS THE DUTY OF THE MYSTIC BODY TO KNOW AND LOVE MY SON SO THAT YOU EVANGELIZE ONE ANOTHER. DO NOT WASTE TIME, FOR IT IS NO LONGER TIME, IT IS INSTANT.
I invite you to pray strongly for Panama.
I invite you to pray for Venezuela.
I invite you to pray for the United States, above all for its president.
BE COPIES OF MY SON'S LOVE, OF MY SON'S PATIENCE, OF MY SON'S FRATERNITY AND OF MY
COMMITMENT TO THE DIVINE WILL AND OF NOT DESIRING TO OCCUPY THE PLACES OF HONOR BUT THE LAST BEING MY SON'S APOSTLES, IN EVERY INSTANT.
I bless you, I keep you in My Maternal Heart that proclaims in a loud voice all that is near, and from here, from this beloved and great country, I address all of humanity.
I AM THE ARK OF SALVATION, THE WOMAN CLOTHED WITH THE SIN WHO IMPLORES HER CHILDREN TO RETURN. MY HAND REMAINS BEFORE EACH ONE OF YOU. COME FOR I WILL GUIDE YOU BY THE TRUE PATH.
I bless you and do not disregard this call.
Remain in My Peace, remain in My Heart, attend to My Call.
Mother Mary.
HAIL MARY MOST PURE, CONCEIVED WITHOUT SIN.
HAIL MARY MOST PURE, CONCEIVED WITHOUT SIN.
HAIL MARY MOST PURE, CONCEIVED WITHOUT SIN.