Wednesday, March 21, 2012
Message from the Blessed Virgin Mary
To Her Beloved Daughter Luz De María.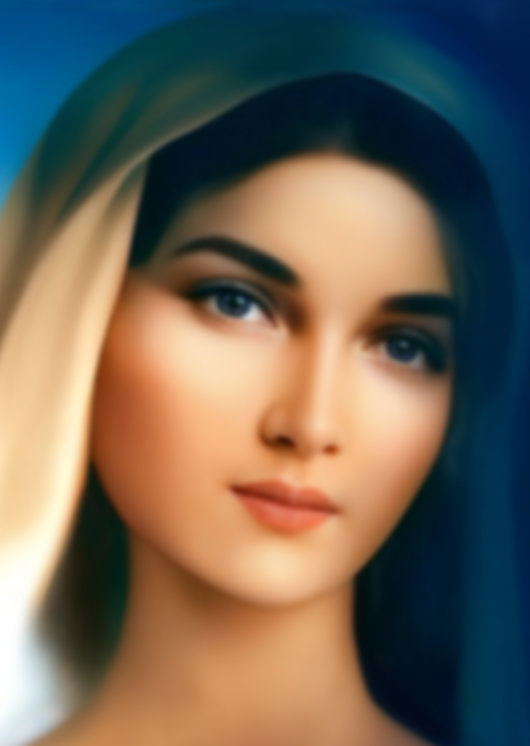 Beloved children of My Immaculate Heart:
I KEEP YOU IN MY HEART TO PROTECT YOU FROM THE ATTACKS THAT DAILY RUSH AGAINST MY CHILDREN.
I bless you for remaining faithful to the Trinitarian Will, for being lovers of My Son every instant. Continue to visit Him in the Tabernacle, accompanying Him in these instants of pain in which the majority of humanity remains far from Him.
My Maternal Mantle covers all the Universe, the stars adorn it shinning continuously and in the same way you adorn My Mantle, when you shine on Earth being souls that are love and obedient to the Trinitarian Will.
I CONVOKE YOU ONE MORE TIME TO BE AWARE OF THE CHANGE TO WHICH YOU MUST HASTEN.
In this instant and with greatest eagerness a spiritual change so infinitely powerful must take place in you, that is able to overcome egoism, human ambitions and aspirations. Reason, think, using reason and spiritual sense. Heaven does not allow so many calls by chance, and this is written that it will be given on the threshold of the Great Purification.
SOON MY SON WILL COME AGAIN AND WILL SEPARATE THE WHEAT FROM THE WEEDS, HE WILL SEE THE GOOD WORKS AND ACTS, THE GOOD DISPOSITION OF EACH ONE OF YOU TO LEAVE WHAT YOU MUST LEAVE AND TAKE THE DEFINITIVE STEP FOR THAT RADICAL CHANGE.
YOU MUST PROCLAIM THE TRUTH
"BECAUSE THE TRUTH WILL MAKE YOU FREE, SPIRITUALLY."
These instants of this generation so perverse will not be surpassed. You have abused of all the opportunities in which you have been called to respond and accept. And abusing of My Son's infinite Mercy, you continue walking in the mud.
HAVE YOU PERHAPS FORGOTTEN THAT DIVINE JUSTICE EXISTS?
DO NOT ABUSE OF MERCY BECAUSE BY/UPON DOING IT YOU BRING DIVINE JUSTICE.
Man receives a reaction for his action, and if he acts in evil, in selfishness, in personal interests, he will not receive the blessings he expects.
You must turn to My Son with a contrite and humble heart, but it is not so; you turn to Him in the midst of necessities filled with personal interests. No children, do not seek My Son in this way, get rid of now of those "gods" that each one of you has manufactured for yourself. Get rid of those personal interests and make the decision to remain willing to obey the Divine Calls.
I am Mother of everything that has been created; I suffer for My children, and I rejoice with them when they act for good.
In these instants in which I see the great majority walk bewildered towards the encounter with the antichrist, My Heart aches since you do not maintain yourselves properly prepared in faith, or strengthened to wage a spiritual battle.
UNITE, REMAIN UNITED, YOU HAVE NOT BUILT UPON MOVING SANDS BUT UPON FIRM ROCK; DO NOT ALLOW OTHER IDEOLOGIES TO DISTANCE YOU FROM THE TRUE PATH.
Fraternity is indispensable in these instants. Soliciting the Divine Spirit to maintain you alert, to fill you with Wisdom and Divine Science, is indispensable.
Humanity will watch in amazement great miracles that you have never imagined and you will quickly run after that false spawn that will make himself be called "god" and that only brings deceit to steal your soul.
ENOUGH OF WARS AMONG THE MYSTIC BODY, OF DISUNION AMONG GROUPS THAT CALL THEMSELVES SPIRITUAL.
ENOUGH OF LAUNCHING POISONOUS DARTS AMONG MY CHILDREN. Do you not possess
intelligence and wisdom to realize that this strategy of stan's is only with the great purpose of preparing a Mystic Body that is extremely divided to give the antichrist power?
LOVE ONE ANOTHER, TAKE EACH OTHER BY THE HAND AND DO NOT SEPARATE, FORM A GREAT AND ENORMOUS WALL SO THAT NOTHING AND NO ONE CAN PENETRATE AND DEFEAT YOU.
How many events have we mentioned that have been fulfilled! Not to frighten, but so that you react and see that Creation itself shouts to man:
RETURN, RETURN, RETURN TO OUR KING!
Pray My beloved, pray with strength, pray for Brazil.
Pray My beloved for the United States, do not abandon it in your prayers.
Pray for Asia, it will suffer in great measure.
And those that rejoice at not having been mentioned in a call to prayer, remain alert for nature will arrive unexpectedly.
Look on high and see the great signs that descend so that you awaken.
DO NOT CEASE FROM GOING TO RECEIVE MY SON,
DO NOT CEASE TO MEDITATE AND DO NOT CEASE TO BE CONSCIOUS THAT EACH DAY, UPON WAKING UP, IS AN OPPORTUNITY TO OVERCOME ONSELF AND FUSE ONSELF WITH MY SON.
I love you, I bless you, I am Your Mother.
Mother Mary.
HAIL MARY MOST PURE, CONCEIVED WITHOUT SIN.
HAIL MARY MOST PURE, CONCEIVED WITHOUT SIN.
HAIL MARY MOST PURE, CONCEIVED WITHOUT SIN.