Wednesday, March 28, 2012
Message from Our Lord Jesus Christ
To His Beloved Daughter Luz De María.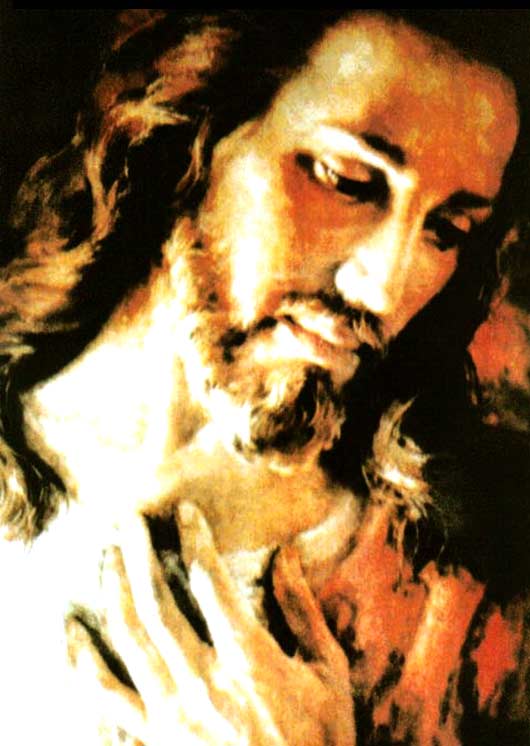 GIVEN AT 10:00 PM
Beloved children:
I CALL YOU TO WAKE UP TO THE INNER REALITY, to My reality where nothing and no one can take Me away from you.
I CALL YOU TO AWAKEN, TO AWAKEN BEFORE MY LOVE.
I CALL YOU TO AWAKEN BEFORE MY CROSS, which I do not want you to see as simply sign or symbol, but to which I want you to adhere conscious of what My Father has wanted to contain in It.
My beloved children, you mistakenly continue to give very wrong answers to what only I can give answers. You have examined My Cross humanly, have given human responses to the significance of My Cross, you fall on your knees before My Cross and have ignored that My Cross is the representation of My Father's Infinite Love and of My Sacrifice for all of humanity.
Children, you live from symbols, I AM NOT A SYMBOL. You live from signs. I AM NOT A SIGN, "I am who am," "I am the alpha and omega, I am the beginning and the end," and in this beginning and in this end I want to hold each one of you. You are essence of My Love, essence that has been despised and misinterpreted.
I URGE YOU TO AWAKEN SPIRITUALLY, TO AWAKEN FROM WITHIN, TO NOT CONTINUE DENYING TO YOURSELVES THE SINFUL REALITY IN WHICH YOU LIVE.
Today I call you to an introspective look in your conscience, in your feelings, in your senses through which you offend Me so much. I call you to maintain yourselves willing and in the first line. I have not denied nor have I hidden in any instant all the development of the coming events, I have wove them for you one by one so that today you be conscious that humanity approaches the great end, the spiritual end where I will see those who are true and where the lukewarm will be seen.
WITH ALL MY HEART I URGE YOU TO AWAKEN, NOW! That inner change is urgent, that inner rebirth, that awareness that if you do not remain prepared with your eyes, with your heart placed in My Will, you will not be able to make the final jump and will fall prey to the evil that surrounds you.
My beloved, I gave Myself for you in love, in My Father's love, in the love of Our Trinity. Each one of you has the duty to fight for your conversion to be worthy of the Redemption that I came to accomplish before all of humanity.
I DO NOT WANT A LUKEWARM PEOPLE,
I DO NOT DESIRE A PEOPLE FILLED WITH FALSE SPIRITUAL EXPECTATIONS.
I DESIRE A PEOPLE OF TRUTH, A PEOPLE THAT LOVES ME,
A PEOPLE THAT IS A FAITHFUL COPY OF MY LOVE, OF MY SACRIFICE.
Pray My beloved, pray for this beloved People of Mine of Japan who will again suffer in great measure. Pray My beloved, pray for the United States
and for the consequences that all of humanity will have to face on a global level.
Pray My beloved, pray for the Middle East, do not decline in your prayers.
Beloved, I do not desire empty prayers, I want prayers born from the depths of your being, I want prayer of action offering each thought, each feeling, each action and each step, for humanity in general.
I convoke you to remain in the first row where those who I have been preparing for a long, long time so that they guide the rest of humanity must remain. To you who turn to Me daily, to you who call Me Father, to you who claim to love Me, to you who call yourselves true and fraternal, to you I call to remain in first line and in that front line your same brothers and sisters will be the judges, the judges of those that proclaim My Love and My Word.
THIS IS THE INSTANT IN WHICH MY TRUE CHILDREN WILL BE BROUGHT TO LIGHT AND THOSE WHO ARE LUKEWARM WILL BE VOMITED FROM MY MOUTH.
It approaches, it approaches now this event so mentioned and awaited in which everyone will face his or her own conscience[1] and there I will come to help My People, which will carry My Light, My Love and the fullness of My Holy Spirit to guide the rest of humanity with My Truth.
REMAIN IN MY PEACE, I BLESS YOU, I LOVE YOU, I URGE YOU TO RENEW YOURSELVES.
Your Jesus.
HAIL MARY MOST PURE, CONCEIVED WITHOUT SIN.
HAIL MARY MOST PURE, CONCEIVED WITHOUT SIN.
HAIL MARY MOST PURE, CONCEIVED WITHOUT SIN.