Monday, April 9, 2012
Message from Our Lord Jesus Christ
To His Beloved Daughter Luz De María.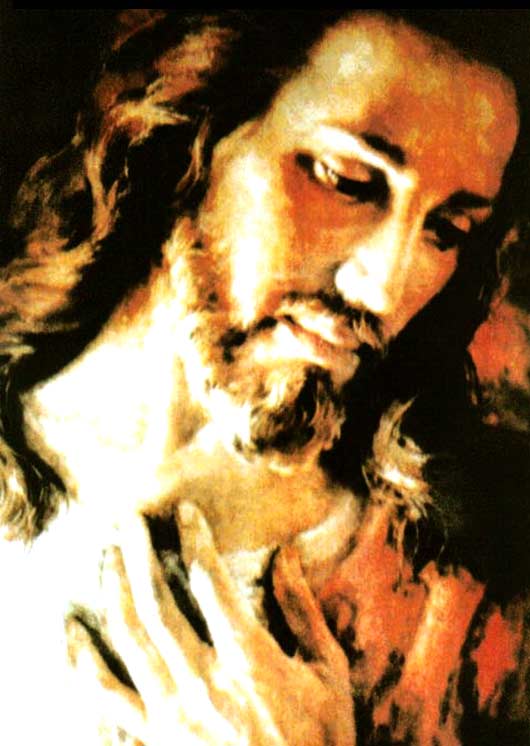 Beloved children:
MY SPIRIT LIVES IN EACH ONE OF YOU.
I ASCENDED TO GIVE YOU MY SPIRIT AND MY PEOPLE DO NOT RECOGNIZE IT.
The inner noise in which you live will not allow you to internalize Our Calls.
THE MAN WHO TRIUMPHS, WILL BE THE ONE WHO IS WILLING TO LIVE IN OPPOSITION TO THE
WORLD AND ITS MACHINATIONS, AND IN INNER SILENCE, UNITING HIMSELF TO MY SPIRIT AND LISTENING TO IT SO THAT HE WALKS UPON SOLID ROCK.
My kingdom is not of this world, hence I am not understood. Those who follow Me are also not understood.
I continue to call you to keep faith, hope and charity. Hope of coming to be better people who overcome evil influences and human dominations, and who desire the disappearance of all that evil hides.
My beloved, within My Will the door of forgiveness and of the living water of My Mercy remains open, which is misinterpreted, abusing of freedom and of My Love.
You abuse of the salvation I deserved for you on My Cross, and you forget that not all who say, "Lord! Lord!" will enter the Kingdom of Heaven. All My children deserve salvation, and how many will win it?
Woe to the one who believes himself to be saved and commits evil deeds! Woe to the one who says, "I have Heaven secured" and does not live out My Precepts!
This is the instant in which My People must sing My wonders and invoke My Name, without stopping. They must nourish themselves from Me and maintain unity, allowing themselves to be polished with a strong chisel. I am Sculptor of souls, and I sculpt them with love and with justice.
BELOVED, EACH ONE OF YOU MUST EXAMINE HIMSELF OR HERSELF INTERNALLY BEFORE HIS OR HER OWN REALITY AND NOT REFUSE TO BE REFINED. YOU MUST LIVE THIS AS A GRACE THAT MY LOVE ALLOWS YOU.
My beloved, children, My People:
Pray for Japan.
Pray for Mexico, it will suffer.
Pray for the United States. Pray for the Middle East.
The great pain looms upon humanity, which powerless, will suffer. Powerful armies will penetrate borders, and peace will be violated.
Accelerated daily life has undermined peace in man and has led him to live in a constant personal violence through which man's enemy will enter and move the masses to levels never before seen and violence will be unprecedented.
Beloved, prepare yourselves, allow yourselves the opportunity to unite with Me, turn to My Mother. I am that Shepherd that does not lose sight of His Flock.
Come to Me, do not fear, I Am forgiveness, truth, I Am life in abundance. Do not fear, I Am mercy.
I HAVE CALLED YOU TO A CONSCIOUS CHANGE, TO MAINTAIN THE WILLINGNESS, TO BE
TRANSFORMED BY MY SPIRIT INTO NEW BEINGS, FILLED WITH MY HOLINESS AND WITH MY PEACE.
THE INSTANT IN WHICH YOU REMAIN DEMANDS CHANGE,
AND I AM HERE TO WELCOME YOU. DO NOT FEAR.
I Am forgiveness and I Am mercy if the person is willing to live being a witness of My acts and works.
Evil will show its power with harshness.
DO NOT FEAR, DO NOT FEAR I REMAIN WAITING TO BE CALLED BY MY CHILDREN.
MY STRENGTH WILL BE THE SUPPORT OF MY PEOPLE; MY LOVE, THEIR FOOD.
My People, My beloved People:
Do not despise the signs of nature that blankets you. Nature invites you to be one in My Love, nature calls you to solidarity.
I bless you, My Peace be in each one of you.
Your Jesus.
HAIL MARY MOST PURE, CONCEIVED WITHOUT SIN.
HAIL MARY MOST PURE, CONCEIVED WITHOUT SIN.
HAIL MARY MOST PURE, CONCEIVED WITHOUT SIN.