Friday, May 4, 2012
Message from Our Lord Jesus Christ
To His Beloved Daughter Luz De María.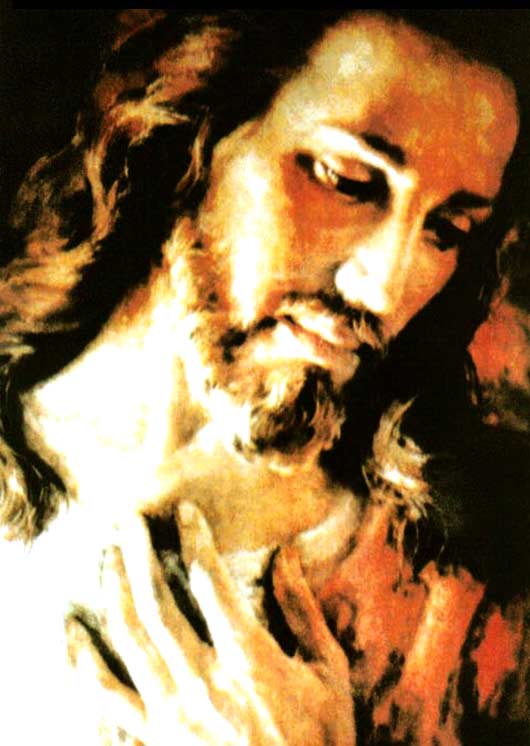 Beloved Children:
I LOVE MY CHILDREN.
YOU MUST ACT TRUSTING IN MY PROTECTION, ALL THAT HAPPENS I HOLD IN MY HANDS, NOTHING HAPPENS UNLESS I PERMIT IT.
Everything has been prophesied, everything precedes My Coming. My faithful ones must keep the faith and not be frightened, but wait with patience, knowing of my return in Power, Glory and Majesty. The sun itself will shine no more, I will illuminate everything created, I will be the sun, the moon and the stars.
EVERYONE MUST BE AWARE THAT I COME FOR THE SECOND TIME AND I WILL JUDGE THE LIVING AND DEAD.
In these instants in which this generation will live grave events, fear will take over those who despise Me, or say they love me causing evil to their neighbor like birds of prey.
I WILL RETURN WITH POWER, THE FORCE OF MY LEGIONS WILL BE FELT, THE EARTH WILL
TREMBLE. The Love of My Legions will be the sun that will light up the Earth in that moment of Glory in which the wheat will be raised towards Me and the chaff left to burn. Every knee will bend before My Majesty, they will know that I have come and they will see that My Word announced by My Prophets is being accomplished, and those who have humiliated and ridiculed you for My sake, will be witnesses of MY GREAT POWER.
ALL THOSE THAT CALL THEMSELVES CHRISTIANS AND LIVE AND PRACTICE MY LAWS MUST CONTINUE TO BE STEADFAST DURING ALL THE EVENTS THAT WILL PRECEDE MY COMING.
This instant is an instant, so much that I will act universally and directly before My Coming, pouring My Mercy upon all of the human creature. I will intervene directly upon each one of My children, each one will be responsible for their actions before Me and before himself, each one will see the good they have done, and what they have not done and the wrong done to themselves and to their neighbor. Each human creature in particular will be aware of all the wrong done in these times that no man has lived before.
The instant is instant, and compels you to come closer to this sign that announces the explosive perversity of this generation, I call to you not to be among those who refuse to repent.
Satan no longer prowls, he has penetrated humanity, silencing the senses of men so they will not see sin as it is; degrading the thought to offend My Father as no men has never done before.
You have challenged My Laws, (The Commandments) and those who call themselves My children, My lay people, My servants, My faithful ones devour one another, while Satan blows on the flames so that the conflicts will be greater and My Church will devour itself.
Be united and intercede for:
Japan, pray, will suffer.
Pray for Mexico. Pray for Canada.
Beloved:
EVERYONE CONSECRATED TO MY SERVICE MUST FIGHT TO SAVE SOULS.
FIGHT WITH LOVE AND CHARITY, PRAYER AND SERVICE, ACCOMPANIMENT AND TRUTH, EDIFYING ON YOUR LIFE TESTIMONY.
Preach My Word with courage, even though for my sake you are scorned, even by your own brothers.
Beloved Priests, My beloved, do not fear, gather My Flock, announce the truth of this generation that increases in sin; you will be scorned and persecuted not only by the world. I need Holy Priests, steadfast and convinced that this is the instant to preach in time and inopportunely.
My People: observe yourself, I have gifted you with senses to be utilized for the good; do not praise Me with your tongue if you are using it against a brother. I search into the depth of the soul.
TREASURE MY PLEAS, FOR THEY ARE NOT IN VAIN. Look into yourself, grow spiritually, do not forget that if you do not love your brother, you do not love Me. Satan is dividing My Church to hurt it deeply. You, My Mystic Body, do not be blinded, be souls of prayer and communion.
DO NOT FALTER I AM WHO I AM.
All prostrate at My Feet and My People are protected, My Legions with their light will be the beacon that will guide My children. DO NOT FEAR, YOU ARE PROTECTED.
My People are accompanied by their brothers: My Heavenly Messengers that protect you and watch over you constantly.
MY MOTHER IS THE LIGHT THAT ILLUMINATES THE PATH OF MY PEOPLE.
DO NOT FEAR, SHE IS MOTHER OF THE ENTIRE HUMANITY.
AFTER THE PURIFICATION MY MOTHER WILL CRUSH SATAN AND EVIL WILL BE WIPED OUT.
I bless you. I love you.
Your Jesus
HAIL MARY MOST PURE, CONCEIVED WITHOUT SIN.
HAIL MARY MOST PURE, CONCEIVED WITHOUT SIN.
HAIL MARY MOST PURE, CONCEIVED WITHOUT SIN.