Wednesday, May 16, 2012
Message from Our Lord Jesus Christ
To His Beloved Daughter Luz De María.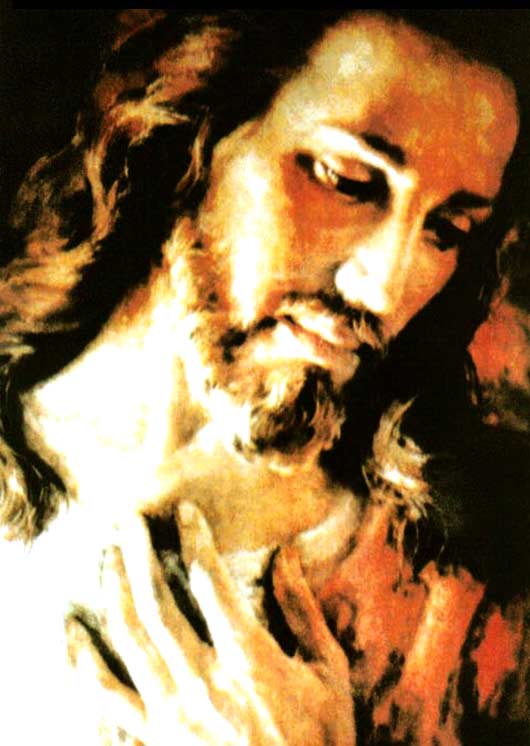 Beloved children, I bless you.
WHAT FOOD IS FOR THE BODY, PRAYER IS FOR THE SPIRIT;
PRAY, YOU CANNOT CONTINUE IN YOUR PATH WITHOUT PRAYER.
In this instant I call all the groups that conform to My Church to stop and view their foundations. Are the foundations on firm rock? Observe the way you work, check to see if you are instruments that bring goodness to your brothers and sister and to your communities.
THE PRAYER GROUPS MUST BE PRACTICAL: I came to walk among sinners, to bring the Good News, to announce love, peace, forgiveness, and humility.
I CALL THE LAYPEOPLE COMITTED TO MY CHURCH TO BE HUMBLE. Not to boast of your commitment to My Church, but be aware of the humility that you must show, and of the commitment that you have made to bear witness before the communities.
TO THOSE WHO DIRECT THEIR PRAYER GROUPS AND THEIR MEMBERS, LOOK CLOSELY AT THE INNER SELF OF EACH PERSON. I do not wish –because this is not the instant of the Pharisees- I do not wish Pharisees, I wish true children who with the gift of sincere word adore me and not like those who adore Me before others and behind me they are swords. To those I urge them to examine themselves, and those who possess poisonous tongues that destroy their fellowman; I tell you examine yourself.
I CALL MY PASTORS, should a Pastor allow even one sheep to escape from his flock or be left behind hungry because he doesn't like it? NO! I AM NOT LIKE THAT, HE DOES NOT REPRESENT ME. I came to welcome all; I did not come to expose none of the sheep publicly, but to welcome them publicly.
IN THIS INSTANT I WISH FOR PEACE AND UNITY, THE EVIL ONE ENSNARES IN EVERY PLACE. AND MY PEOPLE OPEN THEIR DOORS SO THAT HE CAN COME IN AND DESTROY. THE WEAPON WITH WHICH MY PEOPLE WILL DEFEAT HIM IS CALLED: UNITY
Very difficult Instants are approaching to My Church for which I urge you today to pray unceasingly.
Very painful instants are approaching for humankind towards an earth that again trembles strongly and from its interior emanates the fire that will destroy everything on its path.
I urge you to pray for My beloved Japan.
I urge you to pray for the United States, My beloved children.
The waters will rise and will flood the earth; coastal zones will suffer, as all the people will suffer one by one.
Communism will rise disguised with a mask of peace and alliance.
Pray My children, pray for the Middle East, pray for China.
My beloved ones, the elements, before a man who has banish me from his heart; reunite so that men will turn towards me
Look into your conscience, realize that I gave my life for you and I come for you, I come with power and majesty, with glory, I come to be heard because I come to call My people and to separate the chaff. The fig tree that hasn't yield fruit will stay dry next to the chaff.
To you, My children, I URGE YOU TO CONTINUE ON THE PATH OF HUMILITY. Humility is the way of My Gospel. Humility is to help the needy, is to bring My Word of truth to those that deny me, is to raise the voice when they deny Me, is to look steadily into the eyes of those who have forgotten Me.
WHAT WOULD MEN BE WITHOUT ME?
My Mercy is infinite and My justice is truthful. You have preached a God of Mercy that has put aside his justice. You have forgotten that at the end I will call you and will ask you to account for your actions and what I have given you, and how much you have multiplied it.
I AM LOVE AND I AM JUSTICE, OTHERWISE I WOULD NOT BE PERFECT.
The powerful, leaders of humanity, feed the tentacles of the antichrist providing power to control My children.
They have contaminated the food! They have contaminated and invaded the minds of My children so that they diminish the value of the gift of life!
They have put drugs in the medicines in order to destroy My children's organism and in this way annihilate a great part of humanity!
THE ANTICHRIST MOVES, IT MOVES AND NOT EXACTLY IN A DISCREET MANNER, BUT IN VIEW OF EVERYONE. It will rise and fight against My People but do not forget that I will send My Messengers as your road companion, and my heavenly legions to help My people to fight against the evil. This is why I request My People to grow continually in faith, to remain united and to be able to discern with clarity those who are not my true children as they appear to be because they have set up themselves to persecute My People.
I ANNOUNCE THROUGH MY PROPHETS, ALTHOUGH NO ONE IS HEEDED IN ITS OWN TOWN LIKE I
WAS, BUT I ASK YOU TO HEED, AND THAT MY WORDS WILL GO DEEPLY INTO YOUR HEART AND BE OPEN MINDED, AND ALLOW YOUR SENSES TO BE INVADED BY MY LOVE BECAUSE THE INSTANT IS DIFFICULT.
How many of My children mock My calls, but when they bend their knees before what is to come I will welcome them if they repent with all their heart. Do not stop praying.
A great nation will perish soon, the sun will greatly affect humanity, it wishes to awaken men and in its desire to awaken him, the sun will be affected to a great extent. You My People continue with power, utilizing the gift of Word to adore me and to ask and implore for those who do not love me and do not await Me Second Coming.
CONVERT, THE INSTANT IS NO LONGER AN INSTANT, CONVERT MY CHILDREN. CONVERT, CHANGE YOUR WORDLY LIFE, REFLECT AND RETURN TO THIS YOUR CHRIST WHO LOVES YOU AND WAITS FOR YOU.
I love you, bleeding as I am, whipped, and in pain. I love you infinitely and I wait for you.
I will not be weary to call you because I love you and in this My love:
I bless the eyes of those who read My calls.
I bless the ears of those who listen to My calls.
I bless the hearts of those who treasure My calls.
I bless the thoughts of those who do not forget My calls.
I bless the hands that share My calls.
I bless the feet of those who walk and bring My calls to their families.
I bless your loved ones.
I bless your work.
I bless your spirit because you remain united to Me.
For those who do love Me and wait for Me, they are the beacon that illuminate this earth of darkness. You are the light that calls to Me, you are the light that draws me to you, you are the magnet that keeps Me united to My People.
Continue praying and be active, I do not wish only passive prayer, I wish for prayer and action.
Remain in My Heart, I bless you.
Your Jesus
HAIL MARY MOST PURE, CONCEIVED WITHOUT SIN.
HAIL MARY MOST PURE, CONCEIVED WITHOUT SIN.
HAIL MARY MOST PURE, CONCEIVED WITHOUT SIN.