Wednesday, May 23, 2012
Message from Our Lord Jesus Christ
To His Beloved Daughter Luz De María.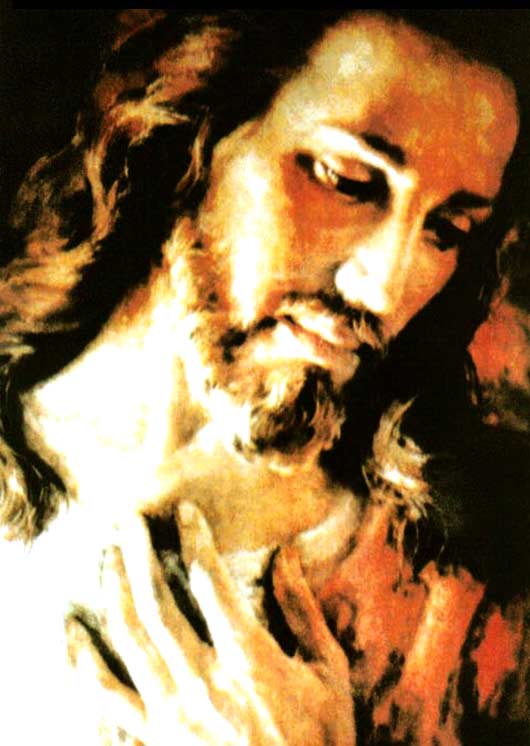 Beloved children:
MY CHURCH'S JOURNEYING HAS BEEN COLORED BY BLOOD BECAUSE OF THE PURIFICATION.
In every age My faithful have been purified, and with every expiation their spiritual environment has led them to ascend. They have turned more to Me and have understood My Love and My Cry. This generation is not the exception. Like in the past that you know, but that you try to forget, aware of it, this generation will be harshly tested.
BEHIND EACH PURIFICATION FAITH, HOPE AND GLORY ARE BORN. REBORN ARE FAITH AND THE ASSURANCE OF MY PROTECTION TOWARDS THOSE WHO ARE MINE.
I am Head of the Church and you, My Mystical Body; a Mystical body without distinction, a Mystical Body of unity and fraternity. But a Mystical Body formed by men that disobey My Commandments. My Mercy constantly hears the pleas of those who are conscious of their bad behavior and return quickly. I welcome them immediately and rescue them.
I have called My Consecrated Sons to live in humility, without opulence or material riches. On the contrary, may they over abound in spiritual richness, in Love towards My Flock, in understanding and attention to the sinner.
In this instant in which various streams interact diverting My People from the true faith, I INVITE YOU AGAIN TO LOOK AT ME, TO LISTEN TO THE WORD, TO SEE MY CROSS AND TO SEE BEYOND THE FULLNESS THAT I OFFER YOU.
The world offers instantaneous happiness, moments of pleasure, moments of heat, fleeting moments… I OFFER YOU ETERNAL LIFE.
The crossroads seems difficult to My faithful, they see the path as too high and remain looking at themselves and their tiredness. This is not right. Do not look at yourselves, do not look at what you leave behind, do not look at the world from which you separate yourselves; LOOK AT ME AND I WILL GIVE YOU THE STRENGTH AND THE FORTITUDE NECESSARY TO CONTINUE HAND-IN-HAND WITH ME.
How many have staggered but have continued without ceasing to look at Me! That is why they have triumphed. The Saints have been saints because of their fight to gain completely the purification to which they have been subjected to on My part and accepted willingly themselves. I invite you constantly to be different, but do not hurt for being different, rejoice for being different from the worldly current.
My People's faith will be severely tested. I invite you with My Heart to not look at men but to look at Me.
I, HEAD OF MY CHURCH, OFFER YOU ETERNAL GOODS.
WOE TO THE ONE WHO PUTS HIS FAITH IN MEN!
LOOK AT ME TO OVERCOME THE COMING INSTANTS.
I am Head of My Church, of My People, and I do not make distinctions among My children.
I invite you to combine forces, to reach out to your brothers and sisters. All are children of the same Father, all seek Eternal Salvation, all seek Me.
Unite, do not separate yourselves. I send you your brothers, messengers, life companions; you can count with the intercession of the Blessed, you count with My House to protect you. Do not feel alone, do not be overwhelmed on this path, as becoming overwhelmed is a strategy of satan's so that you stop and go backwards and become entangled in what is worldly again.
How many events already mentioned await this humankind that has surpassed the measure of sin!
How many rulers of nations have attributed themselves the power of My Commandments and have thrown them to the ground, offering licentiousness to their people to gain followers!
"I AM WHO AM!" and I will come with a firm Hand to place each one on the scale. It is not I who condemns, it is man, out of free will, who hands himself over to evil and still does not understand this in order to facilitate himself walking in evil.
Beloved People, pray for yourselves, intercede for one another so that the spiritual strength of some, be the strength that lifts up the one that feels weary.
Pray because the Sun will cause man pain.
Pray, pray for My beloved Japan.
Pray to My Mother so that She who is all understanding, takes you by the hand and guides you to Me. Her Mantle is the firmament; it covers, protects and gives light to all My children, even to those who do not recognize Her as Mother.
My beloved People, the purification of the Institution of My Church has begun.
CONTINUE TO LOVE ME, PRAY TO ME, RECEIVE ME,
CONTINUE LOVING ME, PRAYING TO ME, RECEIVING ME
STRENGTHENING YOURSELVES IN MY WORD AND TAKE REFUGE IN MY MERCY
"I AM WHO AM!", "I AM YOUR GOD!" COME TO ME, LOOK AT ME.
I have called you so much to not look but only at Me, to lift your eyes to Me, to silence your interior so that you hear Me!
I come for My faithful, for those who are persecuted, for those who suffer, for those who sacrifice themselves, for those who preach the truth that is My same Truth, for those who preach in the hope of My Love and of My infinite Mercy.
"I AM YOUR GOD!", do not turn your eyes, your thoughts, your conscience from Me; do not forget that "I AM YOUR GOD!" and I strengthen My Mystical Body. I gave Myself for you and for My faithful I will return again.
CONTINUE WITH LOVE, IN FRATERNITY, DO NOT SCATTER, CENTER YOURSELVES IN MY LOVE.
The earth will shake but the majority of My children focus only on the shaking of the earth and have ignored that My Church shakes…
Pray; love one another; live in fraternity; preach the truth of My Word; meditate My Word and defend the oppressed; love the destitute; forgive the sinner and receive him or her with love; keep My Commandments and thus you will enter into communion with Me.
I bless you, I love you My People, do not forget that "I AM YOUR GOD".
I bless those who read this, My Word, gaining strength to continue without fears on this path.
LIKE I GAVE MYSELF FOR MY PEOPLE,
I ASK MY PEOPLE TO HEAR MY CALL AND LOOK AT ME.
Remain in My Peace.
I love you.
Your Jesus.
HAIL MARY MOST PURE, CONCEIVED WITHOUT SIN.
HAIL MARY MOST PURE, CONCEIVED WITHOUT SIN.
HAIL MARY MOST PURE, CONCEIVED WITHOUT SIN.