Wednesday, May 30, 2012
Message from the Blessed Virgin Mary
To Her Beloved Daughter Luz De María.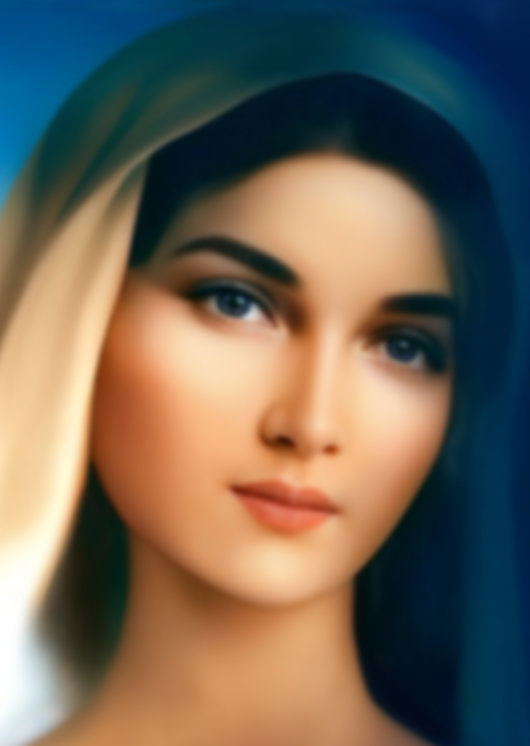 Beloved children: I bless you.
MY MATERNAL MANTLE REMAINS OVER EACH ONE OF MY CHILDREN.
Allow the virtues that flow from Him to penetrate your senses, and thus will you be docile clay in My Son's Hands and not clay hardened by what is material and worldly, what is temporary and subtle.
You, you who are faithful to the calls from the Paternal House, must perennially request from the Holy Spirit, the wisdom to continue as people of faith.
Who, who is it that dares to point that in this instant humanity is not held in a spiritual battle?
Who can deny that humanity fights, fights spiritually instant to instant, as it is torn between good and evil, and what is worldly conquers the majority of My children? Can it be that My Words and My Calls are not certain, as you deny them?
Look clearly at reality: evil gains souls through vices of all kinds.
DO NOT WAIT FOR THIS MONSTROSITY OF THE EVIL ONE, THE ANTICHRIST,
TO PRESENT HIMSELF BEFORE HUMANITY; HE ALREADY ACTS IN EVERYTHING THAT IS CONTRARY TO GOOD AND THE TEACHINGS OF MY SON.
I look upon the Earth from afar and find it empty. I see deserted temples. You have forgotten that each human being is a Temple and Tabernacle of the Holy Spirit, Who is grieved in those who live in evil.
MY SON RECLAIMS YOU, HE CALLS TO HIS PEOPLE SO THAT FAITH INCREASES AND THEY PREPARE.
Already others perished and the faithful were rescued by Divine Hands to be first fruits of the New People. Do not forget that to enter the Promised Land that awaits you, you must be a rock willing to be sculpted by the Divine Sculptor, and to all be passed through the crucible.
I know what pain is. At the foot of the Cross My Heart was being torn, but the love for the Father's Will and My Son's same obedience, surpassed in Me, the human pain. Thus, thus must be the faithful, on the contrary they will perish.
MY SON ANTICIPATES HIS COMING. IT IS NOT THE END OF THE WORLD.
I point out to you that My Son will come with a great sign of His infinite Mercy, out of love for His chosen ones, He will come to place this generation on the scale. He will come with power, glory and majesty; His Heavenly Hosts will prostrate themselves at the four cardinal points and the Earth will shake before the infinite Light. The stars will get so close to the Earth that man will believe they have detached from the firmament. THE HEAVENLY HOSTS WILL SING THE GLORY, THE MAJESTY, AND THE POWER OF THE KING.
My beloved:
BE LOVE, BE DOCILE AND CHARITABLE.
FORGIVE THE ONE WHO OFFENDS YOU, BUT ABOVE ALL FORM PART OF THE UNITY OF THE FAITHFUL, WHICH AS AN IMPENETRABLE WALL, YOU STRENGTHEN ONE ANOTHER.
REJOICE IN BEING FRATERNAL LOVE TO YOUR BROTHERS AND SISTERS.
My Son waits for you in the Tabernacle, My Son waits for you in the Tabernacle! My Son wishes to feed you that you gain strength and persevere in the coming instant.
Pray, My People, pray for Argentina, it will be shaken.
Pray, pray for Mexico, do not forget it in your prayers.
Pray for all those who scrutinize My calls to deny them and confuse My Son's people.
How much have I called you through all My Apparitions in which I announced to humanity the norms to follow to prevent this coming catastrophe!
YOU DID NOT FULFILL MY GREAT PETITION OF THE CONSECRATION… THIS WOULD HAVE STOPPED SO MUCH SUFFERING THAT IS ABOUT TO COME.
Be preachers and announcers of the truth. Do not fear, since the events of this instant do not deny My constant Calls.
I LOVE YOU, I BLESS YOU, I PROTECT YOU.
You are My Son's People, with Him hand-in-Hand, you will reach the New Jerusalem. You will adore and see My Son, because you are His People and He, your God.
I bless you.
Mother Mary
HAIL MARY MOST PURE, CONCEIVED WITHOUT SIN.
HAIL MARY MOST PURE, CONCEIVED WITHOUT SIN. HAIL MARY MOST PURE, CONCEIVED WITHOUT SIN.