Wednesday, June 6, 2012
Message from Our Lord Jesus Christ
To His Beloved Daughter Luz De María.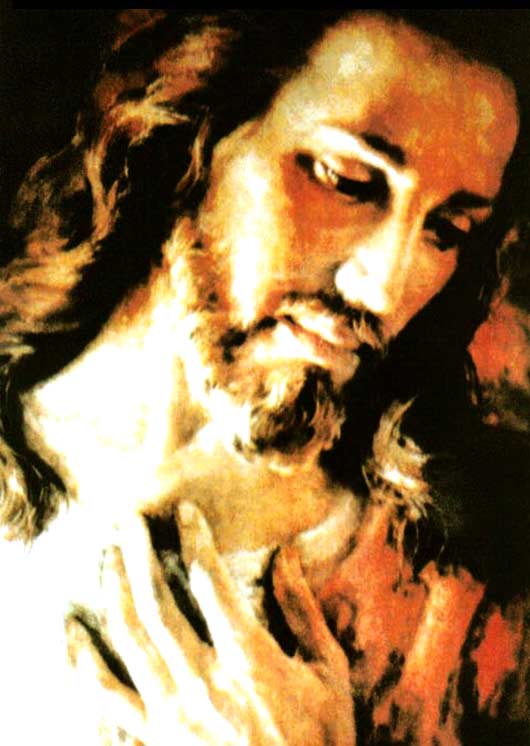 Beloved children of My Sacred Heart:
MY HEAVENLY HOSTS REMAIN ATTENTIVE GUIDING YOU, FIGHTING AGAINST HUMAN EGOISM SO THAT YOU ONCE AGAIN TAKE THE PATH I HAVE MARKED FOR YOU.
My Mother, Queen of the Angels, remains in charge of the Heavenly Hosts so that your traveling companions guide and enlighten you. These your Heavenly Brothers totally faithful to My Will, guide you. Man rebels and does not listen to them, it is a constant struggle. In this instant evil fights to steal the souls of My children.
I CALL YOU TO BE AWARE OF MY CALLS, I INVITE YOU TO BE FAITHFUL.
I INVITE MY PRIESTS CONSECRATED TO ME, RELIGIOUS MEN AND WOMEN, TO PREACH WITH MY SAME LOVE AND WITH MY SAME TRUTH.
My Truth, My Love and My predilection for each human being cannot be hidden from man, from My People. The Cosmos itself marvels before the infinite Love of my Heart towards every human being and it is because each souls is a fruit of My Sacrifice on the Cross.
Each one of the announcements emanated by Divine Will has been fulfilled and the rest will be fulfilled. This is not so that you fear, but so that you become aware that you must return quickly to My House, that you must listen to My calls and those of My Mother, with attention, not only in your mind and your thoughts, but above all in your heart totally softened.
I INVITE MY CONSECRATED ONES TO NOT FORGET THAT AT THE MOMENT OF THE
CONSECRATION I AM PRESENT, AND THEY MUST TREAT ME WITH LOVE, IN SUCH A WAY THAT
THAT SAME LOVE EXPANDS TOWARDS MY FAITHFUL AND THEY GO TO RECEIVE ME WITH DEVOTION.
My People, do not lose heart for an instant.
I HOLD YOUR HAND AND BEFORE AN IMMINENT PURIFICATION OF MY CHURCH, IMMINENT IS
MY PROTECTIVE HAND, MY WORD THAT GUIDES, MY HEART THAT LOVES AND MY FOOTPRINTS FOR YOU TO FOLLOW.
You must not fear so much what is coming, rather fear losing Eternal Life.
Be merciful and just at the same time. Do not allow the merchants to enter in you trying to distance you from My Word. I acted in order to defend My Father's House and you must act to cast out those merchants that the human "I", the ego, constantly through the mind and thoughts, take to your heart in order to distance you by instants from the unity that you maintain with My House.
Great signs will come soon.
MY PEOPLE REMAIN FIRM AND STRONG BECAUSE THEY TRUST IN MY WORD AND KNOW THAT
THEY MAINTAIN THE SECURITY AND PROTECTION OF THIS,
OF THIS YOUR CHIRST WHO WILL NOT ABANDON YOU, NOT EVEN FOR AN INSTANT.
Your Jesus
HAIL MARY MOST PURE, CONCEIVED WITHOUT SIN.
HAIL MARY MOST PURE, CONCEIVED WITHOUT SIN. HAIL MARY MOST PURE, CONCEIVED WITHOUT SIN.