Wednesday, June 27, 2012
Message from Our Lord Jesus Christ
To His Beloved Daughter Luz De María.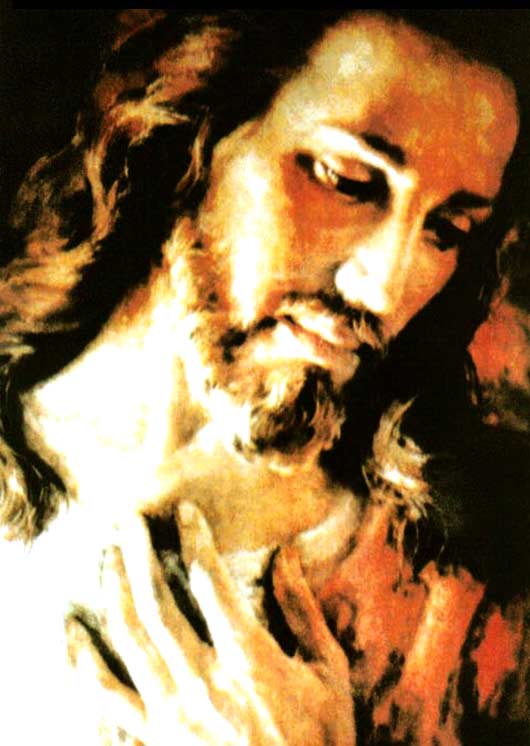 My beloved:
I bless you, you are My Delight.
PRAYER IS ESSENTIAL IN MY FAITHFUL.
Prayer is food for the soul.
Prayer, no matter how small it may be, reaches Me, and I receive it with great love.
Prayer is support for the person and offered for your brothers and sisters expand infinitely from person to person, bringing light to lost souls.
REMAIN IN COMMUNION WITH ME SO THAT YOU DO NOT LOSE HEART, SO THAT MY VERY
STRENGTH
AND MY VERY LOVE DWELL, INSTANT TO INSTANT, IN MY FAITHFUL.
Prayer must be continuous, but in this instant I call you to a prayer of practice prayer, to that prayer that I carried from people to people, to that prayer that helps the helpless, that lifts up the one who is prostrated on the ground, that helps the one who cannot find the path and that feeds the hungry. That is prayer of practice, prayer that does not remain static but that comes to the encounter of your brothers and sisters.
A prayer without practice is an empty wineskin, a prayer without practice is a wineskin that is beautiful on the outside but dry on the inside, brittle, selfish.
YOU, MY FAITHFUL, MUST HELP ONE ANOTHER. This is the rule from this moment forward since the evil forces that invade men's minds, inculcate in them: selfishness, seeing only themselves, looking upon their fellow men with disdain, distancing themselves from prayer. The being of each one of you must remain totally united to Me.
COMMUNION MUST BE CONSTANT. RECEIVING ME IN THE EUCHARIST AT COMMUNION MUST
NOT END THERE; IT MUST CONTINUE WITH YOU EACH MOMENT OF YOUR EXISTENCE, TAKING ME WHERE YOU GO.
My beloved, humanity has lost its conscience and reasoning. It only drags itself by instinct towards those who call it to follow a certain path.
You will suffer, you will suffer greatly. All, all of the eyes of humanity will see how selfishness and the fanaticism of some human beings, will bring great pain to a multitude of young people.
I invite you to pray, to pray for England.
In this instant the Earth is being purified; that purification is beginning and is already present!
HOW MANY LAUGH AT MY CALLS,
BUT THOSE VERY ONES WILL GROAN LAMENTING THAT MOCKERY!
Do not forget that time is not time, that the purification of My Church is already being carried out. Open your eyes, open your understanding so that you are able to comprehend this painful reality.
Remain faithful to My Word. My Priests, faithful lovers of My Blessed Mother, will guide My Church by the correct path.
Evil spreads. The lament will be such that it will reach to My House, because of the groans of innocents with their glad heart gather and who are harshly scourged by the snares of those minds tormented by the desire to exterminate those who are Mine.
Beloved, the antichrist's tentacles are varied. The antichrist is powerful in as much as man is one more of his followers.
Governors are supplanted by the followers of that enemy force; countries will find themselves submitted to a single government, which has silently infiltrated various countries. The formation of a single government is underway.
Beloved, My beloved: pray, pray for Guatemala.
My children, continue to be fused to Me, nourishing yourselves from that continuous communication with My House. Do not look at what is worldly, look at Me. The crucible is being prepared, but the fulfillment of hardest part for humanity is yet to come.
How many slither like serpents in order to cause harm to My children! But I will raise them up and like eagles, they will fly the heights so that they do not touch them. My Heavenly Hosts, inundated with My very Light, will come to meet My People to protect them from evil.
MAN WILL HAVE TO DEMONSTRATE HIS FIDELITY TO MY HOUSE,
AND THERE, I MYSELF WILL COME BEFORE MAN AND WILL TAKE HIM IN MY ARMS AND WILL GIVE HIM THE DELIGHTS OF MY HOUSE TO TASTE.
Be firm! Do not hesitate before sin.
How many of you excuse yourselves before Me telling me that the battle is hard!…
I could have abandoned My Cross because it was too heavy…,
I could have refused to be crowned with thorns because they hurt too much…,
I could have refused to be scourged so cruelly because the pain reached to my soul….
I DID IT FOR LOVE OF YOU.
Be strong, and if you love Me, resist temptation with courage and with your head held high, not slinking away like the snakes or slithering on the ground so as not to be seen.
MY CHILDREN SHOW THEIR FACE, RAISE THEIR HEAD, RAISE THEIR SPIRIT, AND MAINTAIN MY LOVE PRINTED IN THEIR HEART.
I need people of faith, of unbreakable faith; people that want to martyrize their senses to remain by My Side.
I love you; you do not remain in darkness. The light of My Love keeps you in the fullness of midday, enjoying clarity. Clarity is brought by truth, and truth must remain in you.
Pray My Children, pray for Mexico, it will ache.
My Hands, My Hands will take My People. I will keep you protected, I will keep you feed with My Word, I will keep you as I keep you in this instant, within, very much within My Heart.
Turn to Me, I do not remain far away, I remain within each one of you.
I bless you. May this blessing remain with you and yours. My Most Precious Blood poured out for you cover you, protect you and may you be worthy children of It.
Your Jesus
HAIL MARY MOST PURE, CONCEIVED WITHOUT SIN.
HAIL MARY MOST PURE, CONCEIVED WITHOUT SIN.
HAIL MARY MOST PURE, CONCEIVED WITHOUT SIN.