Wednesday, July 4, 2012
Message from the Blessed Virgin Mary
To Her Beloved Daughter Luz De María.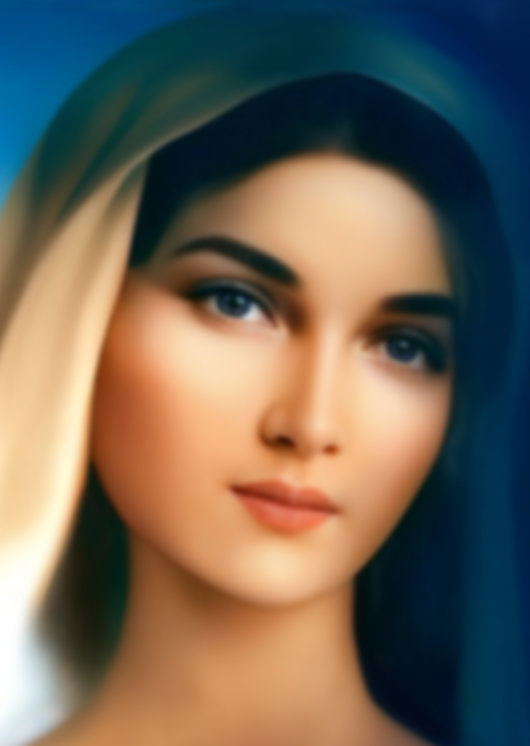 Beloved children of My Immaculate Heart:
WITH SO MUCH JOY I SEE THIS QUANTITY OF SOULS COMMITTED TO MY SON, SOULS THAT LOVE HIM. I BLESS YOU.
Beloved, the sun will unexpectedly launch its fire causing great disgrace on the Earth.
The man of science and those who have made science a god, will feel themselves collapse. Man has advanced in technology for the detriment of humanity. The technological advancements themselves will be the cause of destruction, of pain and plagues. Until that instant, those who have worked for technological advancements, will lift up their eyes crying out for forgiveness from My Son.
It is not that science and technological advancement are evil, it is the use that man gives them that will cause humanity great pain. My Son has sent Me to pilgrimage to warn those I received in My Heart at the foot of the Cross.
This generation, which lacerates My Heart more and more, is the one that makes tears stream from My Eyes continually, since on some occasions you act like strangers, so far away from this Mother and above all, from My Son, that it seems you were of a different shoot. You walk hurriedly, and Satan who is astute, takes your mind in order to make you instruments that cause your fellow men pain.
AT ALL TIMES THE HOLY SPIRIT HAS CHOSEN PROPHETS THROUGH WHICH HE HAS
TRANSMITTED HIS WORD SO THAT THE MYSTICAL BODY PREPARES AND TAKES HEED.
In every age My Prophets have alerted, announced and denounced the events that are approaching, and as in every age, in this crucial instant for humanity, how many of My children launch themselves against My Prophets, denying the Divine Word and My Calls, allowing the devil to invade their heart with jealousies, with truths that desire to surpass that Divine Word!
Be attentive to My constant calls. I do not come to bring My constant Love, since My Love is what compels Me to announce what is coming. I do not come to please those who want to hear what is coming, rather I come to convert souls, not by fear but so that they are aware that by being far from My Son's Love, they are easy prey for satan.
The Earth has aged rapidly due to the devastation man has caused it, and to the sin that man lets fall continually upon it, contaminating it and polluting the seas and forgetting that what you throw into the water and upon the ground, rises and again descends upon humanity, carrying with it unknown and great harms to the human person's physical being.
How different is this generation, in this instant in which it has closed off completely its senses to the call of the Holy Spirit! Blinded by desire and power and by the desire to enter into the unknown, they have entered into the depths of evil and it continually evokes it, insinuates and places before man a quantity of new unexpected inventions.
All that will happen is known by the Father. Not one hair falls without Him willing it. As Father, He always expects the best from His children, and at seeing that they do not respond adequately, He wants to rescue His Remnant People quickly. My Son has prepared His Legions so that they descend in aid of His faithful.
How much pain is coming and does not even cause man fear, on the contrary, you take quick steps to meet what is coming, challenging My Son and His Divine Will and despising this Mother.
Be, My beloved, people that make constant reparation for the offenses of those that scorn My Son; be aware of what is coming and that the instant is an instant, and this instant has ceased to be an instant.
MAKE A CHANGE, A RADICAL TURN IN YOUR BEHAVIOR; REMAIN CONSCIOUSLY UNITED TO MY SON, MAKING REPARATION, MAKING REPARATION FOR THE PAIN THAT THIS GENERATION GIVEN OVER TO ALL KINDS OF VICES CAUSES HIM.
The hinderances to turning to My Son and to listen to His calls and to love Me are many. And man, man has totally malnourished his spirit.
Beloved, who with faith and love hear My Word, I intercede for you, I need that willingness that will of yours so that the Holy Spirit along with His Sacred Fire fills you with wisdom and increases love and faith in you.
How many victim souls suffer in silence the contempt towards My Son! How many victim souls are daily crucified with My Son to make reparation for the offenses committed against the Eternal Father!
YOU IGNORE SO MUCH OF THE SPIRITUAL REALITY, THAT WHEN I MENTION TO YOU THAT YOU ARE LIVING A SPIRITUAL BATTLE, YOU DO NOT UNDERSTAND MY WORDS AND CONTINUE SUBMERGED IN THE FOLLY OF SIN.
The devil, with his henchmen, has invaded the Earth, and they, upon finding people empty of God, invade them and bring them new inventions of sin. How much less Sodom and Gomorrah sinned, and how suddenly they suffered for it?
MY SON'S MERCY IS INFINITE AND AT THE SAME TIME HIS JUSTICE IS INFINITE.
DO NOT EXPECT MORE DELAY.
Pray My beloved, pray for New Zealand, it will soon suffer.
Pray for the United States, it will suffer greatly.
Pray for London, it will suffer.
The Earth does not cease its process, the waters will not be stopped, man must be purified so that once passed through the crucible, he truly walks to meet My Son.
My Vicar suffers and the Church will suffer, will suffer, will suffer.
PRAY, PRAY IN EACH ACT, PRAY IN EACH THOUGHT, PRAY IN EACH WORD, PRAY IN EVERY SENSE, PRAY IN EACH STEP, PRAY IN EACH ACTION, BE PEOPLE OF ACTIVE PRAYER.
My Love guides you towards the Promised Land in the midst of the unexpected and constant forms of stumbling, in the midst of attacks, in the midst of pain, do not become disheartened. I guide you and will guide you to the Promised Land.
I bless you, be Love.
Mother Mary
HAIL MARY MOST PURE, CONCEIVED WITHOUT SIN.
HAIL MARY MOST PURE, CONCEIVED WITHOUT SIN.
HAIL MARY MOST PURE, CONCEIVED WITHOUT SIN.