Sunday, July 8, 2012
Message from Our Lord Jesus Christ
To His Beloved Daughter Luz De María.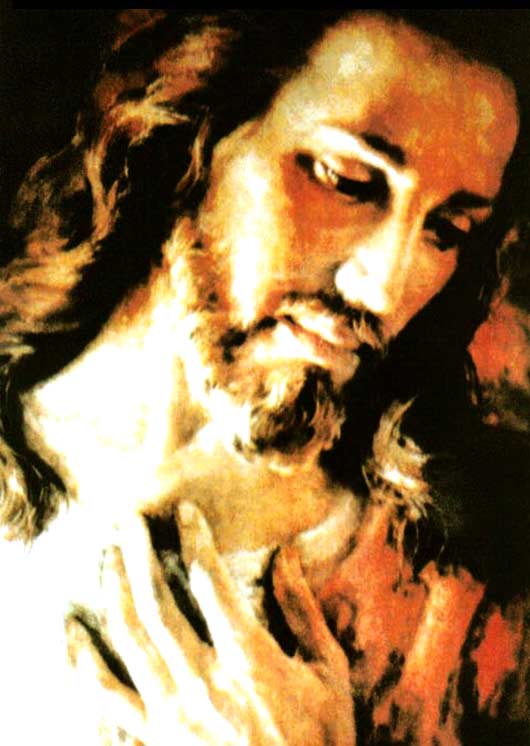 Beloved children:
MY MERCY ELEVATES MAN, IT REVIVES THE ONE WHO LIES DYING AND GIVES HOPE TO THE ONE WHO IS LOST.
I AM FREEDOM, LOVE, PATIENCE, I AM JUSTICE.
Man did not open himself to change, he rejected My calls, he did not believe in My Messianic Message, or in My Angels, or in My Mother.
This instant is primordial, evil has launched itself like a ravenous wolf destroying humanity. It has found hearts overshadowed by egoism, it has overcome the conscience and like a plague, eaten away the heart and sensibility with which man was created.
My Divine Lifeblood circulates through all of Creation; it spreads My Wonders to everything that remains in harmony with My House. Man, however, rejects it. Few are the ones who receive it with wisdom, that which is worldly defeats you, bandages your eyes so that you do not see the Truth.
I call you to live in austerity of thought. I call you to be different from the rest of humanity so that you spread My Love to those who do not know Me and you willingly open yourselves to this My Call.
Beloved, you live the instants that were announced, in which your walking Companions, your Brothers of light and purity, rush over each one of you urging you as in the past, to remain and to resist so that you are not satan's prey.
THE BATTLE IS SPIRITUAL, THE FIGHT FOR SOULS IS RELENTLESS, THE MALIGNANT ONE
CONCEALS THE SMALLEST DETAILS SO THAT YOU IGNORE THEM AND YOU ACT WRONGLY.
The masses drag those who are indecisive, snatching and erasing from their thoughts, from their mind and heart My Messianic Coming, My Sacrifice, this is the instant in which satan uses all of his cunning against those who are Mine, and My children do not perceive it, uniting in a mass against everything that signifies My Presence.
EVERYONE IN HIS OR HER STATE OF LIFE MUST BE A TESTIMONY FOR HIS OR HER BROTHERS
AND SISTERS. PREACH WITH THE TRUTH OF MY WORD, DO NOT GLAZE IT WITH HUMAN
RESPECTS AND BE FAITHFUL APOSTLES THAT UNIFY MY PEOPLE,
WHO I GATHER FROM NATION TO NATION SO THAT THEY RECOGNIZE EACH OTHER AND STRENGTHEN ONE ANOTHER.
This is the instant of My Holy Spirit, He fills with wisdom the one who looks for Him, who asks it of Him, who wishes to find the path again, satiate his thirst and find rest in the midst of the daily battle in which humanity moves.
PRAY WITH THE HEART. My Spirit will listen, filling those who repent with a sincere heart with strength. I need Faithful People, that walk without fears, without selfishness, secure in the knowledge that My Spirit does not abandon you and like at Pentecost, will fill the empty bottles, light the candles, and your brothers and sisters will marvel at your fidelity, since those who are Mine walk in silence, in simplicity and in love.
It is not a coincidence that nature, aged by sin and contaminated by man, wants to renew itself. From the depths flowing rivers of lava will burst forth. Pain is expiation and expiation awakens the heart that is sleeping and blinded by evil. The waters of the sea will be contaminated anew.
I WAIT FOR YOU, I LOVE YOU.
MY JUSTICE HAS BEEN CALLED BY HUMANITY, AND MY JUSTICE HAS LISTENED.
I COME FOR MY PEOPLE.
Pray, beloved children, pray of Russia.
Pray, children, pray for Chile, it will weep.
Pray, children, pray for Costa Rica, it will be hurt.
Trust in My Love and in My Justice. Every one receives his or her own measure before himself or herself, the conscience will be a mirror for man. The pollution of the mind is what is most lethal for man, for misconceptions are assumed.
DEFEND MY CHURCH. YOU ARE MY MYSTICAL BODY, YOU ARE MY UNIVERSAL DEFENDERS, DO NOT TURN AWAY. LOVE MY CHURCH.
Do not silence My Calls, treasure them.
Do not fear, I remain with My People.
Your Jesus
HAIL MARY MOST PURE, CONCEIVED WITHOUT SIN.
HAIL MARY MOST PURE, CONCEIVED WITHOUT SIN. HAIL MARY MOST PURE, CONCEIVED WITHOUT SIN.