Sunday, July 15, 2012
Message from Our Lord Jesus Christ
To His Beloved Daughter Luz De María.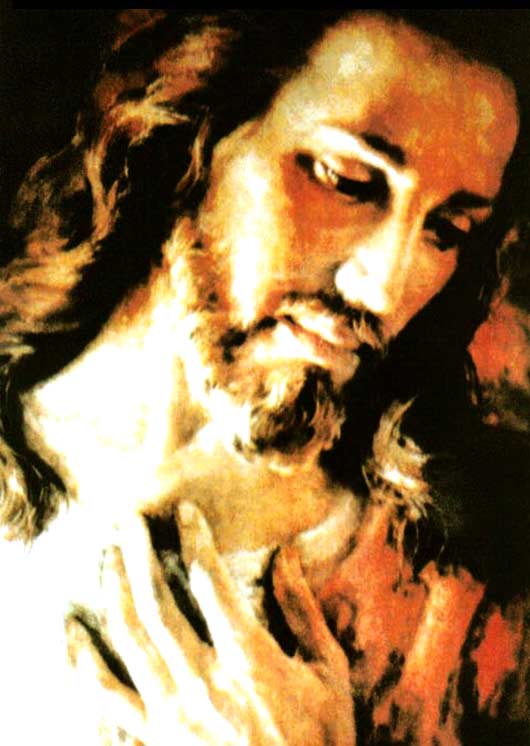 Beloved children:
MY HEART IS ENRAPTURED BEFORE THOSE WHO LOVE ME.
I come to man's encounter, in search of his love, I do not want more souls to be lost or for the demons to rejoice when a soul reaches them.
Children, satan and his own are astute and so that men do not perceive them, they work silently seeking what most attracts you so as to make you fall, guiding you towards what most subdues you.
The Powers that maintain power on Earth, prepare war in union with the one who is most interested in this work to cause harm: the antichrist.
Children, the antichrist is not a creature that will fight alone against My People, but is a global power, machinery that does not stop. His primary goal is war. The use of nuclear energy will obliterate entire countries.
I ANNOUNCE TO YOU, NOT TO FRIGHTEN YOU BUT SO THAT YOU CHANGE YOUR WAY OF LIFE AND REUNITE WITH ME.
Evil's allies follow orders in haste. After this happens, rulers will be unable to issue opinions, they will not be so important. Evil will give them orders and they will obey. Bank transactions will be a thing of the past; in that instant you will not be able to carry out any transaction. Hunger will spread, food will be reduced for the population, among them water will be contaminated and disasters will make themselves present; the geography of the Earth will not be the same.
A dense cloud covers the world with these evils that are born in the heart of man.
WAKE UP, YOU ARE ASLEEP! And My sheep run astray without shepherds; there are few for so many sheep, it is few who look at reality head on. These are the instants in which My Mother's Name must be received with greater love. Through Her, salvation was begun, and through Her intercession it will be completed.
My Mother will announce throughout the whole world My Love and My Mercy so that you do not fear Me but Love Me.
My Mother extends Her Mantle over the Church. When the Church is purified, and when it is raised, again She will drive out the invaders.
You will see a sign in the Heavens, luminous as never before, a sign that I send so that My children prepare.
Pray, children, for Pakistan.
Pray for Spain.
Pray, children, for Japan.
Catastrophes continue, I announced them, did not I? Some that discredit Me will be the first to detail the truth to all people, since they will see the error they committed.
You, My faithful, know that I call you with love, I detail reality to you so that you are not found asleep.
I AM BENEVOLENT, I AM MERCY, I LOVE MY OWN, I SUFFER SO MUCH SUFFERING WITH YOU.
I DESIRE THE RENEWAL OF MY PEOPLE NOW,
I WOULD WISH THAT CONVERSION DID NOT MEET WITH SO MUCH RESISTANCE.
Man does not want to hear Me, he considers Me to be in Heaven and far from the Earth.
They despise those who mention My Name and preach with the truth, despising My children they forget that they hurt Me with that ingratitude. The Babel of yesterday is the one of this instant. Well do the confessors know reality.
Children,
I INVITE YOU TO PRAY AND TO PRACTICE FRATERNITY, IN REPARATION FOR THE OFFENSES OF HUMANITY.
I need souls that fight, souls that make an effort, souls that recognize My Omnipotence, that do not limit Me and allow Me to guide them.
Turn away from sin, from that which separates you from Me; do not be fools in persisting to rebel against Me and remaining in the current of what is worldly that remains contaminated by satan's evil.
The body is the Temple of the Holy Spirit, and how you disfigure it with figures of malignant representation, with the number 666 showing it off with great pride! Those are My People. Do not remain blind; that is My People who have supplanted Me with evil's tricks. Those people are whom
I want those who are consecrated to Me to awaken, to those sleepy people I have sent My Prophets so that they awaken those who are Mine. I see those who say they love Me rise, so as to hide the reality of what is happening.
No, children, the reality in which you live is not hidden, it is seen. I call you to not loose heart, My faithful do not loose heart, they maintain the faith in My Protection and in My Word which is above everything.
I love you, and My blessing remains with My faithful.
I bless those who treasure with love My urgent calls.
I BLESS THOSE WHO CELEBRATE WITH DEVOTION THE FEAST OF MY MOTHER UNDER THE INVOCATION OF OUR LADY OF CARMEL.
I bless you.
Your Jesus
HAIL MARY MOST PURE, CONCEIVED WITHOUT SIN.
HAIL MARY MOST PURE, CONCEIVED WITHOUT SIN. HAIL MARY MOST PURE, CONCEIVED WITHOUT SIN.