Wednesday, August 8, 2012
Message from the Blessed Virgin Mary
To Her Beloved Daughter Luz De María.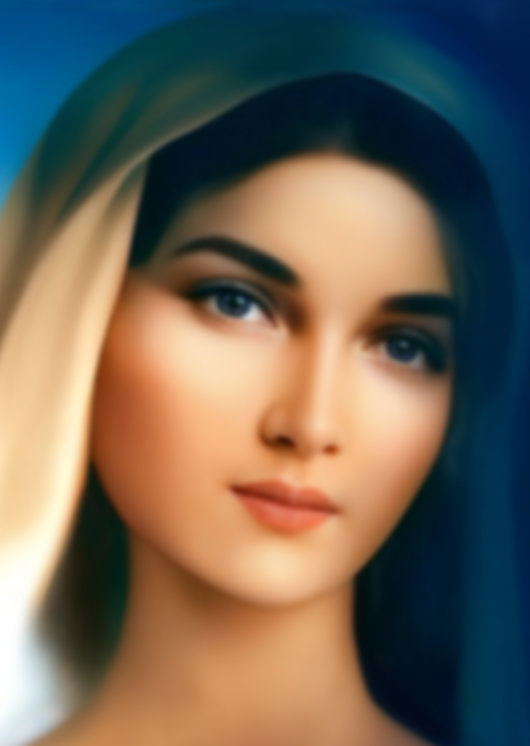 Beloved children of My Immaculate Heart:
IN THE UNITY OF THE FATHER, OF THE SON AND OF THE HOLY SPIRIT ENTER
INTO THE INFINITE LOVE, INTO THE FATHOMLESS MYSTERY OF THE MOST HOLY TRINITY.
You have received the New Covenant, the Eternal Covenant that My Son has bequeathed to you with Infinite Love: The Eucharist.
You were gifted with the Gift of human Freedom so that this generation would act consciously of this legacy that My Son has given for each human being. HE GIVES HIMSELF TO EACH ONE OF YOU TO DWELL IN EACH ONE OF YOU.
The laws have been given to be fulfilled and the Father's Will must be complied with in all the ages. In this instant, this generation is not an exception; it has turned away from the true Word, from the true Love and from obedience to the Most Holy Trinity.
This generation especially, remaining with so much advancement in all fields, drowns continuously in a suffocating, negative progress that has submerged it in total indifference and disrespect for the Divine Word.
The willingness and the awareness of the Gift of Life have been relegated to last place. How much offense, how much pain, how much disrespect to the Trinity! You remain sunken in sin.
You remain on this Earth to abide by the wishes of the Father, to be thankful for My Son's sacrifice, to consciously open yourselves to the Holy Spirit and not to limit the creative power of the Eternal Father. On the contrary, you must expand your mind and your thoughts towards all that Divine Power that has no limit.
I invite you to pray:
"Oh Father, oh Son, oh Holy Spirit giver of Life, of Mercy, of Forgiveness and of Justice: keep me tied to Your Infinite Love so that whatever blinds my life, be overshadowed by You.
I consecrate my thoughts, my senses, my entire being to Your Power, to Your Infinite Mercy and to
Your Divine Justice. I am aware that I constantly turn away from Your Love and allow vanity and dreams to distort that faith of which I do not give testimony.
Come Divine Spirit, come with Your Power, renew my entire being and as a person renewed in
You, renew my mind and my thoughts and make my heart beat constantly to keep me being one with You, Oh Most Holy Trinity!
Forgive the continuous offenses, and appealing to your Divine Mercy, I also give myself to Your
Divine Justice. Renew me from within and so that thus I may be a faithful witness of Your Love, of Your Kindness, of Your Omnipotence and love you above all." Amen.
Children, you remain on this Earth to worship, reverence and praise the Father, the Son and the Holy Spirit. By not fulfilling this duty and this continuous thanksgiving, you have forged for yourselves a painful future giving yourselves over into the hands of the son of perdition. My Angelic Hosts do not desert you, My Love has placed My blessed Mantle over My children to protect them, the dome of heaven remains with My Mantle to bless you.
I cannot penetrate into the human will if My children do not allow Me to do so. Children, allow Me to guide you by the good way so that you shorten the pain and are able to nourish faith.
I invite all to pray for Mexico.
I invite you to pray for the United States, pray strongly.
I invite you to pray for those of My children who, invaded by evil, are going to bring humanity pain.
AS MOTHER I LOVE ALL OF YOU WITH MATERNAL LOVE. I will not cease My calls in this instant in which My children will face a great suffering.
TAKE MY HAND, I DO NOT ABANDON YOU, TRUST IN MY PROTECTION AND DO NOT DESPISE MY
SON. He came to rescue you and to save His People. Take the correct path, fight against your human will and give yourselves to My Son who will lead you to enjoy Eternal Life.
I GIVE YOU MY HEART IN THESE INSTANTS IN WHICH MY SON IS FORGOTTEN BY HIS PEOPLE, He is forgotten by those who have consecrated themselves to Him/by His priests and is forgotten by those for whom He sacrificed Himself.
AFTER THE PURIFICATION COMES THE GLORY, THE SUN WILL BE REBORN AND WILL SHINE OVER
ALL OF CREATION AND MY SON WILL REIGN OVER EVERY CREATURE, ON HEAVEN, ON EARTH AND EVERYWHERE.
I bless you, I give you My Love.
Mother Mary
HAIL MARY MOST PURE, CONCEIVED WITHOUT SIN.
HAIL MARY MOST PURE, CONCEIVED WITHOUT SIN. HAIL MARY MOST PURE, CONCEIVED WITHOUT SIN.