Wednesday, September 19, 2012
Message from the Blessed Virgin Mary
To Her Beloved Daughter Luz De María.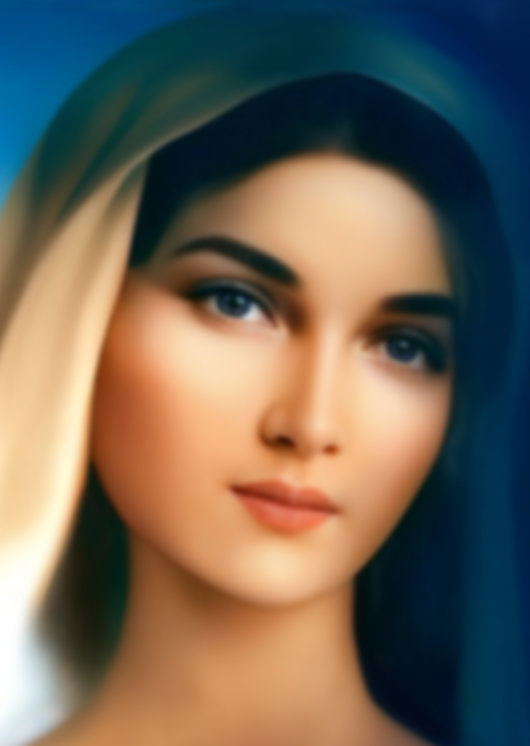 Beloved children of My Immaculate Heart:
I BLESS YOU CONTINUOUSLY, INSTANT TO INSTANT,
SO THAT YOU DO NOT SUCCUMB TO THE EVIL THAT PROWLS WITHOUT CEASING.
Maintain unity, everyone of you being a point of unity, a strong bond that does not allow divisions.
How much have I called you to remain united, in charity, in understanding and in Divine Love!
Man, like the waves of the sea, approaches what is Divine and then recedes.
THESE INSTANTS ARE NOT LIKE IN THE PAST,
THEY ARE INSTANTS IN WHICH YOU NEED TO REFLECT ABOUT YOUR ACTIONS,
SINCE MY SON APPROACHES WITH POWER AND WILL ASK EACH ONE OF YOU FOR AN ACCOUNT
OF YOUR BEHAVIOR AND HOW YOU HAVE PRACTICED LOVE AND BROTHERHOOD WITH YOUR NEIGHBOR.
Man's "ego" has been a cause of great evils because of disobedience, because of debauchery confused with free will. This is the instant in which each one of you must rise turning away from all that which turns you away from My Son and My Calls.
As Mother of Humanity, I see the increasing and unstoppable wave of immorality in which this generation has sunk. Each one of you must assume responsibility, it is not an unconscious immorality, man is aware that these acts are go against My Son's teachings and contrary to My Calls to modesty and love…, they cause Me to suffer and lead you to fall.
FIDELITY TOWARDS MY SON IS FOUND ON ONLY ONE PATH, NOT ON SEVERAL PATHS, BUT ON ONLY ONE PATH AND THIS PATH CONTAINS WITHIN IT FAITH, ADORATION AND HUMAN HUMILITY.
My Son comes for sinners, for those who are sick of body and of soul, for those who are in need and abandoned, for those who continuously fall into the mud without being able to get back up. Only humanity is not humble, it does not own up to the sin it commits, it does the opposite of what would unite it with My Son's House. This leads man to act without measure, without limit, leading him to the precipice.
How many attachments from man towards what is material will be cut short from one instant to another!… and in a person without My Son in his/her heart, without confidence in this Mother… what reaction can be expected from him or her other than despair?
Idolatry has displaced My Son and long in advance, it displaced Me as Mother of Humanity. That idolatry to what is material, that idolatry to technology, that idolatry to the flesh, that idolatry to vices that for seconds let you forget the situation in which you live.
HOW MUCH INDIFFERENCE AND OBLIVIOUSNESS ON YOUR PART AND HOW MUCH DIVINE LOVE CONTINUOUSLY DESCENDS TOWARDS WHOMEVER ACCEPTS IT FREELY!
I invite you to unite in prayer for Mexico.
I invite you to pray for Australia.
I call you to pray for Nigeria.
My beloved, man's mind has united indulging his egoism and this, coupled to the effects caused by Nature, continuously bring pain and suffering over all the Earth.
Do not be like those who are lukewarm who claim to believe and feel what they do not believe or feel in their heart.
Do not be like those who are lukewarm who arrive before My Son with a mask of goodness thinking to deceive Him.
Do not be like the weeds that invade and spreads to obscure the wheat.
Be true, expand your heart, your mind and your thoughts so that whatever descends out of Divine Will for you, with the Divine purpose to show you the Trinitarian Omnipotence, be received with joy and not despised.
The instants will come in which those learned in the field, those learned ones who have astounded humanity will be those who feel themselves to be ignorant before Divine Power.
Instants are coming in which My Son's Love reclaims those who are His.
Instants are coming in which Nature, all of Creation as one, will embrace humanity to awaken it from this lethargy in which it willingly remains towards all that which is related to Heaven.
You do not remain alone, you well know it, you do not remain alone, it is necessary of the human will to willing welcome My Son and This Your Mother to protect you.
Freedom is not licentiousness, freedom is awareness that the Father, the Son and the Holy Spirit exist, it is awareness that man proceeds from the Eternal Father, it is awareness that Love and Infinite Mercy have converged in all generations, and that this generation has abused of it.
Amend you behavior, come out of your lethargy, take strength from My Son's Word, the strength of the faithful, the strength of faith and fight injustice, abuse, immorality and the denial of My Son uttered by man.
BE THE LAMPS THAT OVERFLOW WITH OIL AND IN THIS INSTANT OF DARKNESS, GUIDE THOSE WHO BEG ONLY A GLANCE, A WORD TO OPEN THEMSELVES AND RETURN TO THE TRUE PATH.
The climate will scourge all the Earth, varying its normal and natural condition everywhere.
WAKE UP, WAKE UP! FOR CREATION CALLS TO YOU.
CREATION CALLS TO YOU AND ALERT YOU,
CREATION ASK YOU TO BE ONE WITH THE TRINITARIAN WILL.
WAKE UP, CHILDREN, WAKE UP FOR SOON THE GREAT EVENTS WILL ARRIVE.
AND THE HORROR OF THE VOLUNTARY SEPARATION
THAT EACH ONE OF YOU HAS MARKED ON HIS OR HER PATH TOWARDS MY SON'S WORD, WILL CAUSE YOU TO GREATLY TREMBLE IN YOUR SOUL.
My children are wise and before the storm arrives they make previsions, not for personal benefit for an instant, but because they recognize their smallness and the greatness of the One who sends Me to bring you His Word.
Remain in My Son's Peace.
Each one of you be a repeater of the Unity in which I maintained My Son's Disciples in instants of desolation.
BEING UNITY IS NOT TO INDULGE THE ONE WHO IS MISTAKEN, IT IS TO MAINTAIN EQUANIMITY WITH LOVE.
AS MY SON COMMANDS IT, AS MY SON ASKS IT TO BE. SO SHOULD MY FAITHFUL ACT…
I bless you.
My Peace, My Maternal Love be with each one of you.
Mother Mary.
HAIL MARY MOST PURE, CONCEIVED WITHOUT SIN.
HAIL MARY MOST PURE, CONCEIVED WITHOUT SIN. HAIL MARY MOST PURE, CONCEIVED WITHOUT SIN.