Wednesday, September 26, 2012
Confidences of the Holy Archangels
Given to Their Beloved Luz De María.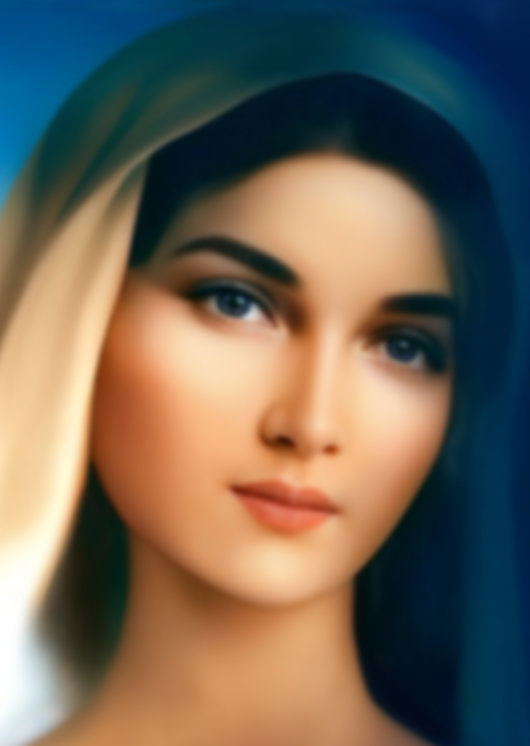 Beloved:
THE PAGES OF HUMANITY'S HISTORY REMAIN FILLED WITH OUR PRESENCE.
We were the direct messengers from the Father's Will to His Chosen People, and especially with His servants who were committed and faithful to Him. We were chosen by God to announce to Our Queen and Mother the great event of the coming of the Savior of Heaven and earth.
Our journey has not been in vain; our presence in the midst of humanity has marked the Trinitarian Plans in instants in which humanity was succumbing because of disobedience. In this instant, this generation brushes us aside and does not believe in our help. We have received the necessary gifts from the Sacrosanct Trinity. Since we live in unity and in fusion to the Divine Will, we have received from this Trinitarian Will, what is imperative to intervene so that man returns to the path of truth and of salvation. Even so, respecting free will, we remain helping you to the extent that each one of you allows us.
ALL THE EVENTS THAT HAVE BEEN ANNOUNCED AND OUR CONSTANT INTERVENTIONS, WHICH
YOU STILL DO NOT UNDERSTAND, HAVE CONVERGED IN THIS INSTANT, IN WHICH WE REMAIN
WAITING,
SINCE WE THUS OBEY THE TRINITARIAN WILL.
We will intervene particularly and on a spiritual level as long as and in as much as you request it; not in the stopping of the Divine Plans or in mitigating or lessening them.
This perverse generation has exceeded the cup of Divine Mercy. We your brothers, your companions on the journey, present in all the ages of humanity, with joy and loving respect towards the Creator, feel our being sadden before the lack of man's awareness and response.
Already our King has insistently called you to be ready- only that –to be ready to be fully filled with what you need to resist the daily onslaught.
We see a great indifference, an exaggerated detachment towards what is Divine and it is because you still are not able to fully understand the very serious instant in which this generation lives.
Just as they mocked Noah, so they mock in this instant those who, fully filled with the Divine Spirit, announce the upcoming events and the Second Coming of Our King. So you will lament when you find yourselves face to face with that senselessness with which you have acted, with that disobedience in which you have submerged yourselves, with that continuous denial with which you deny yourselves Salvation.
Beloved of ours:
IN THIS INSTANT WE CALL YOU TO WAKE UP, FOR TIME IS NOT TIME
AND THE INSTANT HAS CEASED TO BE AN INSTANT; WE CALL YOU TO PREPARE YOURSELVES WITH COURAGE, WITH FAITH, STRENGTH AND OBEDIENCE, BUT ABOVE ALL IN UNITY AND IN LOVE.
Do not fight with one another, for demons move among you and they enter in the conscience and in the heart, in thoughts and in the mind of human beings, working assiduously, continuously to lead you to disunite, to not love one another and to fall. Is not the devil's snare and onslaught sufficient for you, that you still have to fight among yourselves?
THE KEY OF THIS INSTANT IS THE UNITY IN WHICH YOU MUST REMAIN
WITHOUT LOOKING AT YOUR BROTHER OR SISTER'S BEHAVIOR, BUT LOOKING WITHIN EACH
ONE OF YOU, AND IN THIS WAY TO SEE YOURSELF AS YOU ARE TRULY AND WITHOUT DISSIMULATION.
This is the instant in which the person must work on himself / herself, overcoming all snares that comes to his/her thoughts, all snares that the malignant one sows in his/her heart.
THIS IS THE INSTANT OF A PERSONAL BATTLE BETWEEN GOOD AND EVIL… AND YOU HAVE NOT UNDERSTOOD IT THUS.
It is a decisive instant, extremely decisive in which the person must fight against himself/herself, against his/her "ego" and be newly humble. Do not lose humility, do not lose humility. Do not think you know it all, be humble, enter into your personal interior and renew yourselves from within in a spirit of Christ-like Love, universal, without distinctions, rather feeling yourselves as you are: all children of a single Father.
Onward, beloved People of the King! Onward, beloved People of the King! We protect you, we accompany you so that you do not continue to wander through the desert of sin and of senselessness.
How you offend Our Queen! How the fashions and trends of this instant offend Her, fashions and trends in which the genders are confused and the woman has lost decorum!
How much pain causes the one who is excessively pleased with these modernisms to satisfy his or her sinful cravings! No beloved of ours, the human being must tend to holiness, must tend to purity so in that way his/her entire being is willing and is able to reach the holiness that Our King expects from each one of those who make up His People.
How will the cry of the lukewarm be when the wheat is separated from the chaff! There the person will weep and moan and lament his or her disobedience and unbelief, he or she will lament having ignored the Divine Signs, having spread lies to counteract our presence in the midst of humanity.
How they will lament, those who with great Divine Mercy have received in the midst of their humanity, Divine signs and elections and have minimized them, tending to all that to which the baseness of the world calls man!
IN THIS INSTANT THE ONE WHO HAS GIVEN HIMSELF/HERSELF TO OUR KING AND OUR QUEEN
MUST BE READY, MUST RESPECT, MUST ABIDE LIKE THOSE WHO DID NOT SEE,
WHO DID NOT HEAR, WHO DID NOT FEEL BUT WHO AWARE THAT THE FATHER CALLED TO THEM IN OBEDIENCE, WERE WILLING TO WALK.
And today in this instant you have been left all, all this blessing, through which Heaven itself has been directed to you in the Apparitions of Our Sovereign Queen of the Angels.
Continue to be a heart of unity, a heart of defense against evil, a heart of love towards which all that is not truth, be dissipated and unable to penetrate into you.
THE BATTLE IS STRONG, BUT IT IS NOT IMPOSSIBLE TO OVERCOME. WE IN A CONSTANT COMING AND GOING DO NOT ABANDON YOU; ELEVATE YOUR EYES TOWARDS ON HIGH. HERE WE REMAIN YOUR COMPANIONS OF JOURNEY; WE WILL DEFEND YOU AND PROTECT YOU IN EVERY INSTANT.
Receive our love and our yes, our Fiat to Christ the King and to Our Queen and Mother of the Angels and of all of humanity.
The love of Christ remains in you.
The Holy Archangels.
HAIL MARY MOST PURE, CONCEIVED WITHOUT SIN.
HAIL MARY MOST PURE, CONCEIVED WITHOUT SIN. HAIL MARY MOST PURE, CONCEIVED WITHOUT SIN.