Wednesday, October 3, 2012
Message from Our Lord Jesus Christ
To His Beloved Daughter Luz De María.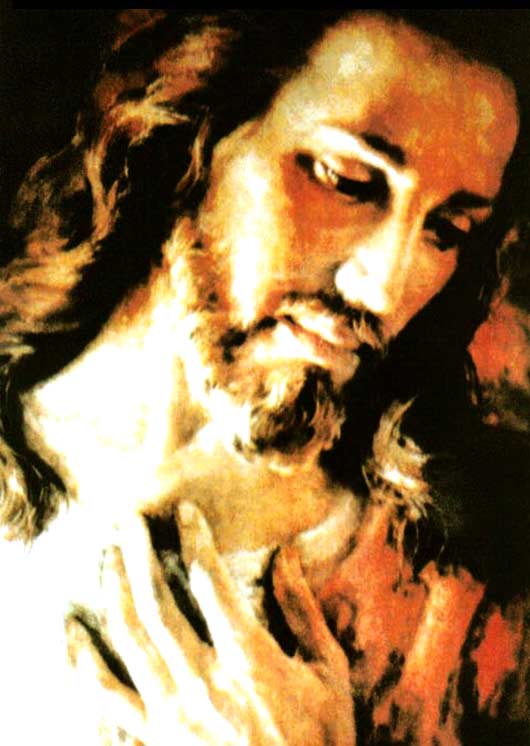 My beloved People, My beloved People, I bless you.
MY LOVE AND MY MERCY REMAIN BEFORE EACH ONE OF YOU.
ONWARD MY FAITHFUL, DO NOT STOP!
ONWARD FOR THE ONSLAUGHTS OF THIS INSTANT ARE ONLY SO THAT YOU SHOW YOUR LOVE AND YOUR FAITH TOWARDS MY FATHER'S HOUSE!
In every age My Mercy and My Love have remained before humanity. Why would it be different in this decisive instant? How is it that some want to limit My Love and My Mercy?
NO, NO YOU WILL NOT LIMIT ME!
As I protected My People in the past, so I continue to protect them and will continue to protect them.
The Divine Word arrived through the Prophets and today in this instant, I EXPLICATE AND CLARIFY MY WORD before a hard-headed humanity that does not want to be saved.
I will not limit My Mercy no matter how great man's offenses towards Me are, but My Mercy reaches My faithful when they open themselves to it and seek it out. I offer and man must seek Me, he must make himself willing to receive Me.
I AM LOVE AND MERCY AND JUSTICE AT THE SAME TIME… I WOULD NOT BE A GOOD ADMINISTRATOR IF I FILLED EVERYONE WITH MY MERCY WHEN THEY NEEDED RIGOR IN EQUAL MEASURE.
My faithful fighters must remain assured of My House's protection. Those who repent with a contrite and humble heart, maintain the security of My House's aid.
Oh humanity! Those who are lukewarm are so many, so many are those who announce a future filled with love and peace, denying My children the ability to see with the truth! They deny My Announcements and My Calls so that man does not see the exactness of the events, does not renew his conscience and does not become willing to seek Me.
Woe to those who knowing My Word, deny it!
Woe to those who knowing that Mercy comes accompanied by Divine Justice, deny it!
What would have become of My People in history past if Divine Justice had not reached them?
You would not exist in this instant, since if sin had not stopped at the right time, all of humanity would have perished without leaving an opportunity for a just person to begin the history of this generation again, since even the just could have fallen.
I INVITE MY FAITHFUL TO RISE WITH STRENGTH, TO OVERCOME THE OBSTACLES, TO SEE ME
WHO AM OMNIPOTENT AND TO TAKE THE DAILY CROSS WITH LOVE. I NEED PEOPLE OF FAITH,
PEOPLE WHO ARE DECIDED, PEOPLE WILLING TO FIGHT WITH THE WEAPON OF LOVE AND OF FAITH.
How many events hover over this generation! Woe to those who have denied them! They will lament and will hurt in spirit, having committed a great sin, which is: lessening My Divine Justice before humanity so that debauchery takes over completely that Holy Remnant that still survives in the midst of this stormy sea that is modernism that quickly drags the weak, those who do not know Me, those who do not search for Me, those who despise Me. I invite you, My People, to speak for the one who remains silent.
I COME SOON IN MY SECOND COMING WITH POWER, WITH MY GLORY AND MY MAJESTY,
ACCOMPANIED BY ALL THE CHOIRS OF ANGELS,
OF YOUR BROTHERS COMPANIONS OF YOUR JOURNEY, OF THE POWERS, THRONES AND DOMINIONS.
I COME WITH POWER SO AS NOT TO PASS UNNOTICED.
There will not exist a person who does not notice that I descend with all My Power. The earth will shake, the air will vibrate, all of creation will surrender before Me, because the King of Glory comes for His People.
But before this, of this My Coming, each one of you in a very particular way will see yourself from within, you will see yourself in spirit and from it will emanate an abundant river that passes before the conscience of each one of you, showing you in its waters like a mirror, all the events of your life.
THEY WILL BE POWERFUL INSTANTS BUT NECESSARY SO THAT YOU DULY PREPARE YOURSELVES,
SO THAT YOU BECOME AWARE OF THE OFFENSES COMMITTED TOWARDS ME AND TOWARDS MY
MOTHER. Even so, there will be some of hard and strayed heart, who taken and attracted totally by what is worldly and sinful, will say that this event of the WARNING has been a creation of man, they will deny it and will rise in an ostentatious life of sin.
My People, I refine those who are Mine, not because I do not love you but on the contrary, because My Mercy towards you is so great, that I want you to be beside Me, and next to Me are the pure souls, those who do not fear speaking with the truth, those who are courageous and practice My Love with their neighbors, those who crush the human "ego" so that My Spirit surges with power in them.
I LOVE YOU, MY PEOPLE, HOW MUCH I LOVE YOU!
MY EYES DO NOT LEAVE YOU FOR AN INSTANT.
Do not fear, I have never abandoned one of My sheep, it will not be different in this decisive and urgent instant for this generation.
I invite you to pray for the Middle East, the spark of war ignites.
Pray My beloved, pray or My beloved Mexican People. Pray, pray for Chile.
Pray for yourselves so that you do not decline in faith.
I bless you, My Love remains in you.
Your Jesus.
HAIL MARY MOST PURE, CONCEIVED WITHOUT SIN.
HAIL MARY MOST PURE, CONCEIVED WITHOUT SIN. HAIL MARY MOST PURE, CONCEIVED WITHOUT SIN.