Sunday, October 7, 2012
Message from Our Lord Jesus Christ
To His Beloved Daughter Luz De María.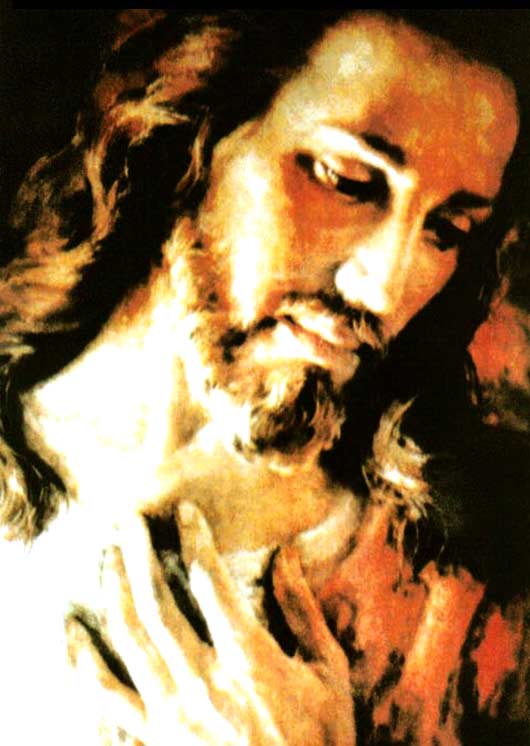 Beloved children:
MY HEART BURNS WITH LOVE FOR YOU, FOR THOSE WHO ARE MINE.
MY HEART CONSTANTLY POURS OUT THANKS OVER THOSE WHO LOVE ME IN SPIRIT AND TRUTH.
MY HEART DOES NOT DESPISE ANY SINNER, IF REPENTANCE IS TRUE AND IF THE PERSON IS WILLING TO FIGHT AGAINST WHAT SURROUNDS HIM OR HER AND THAT LEADS HIM OR HER AWAY FROM ME.
I am Divine Love. Due to this I offer My Mercy to all; no matter how sinful man is, if he presents himself before Me willing to be humble and to direct his path towards good and his heart remains contrite, I forgive him and lead him to be a new person.
I am at once infinite Mercy and Justice. If man calls Me, I come quickly; if man despises Me, I respect his free will. I intervene for the good of those who are Mine, I wait, I am Patient and announce what is for the good of humanity. My Love leads Me to alert before acting.
I WOULD NOT BE A JUST JUDGE IF I SHOWERED YOU WITH CALLS THAT DO NOT ALERT MY
PEOPLE,
IF I DID NOT FIGHT FOR YOU TO WAKE UP AND TURN AWAY FROM DEBAUCHERY, REBELLION,
ARROGANCE, PRIDE, HAUGHTINESS, LIBERTINAGE, IMMORALITY AND DISRESPECT TOWARDS THE GIFT OF LIFE.
And how much satan has done against humanity, seizing the minds of those who give supremacy to their idols of power, of domination and of money, manipulating atomic energy being aware of its destructive power, and still, unashamedly have carefully distributed it over the earth. Ignoring and despising My Power, the nations March against Me, just like those who yelled, "crucify him!"
HUMANITY CONTINUES TO CRUCIFY ME AGAIN AND AGAIN. Attacking against one another, dividing themselves, in crucial instants in which unity must be strength that elevates the souls of those who love Me, so that they be strengthened in brotherly love. Do not look for the one who is living among the dead. Do not look for Me in the wrong places, where I do not find the repetition of My acts living fully My Word and taking it to reality in each step you take.
Do not say you love Me if you do not share the Bread of My Word or physical bread with your hungry brother or sister.
Do not say that you love Me if you give the bread that satisfies hunger and leave man without the Bread of My Word.
Do not say you love Me, if you do not desire the good of all of humanity.
BE MY SAME LOVE, CULTIVATE YOURSELVES IN MY WORD AND LIKE A CRYSTAL THAT IS COMPLETELY CLEAN ALLOW ME TO MAKE MYSELF VISIBLE IN YOU FOR THE GOOD OF ALL WHO FEEL LOST.
I DO NOT ABANDON YOU, I RESPECT HUMAN FREEDOM.
Unawareness and current man's lack of humility is a lamp without oil, it is an epidemic that spreads with the wind from mind to mind, from thought to thought, from heart to heart. You say you love Me and you blame Me for what takes place, without looking at yourselves when you offend My Love, and scorn My calls denying yourselves the salvation I offer you.
Humanity does not see, does not hear, does not analyze, does not maintain wisdom or discernment; man lives empty of love, he walks scattering the seeds of envy, resentment, hatred and ill will towards his fellow men.
FEW ARE THE ONES WHO TREASURE MY CALLS, WITH THOSE FEW I WILL DEFEND WHAT IS MINE FROM THE CLUTCHES OF THE DEVIL who will rise with the hustle and ignorance of humanity and will raise up the false one[2], who guided by the enemy of the soul will fight against My Church: My Mystic Body, he will torment it, persecute it, test it and purify it. Whoever does not recognize My Truth will not recognize the deceiver, who hastily will lead My Faithful to suffer.
THE PROPHECIES HAVE NOT BEEN REVEALED TO FRIGHTEN MAN, BUT SO THAT MAN DISCERNS AND IS NOT SEDUCTED BY THE TRAPS OF THE ANTICHRIST. Nevertheless, men, My children, before the rebellion of this generation, continue to accept evil, thus being able to demolish and banishing what little love you hold in your hearts.
Beloved of My Heart:
THE SERPENT DOES NOT SLEEP, IT TENDS TO DECEIVE WHEN YOU PASS NEAR IT, IT ACCURATELY ATTACKS POISONING YOU AGAINST ALL THAT IS MINE AND LEADING YOU TO REVOLT.
Beloved, My faithful will not be lost, you now live the instant in which humanity will hurt and lament. This instant that worsens more brings with it terror, but must increase the union among you.
Pray My beloved, for Japan.
Pray My beloved for Africa.
Pray My beloved, pray for Italy.
The roar of the volcanoes will cause fear, do not forget My children that I Am Your God. No matter how much the volcanoes roar, My People will not fall, they will remain faithful in the security that My Second Coming is near.
MY PEOPLE WILL RISE IN MY NAME AND I WILL BLESS THEM WITH MY ETERNAL LOVE.
I send you My Peace.
I love you.
HAIL MARY MOST PURE, CONCEIVED WITHOUT SIN.
HAIL MARY MOST PURE, CONCEIVED WITHOUT SIN. HAIL MARY MOST PURE, CONCEIVED WITHOUT SIN.
Your Jesus.