Wednesday, October 17, 2012
Message from St. Michael the Archangel
To His Beloved Luz De María.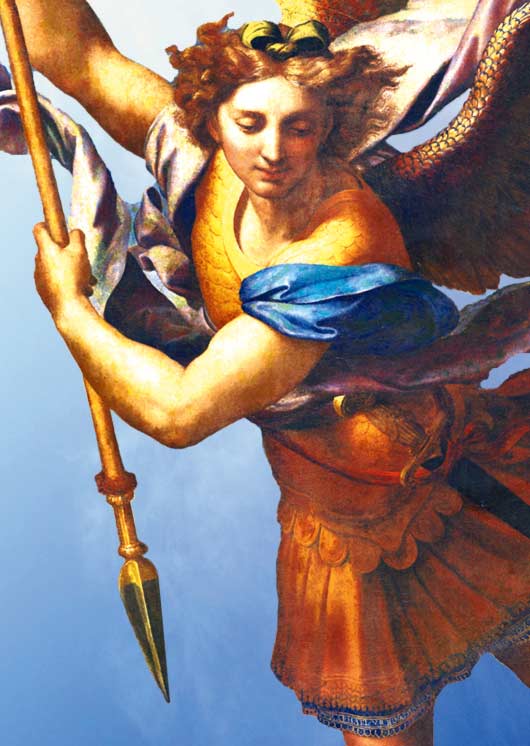 Beloved children:
YOU ARE GUARDED BY ME, EACH STEP YOU TAKE IS SEEN BY MY LEGIONS.
Man's enemy wants to gather the greatest number of souls possible so as to rise with more power.
When our Queen speaks in Heaven and in the Universe, every knee bends. On Earth, Her children do not listen to Her, they ignore Her calls and cross them out as false. This so as to flee from the reality that afflicts them. They do not see the truth where the truth is found, they see it in what is deceptive; this is the way in which evil comes to attracts men so as to turn them away from Christ and our Queen and Mother.
What is to come unexpectedly is not history of the past, rather it will be a reality in this generation due to the distancing of the truth, of brotherhood, of a disposition towards good, but above all for having limited the action of the Omnipotent One in man and for remaining turned away, distanced from Him.
Without knowing all, man is born predisposed to act within free will, contaminated by what is worldly and that distances him from the truth and from the union with Christ.
Beloved:
THIS BATTLE OF THIS INSTANT OF INSTANTS IS SPIRITUAL, AND YOU MUST REMAIN ON THE CORRECT PATH TO SHORTEN THE SUFFERING.
It is not the human being who imparts Divine Justice, it is the King that comes with power, glory and majesty to show humankind how wrong it is with evil decisions against life, goodness, obedience and love.
The chains that man currently drags are heavy. They form part of the generational inheritance, being absolutely necessary that you recognize that without Divine Help everything else is vain - the efforts, few, the words, vain and the aspirations, confusing.
Pray, beloved, pray for Russia.
Pray for the United States, it will suffer. Pray for Japan, it will weep.
Beloved:
WHEN TIME IS NOT TIME, WHEN THE INSTANT IS ABOUT TO CEASE BEING AN INSTANT…,
THE GAP OF BLESSING OPENS, CHANGE APPROACHES,
THE GREATNESS OF KNOWLEDGE OF THE COMMITMENT TO OUR KING APPROACHES… THE CHOICE IS IN MAN'S HANDS.
The remaining instants will be intense for all of humanity and above all for the Church who will be stoned.
You, faithful of Christ and of Our Queen:
MAINTAIN THE FIRMNESS THAT THIS INSTANT REQUIRES,
DO NOT TAKE STEPS IN REVERSE, THE ENEMY REMAINS LURKING.
FOR THIS FIRMNESS TO WHICH I HAVE CALLED YOU, YOU MUST MAINTAIN PEACE AND BROTHERHOOD.
The lukewarm one will be vomited from the mouth of the King, this is the instant of instants. Be the ones to open your brothers and sisters' spiritual sight, which is not for those who have an empty heart, but for those who live in truth, for those who discern and do not fear getting lost.
The lukewarm are overabundant, the true children are not. I convoke you to the practice of charity with your brothers and sisters who are lined up in this terrain of lukewarmness.
Man must widen his mind and enlarge his thoughts to glimpse the infinitude of Creation, which is not hidden, but reveals itself to man.
Beloved:
PEACE WILL RETURN AFTER MARTYRDOM AND THE CRUCIBLE.
DO NOT TURN YOUR GAZE AWAY FROM HEAVEN, BE THOSE WHO IN FAITH MAINTAIN THE
WISDOM TO BE IN EVERY INSTANT TESTIMONIES OF THE PERMANENCE OF CHRIST IN HIS CHILDREN.
Raise your eyes towards the firmament and…. let us give thanks to the Lord King of all of Creation.
My blessing be in each one of you.
St. Michael the Archangel
HAIL MARY MOST PURE, CONCEIVED WITHOUT SIN.
HAIL MARY MOST PURE, CONCEIVED WITHOUT SIN. HAIL MARY MOST PURE, CONCEIVED WITHOUT SIN.