Saturday, November 3, 2012
Message from the Blessed Virgin Mary
To Her Beloved Daughter Luz De María.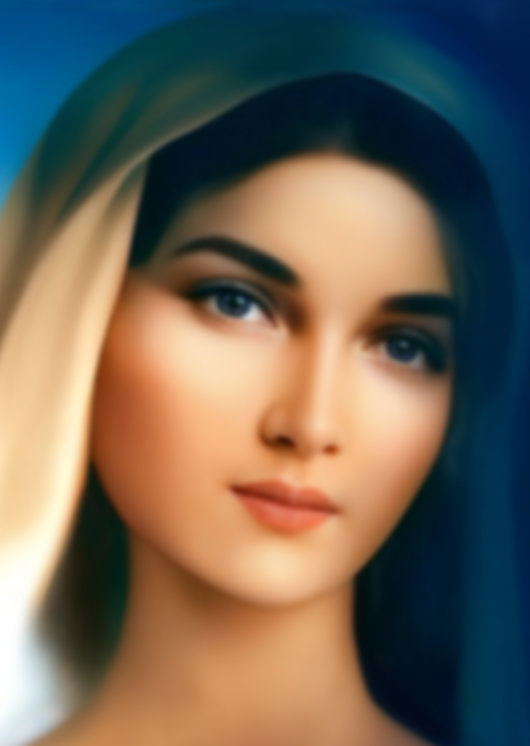 Beloved children of My Immaculate Heart:
Children, how much more must I call you so that you open not only your heart, but your mind, your thoughts and your senses to My constant pleas? … So that you remain alert, not only before what is coming, caused by nature, but also, being the most relevant: remain alert before the disposition to a spiritual and conceptual transformation of that which I alert you.
Recognition on man's part of his smallness, of his limitations above all when he lives in constant error, is necessary so that you give the due welcome to the call of My Son who knowing everything, warns you.
Blessings descend from Heaven, "from above", not from the air that forms the Earth's atmosphere. In the air, not in the firmament, but in the aerial space is where, in times of war, those who are transformed by man into true demons of the air, motivated by satan who has invaded the mind of some scientists agreeing to create bombs of massive extinction and other diverse chemical agents against humanity.
Those true aerial demons are artifacts born from man's thoughts, created by the hand of man himself, transported by aerial means to be detonated over great populations, what will be repeated again, causing death, the mutation of innocent beings, which in this instant move throughout the earth without being aware of the gravity and the instantaneous extermination that atomic energy causes, when man with desires for power and destruction, uses it.
CHILDREN, I INVITE YOU TO BE CONSCIOUS OF THIS GRAVE DAILY THREAT IN THE COUNTRIES
THAT POSSESS NUCLEAR ENERGY PLANTS, ALSO A GRAVE THREAT FOR THE WORLD IN GENERAL.
Nature, uncontainable, in this moment represents a danger for man who invaded her without mercy. The countries that possess nuclear energy plants remain a double threat before the earth that as of now is being submitted to a powerful and well known scale of natural events, to an onslaught of natural effects, without ignoring the imminent threat that Japan represents.
Beloved, as Mother of the Word and of His Mercy, I maintain in My Heart My Son's respect before human freedom, of those who developed and develop atomic energy and their consequent advances, ceding them to the powerful so that they subjugate the most needed. That is how they profundity of Divine Love can be understood, which does not subjugate but transforms and captivates through Its Mercy.
Even so human stubbornness will not yield, My Son's pleas and My pleas have not permeated the hearts of stone that continue to deny these imminent alerts so that humanity does not fall into the precipice, from which it will not be able to get out, uniting thus to the gigantic offerings of the antichrist and his followers that have already established themselves in humanity's midst.
My beloved,
MAN WILL SUFFER BECAUSE OF WHAT HIS HAND PRODUCED.
You have not accepted the calls, you scorn the help and the wisdom that comes from the fruits of the Holy Spirit, you give yourselves over to debauchery and in it you will continue by not knowing, not being grateful, not reasoning the suffering of My Son for each one of you .
Beloved:
Pray for the United States.
Pray for Chile, it will suffer.
Pray for Iran, it will weep.
Beloved children, humanity's path is stormy, the rhythm of the majority is absorbent and it pleases the weak man, who allows himself to be dragged by what is worldly. Children, you live instants of decision: following My Son, or following what is worldly. Those who call themselves faithful to My Son and call Me Mother cannot allow themselves to be seduced by the attraction of the world's currents, or by the wantonness of the flesh. If one calls himself faithful, it is because he does not place the weaknesses of the human being as a justification, but because he overcomes them and does not fall into them.
Man's conscience, the instinct of good and the disposition of man, is what allows the human person to possess spiritual height, to be able to ascend and upon ascending become more spiritual.
MAN'S PATH IS SO DEEP IN REGARDS TO ALL THAT HE POSSESSES TO LIVE, ACT,
DISCERN AND FUSE HIMSELF WITH THE CHRIST LIKE FEELING,
IT IS SO MUCH THAT I CONVOKE YOU TO ACT AND TO MAKE AN EFFORT IN THIS INSTANT THAT IS COMING, AN INSTANT OF DECISION.
You are conscious of the Love of My Maternity. My Hand is here to protect you and give you My Support.
You know that the certainty of My Vigilance, Guides you to Great Graces.
MY IMMACULATE HEART WILL TRIUMPH…
FOR THE GLORY OF GOD AND THE GOOD OF MANKIND.
A Mother does not abandon Her own, but alerts them and shows them the good path so that they nourish in it.
I bless you.
Mother Mary.
HAIL MARY MOST PURE, CONCEIVED WITHOUT SIN.
HAIL MARY MOST PURE, CONCEIVED WITHOUT SIN. HAIL MARY MOST PURE, CONCEIVED WITHOUT SIN.