Sunday, November 11, 2012
Message from the Blessed Virgin Mary
To Her Beloved Daughter Luz De María.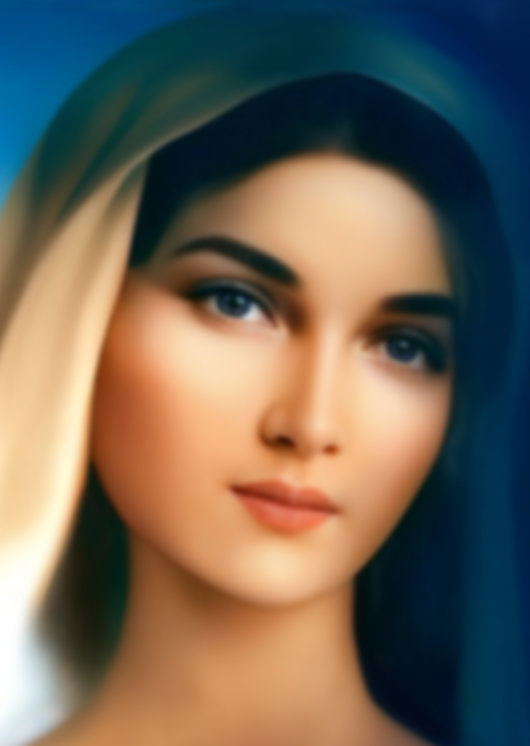 Beloved children of My Immaculate Heart:
EVEN BEFORE THE CREATION OF THE WORLD, I ALREADY LOVED YOU IN THE WILL OF THE ETERNAL FATHER.
I HAVE BEEN THE MOTHER OF SILENCE.
I HAVE BEEN BESIDE EACH HUMAN BEING RESPECTING THAT PRECIOUS GIFT OF FREE WILL.
WATCHING YOU FALL IN THE MUD, MY HANDS HAVE PICKED YOU UP.
WITH MATERNAL LOVE I HAVE LOVED YOU.
When you have remained at the edge of the precipice, I have placed My Hands so that you would not fall and be lost, provided that you let me do so. Those who have not allowed Me to do so have lacerated My Immaculate Heart with the daggers thrown by the devil and his great spawn: the antichrist. You have torn Me with the terrible dagger of abortion, one of the gravest offenses against the Sacrosanct Trinity, because it transgresses against the Gift of Life. You have also torn My Heart with the daggers of drug addiction that keep whoever consumes drugs in the lethargy necessary for the antichrist to seduce him or her with the most unthinkable baseness, keeping those people inanimate.
Accepting false idols leads you, unthinkingly, to accept fashions that not only improperly intervene in your wardrobe, distorting beauty, but confusing the sexes, giving room for males to dress femininely and females to dress as males and on other occasions dress scantily and nakedly.
BELOVED, SUFFERING LIVED CONSCIOUSLY BEARS ABUNDANT FRUITS.
You are governed in your mind, thoughts and heart by that which is negative that circles humanity.
My children:
Ill use and distortion of what is spiritual by instructions of the antichrist has produced a false image of a Christ permissive of all that humanity desires and of a weak Christ who only grants forgiveness so that humanity does not suffer purification. NO MY BELOVED! ON THE PATERNAL THRONE EXISTS JUSTICE FOR THOSE WHO MERIT IT WHEN THEY DO NOT ACT IN SPIRIT AND TRUTH.
The Universes are infinite, as the Father's Creative Work is infinite. Man does not want to admit to a Cosmic Christ, Master and Lord of all of creation. Instead humanity disfigures Divine Justice, with consent of some of My Priests, encouraging debauchery, falsehood, lies and hypocrisy.
You have limited love even in man himself, you have denied love to nature in general and to the animals. This has transformed you into insensitive beings, hardening your heart, reaching so far as for you to spread germs to cause incurable diseases and thus reduce the population in some countries. Beloved children:
Pray for Australia.
Pray for Central America.
Pray for Brazil, it will suffer.
Pray for Denmark, it will weep.
The continuous lament from region to region will not cease. The smoke of the volcano will not stop.
My beloved:
THE INSTANT OF CHANGE APPROACHES AND EVERYONE WILL BE A WITNESS TO MY SON'S POWER.
You cannot continue to live as in the past; My Son's Kingdom will touch you, it will come to you and the Great Miracle of Love will be realized: the election of the Holy Remnant, of those who persevered and suffered so that My Son could show His Glory before the unbelieving.
The laments will be heard of those to whom the consequences of the ill-use of nuclear energy contaminating a great part of humanity were announced.
The laments will be heard of those to whom the dangers of the spread of all kinds of viruses were announced and who did not lend an ear or softened their heart before the presence of My Angels and who reacted with pride.
MY SON'S CHURCH SHAKES, DO NOT BE TROUBLED, THE PRUDENT SON CONTINUES TO HOLD THE HAND OF THE HOLY SPIRIT.
Beloved of My Heart:
KEEP FAITH IN THE PROTECTION OF THIS MOTHER WHO LOVES YOU.
Mother Mary.
HAIL MARY MOST PURE, CONCEIVED WITHOUT SIN.
HAIL MARY MOST PURE, CONCEIVED WITHOUT SIN.
HAIL MARY MOST PURE, CONCEIVED WITHOUT SIN.