Wednesday, November 14, 2012
Confidences from the Holy Archangels
Given to Their Beloved Luz De María.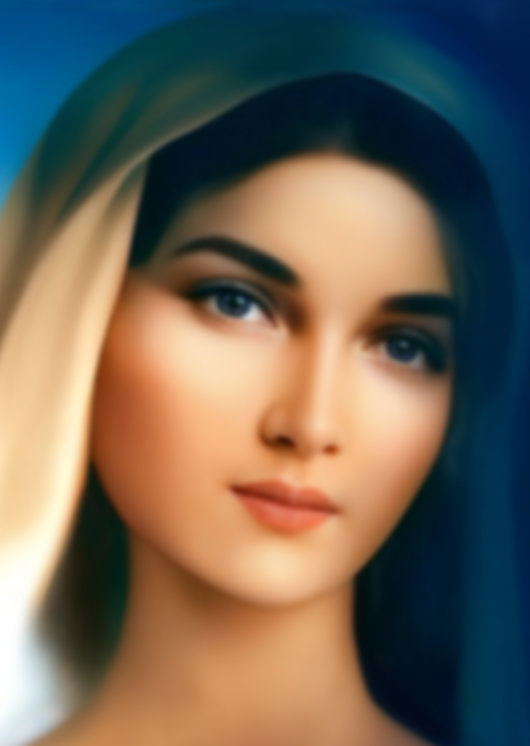 Beloved of ours:
Faithful people, you who remain at the foot of the Cross of Our King and Lord, you who like us have been created by the powerful Hand of the Father, who in His omnipotence can create whatever His Will wishes to create!…
TO YOU WE SPEAK CRYING OUT IN THIS MOMENT A YES, CRYING OUT A YES IN THE NAME OF THE FAITHFUL.
Divisions should not exist among those who profess different creeds.
This is the instant announced since immemorial times; in it come to converge all the revelations and predictions of the past and present. It has gone from being time…, it has gone from being yesterday…, it has gone from being the past to being the instant of this instant in which we cry out to you: U N I T Y.
Beloved of ours:
WE ARE, BY WISH OF THE ALPHA AND THE OMEGA, JOURNEY COMPANIONS OF EACH ONE OF YOU THROUGH THIS EARTH, THROUGH THIS PATH, WHICH TURNS MORE STEEP FOR THE FAITHFUL, for those who battle constantly to reach a spiritual ascent, to step out of the worldly current and see beyond where those who live submerged in what is worldly and sinful see.
THE SEA IS STORMY, BUT THE ONE WHO REMAINS FAITHFUL, DOES NOT SINK BECAUSE FAITH KEEPS HIM OR HER FIRMLY ABOVE THE WATER, VERY FIRM AND STANDING WHERE OTHERS WILL DROWN AND PERISH.
Present-day man keeps the actual Name of the Sacrosanct Trinity in such abandonment!
In how much scorn you have drowned the Mother of Our King Jesus Christ! You have desired out of your own will to remain orphans, without a Mother.
Those who call themselves believers and lovers of Christ the King of the Universe must understand in their small mentality that the Mother, Our Queen, Queen of the Heavens and the Universes, must be treated as such.
WE COME TO YOU TO CRY OUT TO YOU PRECISELY TO OPEN YOUR THOUGHTS, YOUR MIND AND YOUR HEART SO THAT YOU KEEP IN THEM ALL THIS REVELATION THAT IS NOT GIVEN BY CHANCE BUT IN THE FACE OF THE URGENCY OF THIS INSTANT.
We do not come to create fear, we come to infuse in souls a serious and responsible attitude so they awaken from that lethargy in which they continue to live without being conscious of reality, not only on the physical and spiritual plane, but of a scientific reality that man himself is discovering and before which he is finding himself extremely powerless, to the degree of wanting to cause effects in nature herself, which will be harmful for man and once having awakened nature, man does not possess the power to stop her. The man of science is reaching these extremes, the man of science who in his wild race, wishes to be God.
We cry out to that Holy Remnant that remains standing, without listening to the grotesque words of those who have denied Devine Omnipotence.
The events for which man suffers are happening throughout the whole world, little by little, BUT
MEN READ THE WORDS THAT COME FROM HEAVEN AND HEAR ABOUT THE EVENTS THAT HAPPEN, AND THEY ARE NOT CAPABLE OF REFLECTING AND OF SEEING THAT THERE IS A COMPLETE FUSION BETWEEN THIS WORD SENT FROM HEAVEN AND THE EVENTS THAT TAKE PLACE HERE ON EARTH.
Human pride! How far will you submerge man? To what is most low, until he drags himself through the earth, and when he is without strength not even to cry out, "Abba Father!"…, until in that instant will be, that at least in his mind, man remembers that has a Supreme Being that has created him and to whom man must implore to be heard and forgiven.
We the Divine Messengers do not stop in an untiring accompaniment of each one of you. So you must give faith, must give witness of that capacity with which you have been created to see beyond where the common man sees and love He who comes in the Name of the Sacrosanct Trinity to rescue you through the Divine Word of Love.
You fear whom you shouldn't fear and love on occasion those who with sheep's clothing are leading you to spiritual ignorance, without allowing you to exercise yourselves spiritually to elevate yourselves and enjoy that presence of Our Christ the King of the Universe who remains present within each human being.
THIS IS THE INSTANT FOR YOU TO VIVIFY CHRIST THE KING WITHIN YOU, SO THAT YOU DO NOT GIVE A PLACE TO THE SNARES OF THE DEVIL OR SATAN. He remains in a fierce battle against us,
Messengers of Christ; but with the same power that Christ gives us, we will help His Faithful, His Holy Remnant before the hour is totally exhausted in Heaven and before the instant is totally exhausted on Earth.
How much succession of different events of every kind are happening in this instant! Events of every kind: natural, economic, food-related but above all of spiritual lack. AND THIS IS BECAUSE OF A LACK OF A SERIOUS RELIGIOUS INSTRUCTION OF MAN.
We do not come to bring news, we come in the Name of Christ: King of the Universe and of the
Blessed Mother under the advocation of Mary Mother and Empress of the Americas, Virgin of Guadalupe, since in Her all of Creation is represented and just as in Her Mantle each star continuously beats without ceasing, so do we come once again to explain by Divine Order that call that the same Christ Our King of the Universe made, when from twelve years old He proclaimed His Word, the Word of His Father in the Temple before the doctors of the law.
THUS BEFORE YOU WE COME TO EXPLAIN THAT URGENT CRY.
WE DO NOT COME TO MENTION THE END OF THIS HUMANITY, THE END OF THE WORLD,
BUT THE EXTERMINATION OF THIS GENERATION, OF THIS GENERATION THAT DOES NOT LOVE
ITSELF,
THAT DOES NOT RESPECT ITSELF, THAT DOES NOT TOLERATE ITSELF, THAT SELF-DESTRUCTS, THAT CONDESCENDINGLY DISOBEYS ITSELF.
No, beloved of ours, this is not the path to follow, it is not by criticizing the Divine Calls, it is not by bringing down Heaven's Messengers, it is not by ignoring and demolishing the Christ-like Calls or the Marian Calls how the Church that Our King left instituted, here on Earth for you will consolidate.
REMAIN ALERT YOU WHO KNOW THE UNFOLDING OF THE EVENTS
AND WHO RESPECT THIS WORD COME FROM ABOVE, REMAIN ALERT,
DO NOT FEAR THE CHANGES, DO NOT FEAR NATURE SO MUCH, BUT YOURSELVES WHEN YOU
TURN AWAY FROM THE TRUE AND CORRECT PATH, WHICH IS TO REMAIN UNITED, FUSED AND CARRYING OUT THIS WORD, THIS CALL OF LOVE IN SPIRIT AND IN TRUTH.
To be witness of Our King is not to be totally mild when it comes to letting slide the evil your brothers and sisters do, but on the contrary: calling their attention with love.
The earth continues to shake from one point to another on the Globe and thus it will continue; volcanoes will rise and man will suffer. From the Universe will come a test for man. Everything is uniting to move consciences and awaken men, this is the instant, the instant in which those who live in the truth will be seen before all and those who live in darkness, will not even be able to look at themselves.
Do not confuse, beloved of ours, the Great Warning that is near and about which you know, with the Three Days of Darkness revealed to various prophets and mystics. Do not entangle or confuse the People, be cautious, we cannot hide the truth from you.
HUMANITY WILL EXPERIENCE A SPIRITUAL CHANGE, ACCOMPANIED BY A CHANGE COMING FROM THE DEPTHS OF THE EARTH AND FROM THE INFINITE OF THE UNIVERSES.
There will be weeping and repentance, but there will also be indifference on the part of those who want to continue submerged in darkness, and the one, the one who submerges himself or herself in these Words of Ours to find some discordance with Scripture, will find so much light that he or she will become blinded.
Pray, beloved of ours, pray for Japan, the cause of greater pain for humanity.
Pray for Chile, beloved land of ours.
Pray for Italy, beloved land of ours but dusted by those who misrepresent the true calling of Our Lord Jesus Christ King of the Universe.
In the Name of the Sacrosanct Trinity and of Our Queen Mary, Virgin of Guadalupe and Empress of the Americas, with the Love the Father himself has placed in us, we bequeath to you our peace and our love.
Saint Michael the Archangel, Saint Gabriel the Archangel and Saint Raphael the Archangel.
Remain in the Peace of Christ.
HAIL MARY MOST PURE, CONCEIVED WITHOUT SIN.
HAIL MARY MOST PURE, CONCEIVED WITHOUT SIN.
HAIL MARY MOST PURE, CONCEIVED WITHOUT SIN.