Saturday, December 8, 2012
Message from the Blessed Virgin Mary
To Her Beloved Daughter Luz De María. on the Feast of Her Immaculate Conception. Given in Salto, Uruguay.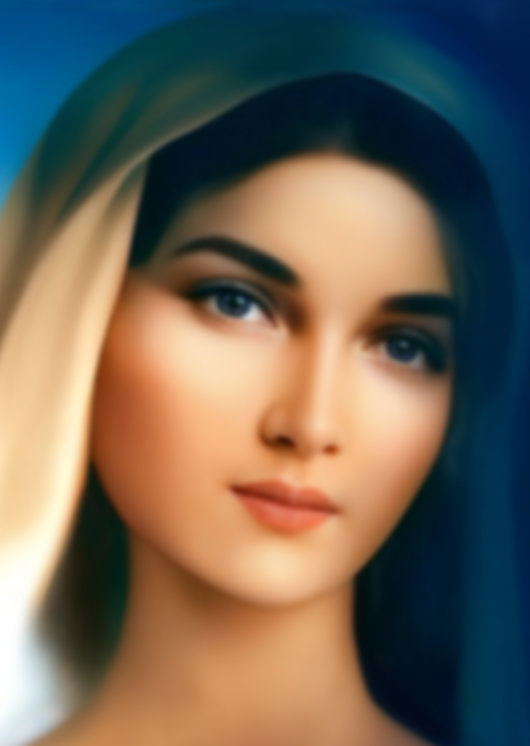 HAIL MARY MOST PURE!
All of humanity, all My children:
I CARRY YOU ON MY MANTLE,
AS RESPLENDENT STARS THAT ILLUMINATE WITH YOUR FAITH
AND WITH YOUR LOVE ALL THOSE WHO DO NOT LOVE MY SON, WHO DO NOT OBEY HIS CALLS.
I carry you My People, Holy Remnant, you who read and hear My Words, not by chance but because you are chosen, so that you become aware of this blessing to which you have been called by the Father.
What I have announced to you through all of My Apparitions, I have explained through this daughter of Mine, this Prophet of My Son and therefore Mine. Do not waver in making decisions when you must despise what is worldly and turn more towards Love, Truth, Charity and Forgiveness.
Today on this very special date in which you My beloved children of My Immaculate Heart render to Me your love and homage, I COME TO ASK OF YOU YOUR DEVOTION, I COME TO ASK YOU FOR ANSWERS, AND THE ANSWER I DESIRE IS AN UNCONDITIONAL YES TO MY SON'S REQUESTS, IT IS NOT DENYING YOURSELVES THE TRUTH OF THIS INSTANT WITHOUT PRECEDENT.
Very soon darkness will afflict humanity, and with it pain will surge in all its magnitude. That is why I am here, I who am Your Mother, to protect you and defend you, to maintain you within My Heart, the Sanctuary in which I will protect those who are Mine.
COME TO ME, I WAIT FOR YOU,
I WAIT FOR YOU LIKE A MOTHER WHO NEVER CLOSES THE DOORS OF HER HOME TO HER CHILDREN,
LIKE A MOTHER THIRSTY FOR THE LOVE OF HER OWN.
In so many occasions I have seen you repeatedly continue to be the same ones you claimed not to be, for behavior denotes something very different from that which you tell Me with your words!
IF YOU TRULY LOVE ME, RENEW YOURSELVES WITH A GENEROUS SPIRIT, WITH A LIMITLESS EFFORT.
THIS IS THE INSTANT FOR GIVING IT ALL, TO LEAVE BEHIND THAT "EGO", ALL THE EGOISM, ALL THE HUMAN EGO.
Humanity, all of you, take heed! The instant approaches, the drop of My Son's Cup, the blood of His Most Precious Blood that the Cup of Justice holds, is being spilled.
Do not continue to be the same, deny yourselves, be sincere with yourselves and with Me. You claim to love Me so much and still you continue to gather the scraps from the Divine Table!
You claim to love Me so much and you are not capable of making the effort to change! You want to change humankind, you want to change those who are around you… and you continue to be the same. THIS HURTS ME AND THIS ATTITUDE OF MY BELOVED PEOPLE IS WHAT BRINGS SO MUCH CALAMITY… SO MUCH CALAMITY!
My beloved:
Pray unceasingly, working and acting in the likeness of My Son.
Love, renounce all that which distances you from My Son and from Me.
You cannot call yourselves faithful if you do not deny yourselves when it comes to that which distances you from Me.
Pray, beloved children, pray. Japan will again bring great calamity to humanity.
Pray, pray for Australia, children; pray for Australia.
In this instant in which all the stars that cover My Mantle strongly twinkle so that you enjoy them and look to the sky, I invite you to pray for the Middle East so that it does not continue to be ignorant to the reality and the truth of this instant.
I BLESS YOU, I LOVE YOU AND GUIDE YOU.
I AM THE BANNER OF MY SON'S PEOPLE IN THIS FINAL INSTANT.
I BLESS YOUR BEING.
I BLESS THE MIND OF EACH ONE OF YOU SO THAT YOU DO NOT ALLOW YOURSELVES TO BE TURNED AWAY FROM MY HEART.
He who is lukewarm fears, he who loves today but does not love tomorrow. You remain firm since you constantly love in spirit and truth.
I bless you.
Mother Mary.
HAIL MARY MOST PURE, CONCEIVED WITHOUT SIN.
HAIL MARY MOST PURE, CONCEIVED WITHOUT SIN.
HAIL MARY MOST PURE, CONCEIVED WITHOUT SIN.