Wednesday, December 12, 2012
Message from the Blessed Virgin Mary
To Her Beloved Daughter Luz De María. on the Feast of Our Lady of Guadalupe, Empress of the Americas.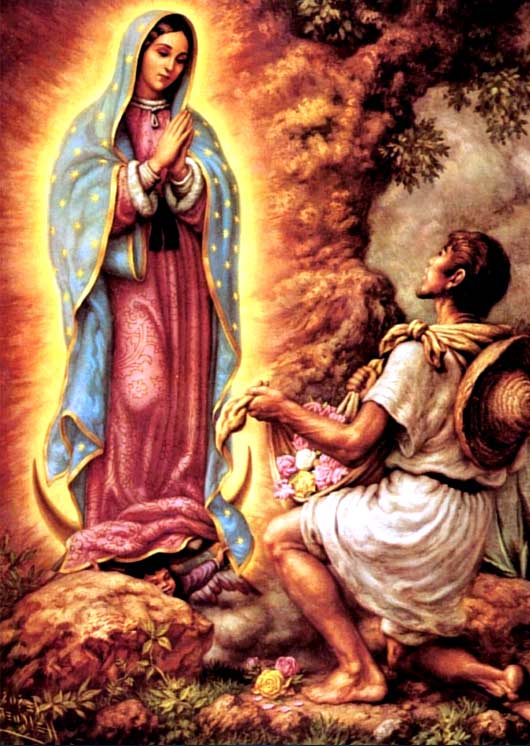 Beloved children:
Just as in Heaven there is rejoicing in this day, so you on Earth celebrate it.
AS THE STARS HANG FROM THE UNIVERSE, SO MY CHILDREN HANG ON MY MANTLE, GIVING IT SPLENDOR.
I harbor you in My Heart and each conversion is a happy birth in My Being. My Heart misses you when you turn away from the true path and from the recognition that human beings must give the Sacrosanct Trinity.
How the Father rejoiced when He created Me! And when He created Me he saw you as well, and seeing you, He saw the hearts and minds willing to follow His Word, to follow His Son - My Son - and to transform into living Temples of the Holy Spirit, the Comforter.
How joyously the Father created the Universes so that man could enjoy it and not limit his mind but would imprint an "I love you" on each one of you as I imprint My "I love you" in each thing in creation, in each created creature! THUS, THE LIFE OF EACH ONE OF YOU MUST BE TRANSFORMED INTO A CONTINUOUS PRAISE AND WORSHIP OF THE SACROSANCT TRINITY.
My Beloved:
HOW MUCH IS ANNOUNCED ABOUT WHAT IS COMING!… YET MAN MUST NOT FEAR BUT BE WILLING.
Tribulations will take place, the Earth already groans because of the sins of the generations, and from it the water that will flow searching for the earth, transforming its geography.
The Sun, in a loving desire to purify what it sees contaminated, emanates its power, its heart, its fire and will lead humanity to retrocede infinitely. What will you do, children, upon finding yourselves, feeling yourselves be without any technological advancement in all fields?
Woe to those who have scoffed at My Word, which I have brought you abiding by the order of the Sacrosanct Trinity!
Woe to those who with a heart of stone, a darkened mind and eyes, without love, despise and tear like ravenous wolves My Son's Calls towards a perverse and sinful humanity that does not want to rise from the mud in which they find themselves submerged in this instant!
Whoever seeks darkness will find more darkness; whoever seeks light will find more light. So many believe themselves worthy of the Divine Word and when it does not reach them, they annul the insistent Calls to man so that he seeks, so that he clings to conversion!…
For My Son came for the poor, for the humble, for the sinners, because the Word reaches the humble one and originates in him; the prideful one destroys it with his questions, with his thousands and thousands of questions, with his whims and this is the reason for which I again come on a pilgrimage to this My humble People, to this one, who loves the Divine Word, who accepts it and with humility caresses it making it life within them and giving testimony of what will die in them.
HUMANITY PAYS NO HEED, IT CONTINUES IN AN UNSTOPPABLE MANNER,
DEMONSTRATING AN ALMOST IMPOSING UNITY BEFORE THE WEAK,
TO BEND AND SUBJUGATE THEM TO THE IDEAS THAT THE ANTICHRIST PROMOTES.
Beloved children:
I never desert you, this Mother remains before each one of you keeping away from you what you allow her to, since I respect free will.
THIS CHAPTER, THIS PAINFUL INSTANT OF PURIFICATION DOES NOT MEAN THE END OF THE WORLD, it means a generation that needs to be purified so that it transcends spiritually and is elevated and in this way, maintaining My Son beating and permanent within its being, it is able to maintain like the Holy Remnant that will be triumphant before the coming attacks and persecutions.
When evil takes the Throne of My Peter, the Church will shake, the weak and the lukewarm will flee from her clinging to the security and wellbeing.
YOU, HOLY REMNANT, DO NOT WAVER FOR MY SON ALREADY REDEEMED YOU, FOR MY SON
WILL NOT ABANDON YOU, AND IF IT IS NECESSARY HE WILL COME TO YOU WITH THE 'MANA OF HEAVEN ITSELF': SPIRITUAL MANA AND MATERIAL MANA.
Do not fear those who foretell the end of the world with ostentatious words and great eloquences, without spiritual basis; abide by the Calls that this Mother who by order of the Sacrosanct Trinity will not rest from calling you time and time again however many times are necessary.
Be aware of this instant in which natural scourges will certainly increase as is already happening.
Be aware of the climate changes.
Be aware of what rises around you clearly announcing the coming changes and with them, the coming purification.
From Heaven, from on High the purification will come but this purification will also come from the mind and from the hand of man, which having been created for blessing, have nevertheless been used against humanity.
WAKE UP, FILL YOUR LAMPS WITH OIL, MY SON RETURNS FOR WHAT IS HIS AND BEFORE THIS, THOSE WHO ARE HIS WILL BE REFINED SO THAT THEY ARE WORTHY OF THE LAMB.
The Cup of blessing in which a drop of My Son's Most Precious Blood still remains, will be spilled little by little over humanity, and with it new purifications will come.
The Earth groans…, and Heaven shakes…, nature aches because of man and sin has exceeded what was expected.
MY BELOVED, BE BLESSING FOR YOUR BROTHERS AND SISTERS AND BE TRUTH, DO NOT OMIT WHAT YOU KNOW SINCE THIS WOULD BE WANTING TO SILENCE MY SON'S WORD AND WILL.
Be brave in the face of persecution, proclaim the Truth with greater strength, because before evil, Truth must prevail; be an example of the beating Love of this Mother and love as I love all your brothers and sisters.
Beloved, in this instant, the enemy of the souls: the devil, has set his demons fully free so that they spiritually attack man, My children, My faithful. He wants to injure Me and not being able to, has set his demons free to tempt the children of the "Woman," of Her who will crush his head.
Be astute, these demons will approach you disguised as that which they know represents for you your greatest weakness and there I will see… there I will see the truth that the lips of My children proclaim when they say they love Me and even more, when they call themselves "christians at heart," when they call themselves "worshipers of My Son."
These demons will tempt you, but when love is true, when faith is true, when the belief in My Son and His Mystery of Love is true, temptation ceases and never bends My children.
I do not want excuses before My Son on the part of man when they blame temptation to hide their weakness. My children are strong, My children do not fall easily because they know that they go hand-in-hand with Me towards My Son who is the Power, the Glory and the Majesty, who is Omnipotent and is Omniscient and that before His Name even hell fears.
These People must be People who are brave, People who are heroes, not a People who are lukewarm; I do not want more lukewarmness from your mouth but I desire that in this instant, like 'the One' who is giving it all in the final instant, you are capable of demonstrating love and faith in My Son who redeemed you.
Onward, My People! The spiritual battle that you well know is strong, but is it not a reason to let yourselves fall. Before each fall of yours a new dagger crosses and lacerates My Heart and My Son is crucified again.
I insist, children: be signs of love and of blessing for this humanity, with the security that I guide you from My own Hand towards My Son who waits for you with great Love.
DO NOT THINK SO MUCH ABOUT WHAT IS COMING
EVEN THOUGH YOU MUST KNOW IT AND PREPARE YOURSELVES,
RATHER LOOK INSIDE YOURSELVES IN SPIRIT AND IN TRUTH, WITHOUT PRETENSES AND CHANGE,
TRANSFORM AND GIVE YOURSELVES TO MY SON, DO NOT WAIT FOR TOMORROW, TOMORROW NO LONGER EXISTS, TRANSFORM YOURSELVES IN THIS INSTANT.
Pray, children, pray for Chile.
Pray for Japan.
Pray of Lima, it will weep.
I bless you, I love you; My Heart, a Sanctuary of Love, waits for you constantly to harbor you in It.
BE PERPETUAL WORSHIPPERS OF THE MOST HOLY SACRAMENT OF THE ALTAR,
FROM IT EMANATES THE STRENGTH OF MY CHILDREN,
FROM IT EMANATES THE STRENGTH FOR THE CHOSEN PEOPLE.
And all those who consciously transform themselves into one more of My faithful Children and do not give yourselves anymore to the devil, will be chosen.
You shine as precious pearls and the Divine Potter blesses that clay from which new creatures will be born.
I bless you.
Mother Mary
HAIL MARY MOST PURE, CONCEIVED WITHOUT SIN.
HAIL MARY MOST PURE, CONCEIVED WITHOUT SIN. HAIL MARY MOST PURE, CONCEIVED WITHOUT SIN.