Sunday, December 16, 2012
Message from Our Lord Jesus Christ
To His Beloved Daughter Luz De María.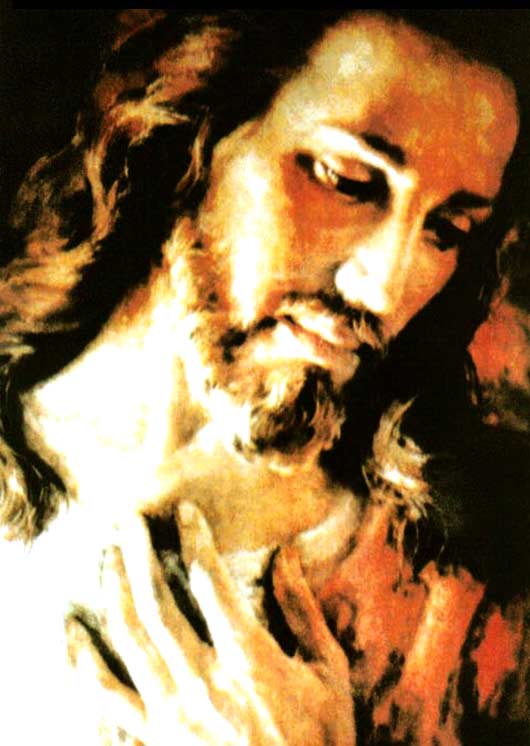 Beloved children:
I BLESS YOUR BEING SO THAT YOU FOLLOW ME LIKE SHEEP FOLLOW THE SHEPHERD,
SO THAT YOU RETURN TO ME LIKE THE BIRDS RETURN TO THEIR NESTS, LIKE CHILDREN WHO SEEK SECURITY AND THE LAP OF WHOM LOVES AND PROTECTS THEM.
That is how I want you to be, abandoned in Me, even if you do not understand My ways and they seem difficult. From the difficulties of life is born what man does not expect, the fruit he sought and could not find, that which he thought far removed from him, that which he thought lost.
BUT WHEN MAN ABANDONS HIMSELF IN ME WHAT WAS UNDONE IS REBORN WITH SPLENDOR,
HOPE REGAINS LIFE AND THE HEART BEATS ANEW. THIRST IS SATIATED, DARKNESS IS
TRANSFORMED INTO LIGHT, WHAT IS INCOMPREHENSIBLE IS COMPREHENSIBLE, KNOWNG THAT FOR ME IMPOSSIBLES DO NOT EXIST WHEN A PERSON ABANDONS HIMSELF OR HERSELF AND GIVES ME HIS OR HER WILL.
How difficult the above is for man, and how easy it becomes when humility exists in man! The path becomes difficult because of human pride, for the lack of abandoning yourselves in Me and for not knowing Me. I am unknown by those who say they love Me.
Woe to those who despise the Crucifix, woe to those who despise My Wounds and do not honor them! I have been patient, but the instant will arrive in which I will be angry and My children will be chastened and will lament their own offenses towards Me.
How many mock My Crown of Thorns!… And it was My greatest pain after Gethsemane, and it caused me greater pain than the other Wounds! They are revived again. Many crown Me with thorns and sleep while I live a continuous Gethsemane because of human perversity.
The human conscience has been lost, I do not even find willingness in those who claim to belong to Me, since they fall asleep with ease, allowing the enemy to seize their will and leading them to drag themselves along the ground.
Humanity continues unrestrained, minds are absorbed by festivities, by what is confusion, by friendly encounters; My Birth being used in reality as an excuse to unleash passions. You prepare to celebrate a calendar change, and does man know well what he is going to celebrate?
FOOLISH AND ARROGANT, MANY DO NOT INCLINE THEIR HEART BEFORE MY INSISTENT PLEAS AND THOSE OF MY MOTHER.
EVEN THE SEQUENCE OF MY CALLS IS QUESTIONED, I BEING THE MASTER OF TIME.
BLIND AND DEAF ARE THOSE WHO REFUSE TO DECLARE MY JUSTICE BEFORE MY PEOPLE, THAT WHICH I EXECUTE OVER THE SAME HUMAN FREEDOM.
I AM NOT A PUNISHING GOD, I AM A JUST GOD.
How many feel called by Me and refuse My call for a second of perdition!
My Mother has supplicated, to you Her children: CONVERSION, REPARATION AND CONSECRATION, and My Mother's Heart is that land that flows with milk and honey. She is the wineskin that does not dry out, She is the best Vineyard, She is the Queen of all Creation, She is the one who clothed Me as a child.
My Mother, to whom I entrusted My Church, is despised. I entrusted to Her My Church to guide like the ship sinking in the midst of a storm is kept afloat by the Sail. That Sail is My Mother. With Her being despised, refused and Her Calls going unheard… how will the boat remain without a Sail in the midst of the storm?
MY MOTHER TOOK ME BY THE HAND, AND THUS SHE DESIRES TO GUIDE MY CHILDREN,
BUT THEY RESIST AND DISOBEY HER, FORGETTING THAT MY WAYS ARE DIFFICULT, THAT I AM UNDERSTOOD WHEN THE SENSES ARE ANNULLED AND THE HEART OPENS.
In this instant in which I have showered My People with Calls, I find Myself with a small number of praying souls, witnesses of My Commitment. These will be the ones to give Witness of My calls and of the human disobedience that surpassed its own limit.
Pray, pray…, not only with prayer, but with commitment towards Me,
With commitment to those most in need and with the practice of My Commandments.
Pray for Japan, it brings new pain.
Pray for Brazil, it will lament.
Pray for Central America.
Beloved children, human contempt strengthens the soul, do not fear. Be strong in faith and firm in speech. In this instant, I expect no other attitude from My People.
A bearer of My Love will be sacrificed by the evil of the antichrist's tentacles that have risen up over a humanity that being ignorant, takes away from itself, the truth of creation.
MY LOVE IS NOT CONTAINED, MY LOVE IS NOT SILENCED, I WILL CONTINUE TO GIVE MY WORD WITH MY FAITHFUL MESSENGERS, AND MY PROPHET WILL CONTINUE WITH MY TRUTH, DRIVING AWAY DECEIVERS AND BRINGING THE HUMBLE OF HEART.
The earth shakes and My blessing comes down from the firmament. Do not fear, do not fear.
The stars do not only shine, they are blessing for man.
My beloved, in this instant in which souls live a spiritual ascent, you are permeable to Me or to evil.
CHILDREN, DO NOT BE SLOW OF SPIRIT, BE PERMEABLE TO MY WORD, ENTER IN ME AND KNOW THE PORTENTS OF DIVINE LOVE.
DO NOT ALLOW YOURSELVES TO BE GUIDED FALSELY, REMAIN ATTENTIVE.
Humanity will purge and will lament to be triumphant after passing the Tribulation.
I WAIT FOR YOU, AS IF YOU WERE COMING BEFORE ME FOR THE FIRST TIME.
DO NOT FEAR DRAWING NEAR, I WAIT FOR YOU.
My Peace be in each one of you.
I love you.
Your Jesus.
HAIL MARY MOST PURE, CONCEIVED WITHOUT SIN.
HAIL MARY MOST PURE, CONCEIVED WITHOUT SIN.
HAIL MARY MOST PURE, CONCEIVED WITHOUT SIN.