Sunday, December 30, 2012
Message from Our Lord Jesus Christ
To His Beloved Daughter Luz De María.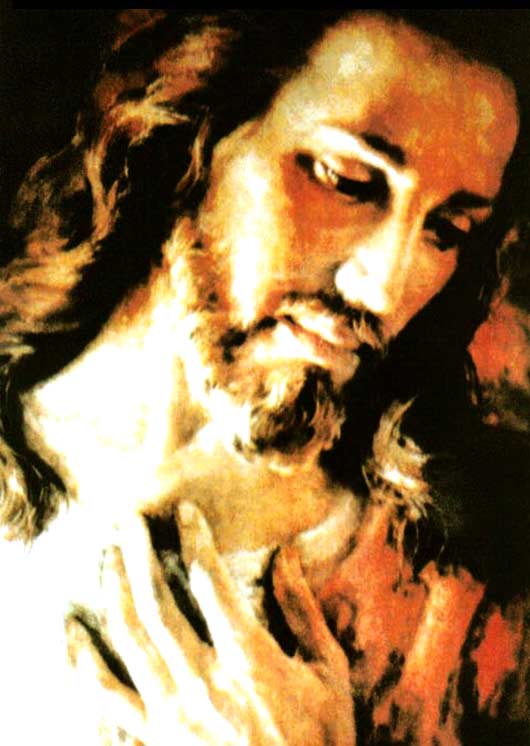 My People, My beloved People:
YOU LIVE IN MY HEART, I DO NOT EXCLUDE ANYONE OF THOSE WHO ARE MINE, IT IS YOU WHO TURN AWAY FROM ME.
You have lived a controversial instant, you took material measures without realizing that when My Hand comes down on humanity, what is material will not be able to save human beings.
My Spirit is grieved by the man who does not submerge himself in what is spiritual, but worries about saving his physical body and about what is material.
HOW IS A MAN WITHOUT A CONSCIENCE?
HE IS THE ONE WHO IS DOMINATED BY ALL FORMS OF THE DEVIL'S WHIMS, MAINTAINING HIM DISTANCED FROM ME.
My House has intensely called humanity, but humanity has not responded. It sees as very distant the events described because of that blind that prevents them from feeling reality, this blind being the stop that evil has placed for you to overshadow and darken the will of My People.
Do not trust in whoever tells you: "Everything has already passed, these announcements will not take place," on the contrary, My Word says: "The Prophecies will be fulfilled in this generation who has exceeded evil and has outstripped previous generations."
The Earth purifies itself, it renews itself and with this man will suffer the consequences. From its bowels fire will flow, great cities will be isolated and My children will suffer. Do not usurp or supplant Nature, provoking it. Man will not find the way to stop it when it has caused it to awaken.
Contaminated waters will not be blessing but lament due to the abuse of ill-used science. Humanity will be like a river without a riverbed in the face of a collapsed economy and disconcerting famine.
You have not taken seriously the undertone of this instant in which humanity must make the decision of a spiritual ascent or of becoming stagnant in the clutches of evil.
You, children, you I address:
DO NOT FEEL AS THOUGH I DO NOT SEE YOU, DO NOT HEAR YOU, THAT I DO NOT LIVE BEATING WITHIN EACH ONE OF YOU… EVEN IF YOU DO NOT WANT ME. These are instants in which those who are Mine are tested in their weaknesses so that they fall, evil knows man's weaknesses.
In the midst of this blessing that is closely linking yourselves to My House, a blessing that has not been given to any other generation, the spiritual battle against My children increases strongly, since evil wishes the perdition of souls.
Children, My People:
I REMAIN BEFORE YOU. OVERCOMING TEMPTATIONS IS TO TRULY LOVE ME AND TO TRULY
LOVE YOURSELVES. IF YOU LOVE YOURSELVES AND CONSTANTLY KNOW YOURSELVES TO BE FERTILE SOIL AND BLESSED BY ME, YOU WILL FIGHT EARNESTLY TO SAVE YOURSELVES.
The one who continuously succumbs is the one who will greatly suffer upon seeing himself or herself defeated having despised Me. For whoever gives themselves to Me and to My Mother defeat does not exist, but trials overcome for love of Me. Man will not be tested beyond his strength or beyond that which he can willingly refuse.
The pain that I carry in My Heart is that which is caused by those who know Me in depth and submerge themselves in sin, setting aside their conscience.
My children, do not think about tomorrow, give yourselves to Me in this instant; do not fall into sin. The instant is not an instant and it can confront you when you do not expect it, and you are before yourselves seeing the rags that you drag because of an ill-used will that has dominated you. Darkness will come for all, it will be overcome by the light of a soul in grace.
Pray for the United States, it will weep.
Pray for Japan, it will suffer and humanity will suffer with it.
Pray for Ecuador, it will suffer .
The Sun will be a reason of alarm for man.
Your protectors assist you continuously, they are only in need of your willingness and disposition to act in depth and guide you. You are not alone, My Mother commands My Church, She is the Full of Grace, the Woman clothed with the Sun that exalts My People.
Look on high, I will make My blessing descend quickly. My People are My People and I am their God.
YOU WILL BE PURIFIED SO THAT YOU ENTER THE LAND OF BLESSING,
BUT YOU WILL NOT BE DEFEATED, YOU ARE MY CHILDREN AND I RULE HEAVENS AND EARTH.
Do not forget Me, I remain waiting for you in the Tabernacle.
I desire new men in difficult instants of trial, I desire renewed children conscious of what they possess as children of Mine, possessors of will and given to My Cause, desirous of awakening those who are sleeping, those who are ignorant and those who are fools. I desire children who give themselves and take up My Cross for the salvation of souls.
RECEIVE MY LOVING BLESSING. RECEIVE ME, I REMAIN BEFORE YOU AS A BEGGAR OF LOVE.
Your Jesus.
HAIL MARY MOST PURE, CONCEIVED WITHOUT SIN.
HAIL MARY MOST PURE, CONCEIVED WITHOUT SIN.
HAIL MARY MOST PURE, CONCEIVED WITHOUT SIN.