Wednesday, January 16, 2013
Message from the Blessed Virgin Mary
To Her Beloved Daughter Luz De María.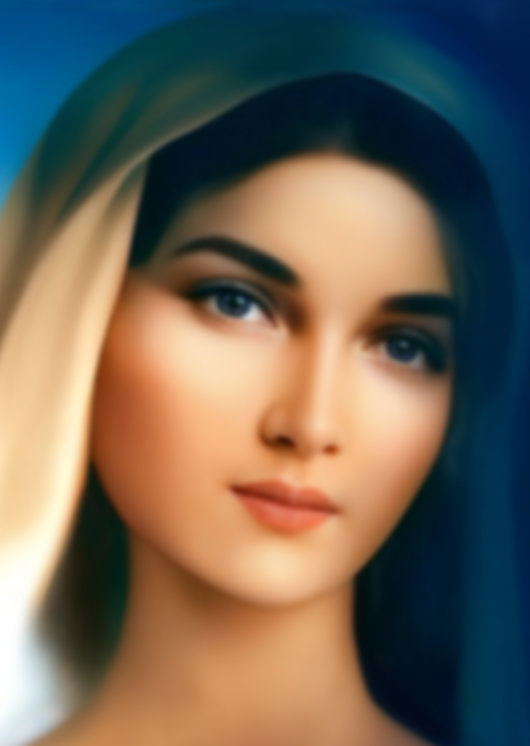 Beloved children of My Immaculate Heart:
I BLESS YOU, I BLESS YOUR FEELINGS, I BLESS YOUR SENSES, I BLESS YOUR BEING IN A VERY SPECIAL WAY IN
THIS INSTANT IN WHICH THE EVENTS THAT DEVELOP AROUND HUMANITY ARE GOING TO MAKE MAN LAMENT INTENSELY.
Something exists which man lays aside, too aside, and it is that you are already living severely those events in the flesh, in your being. Satan has sent his demons to tempt all of humanity because he desires to humiliate and disparage My children, My faithful, My followers. He fears My faithful and is testing them and they will be harshly buffeted in all its aspects.
The idols must fall and must disappear, the vain aspirations must be left out of mind and from the thoughts of my beloved children, of My faithful, of those who love Me in truth, of those who have consecrated their life to Me.
Man has so many useless aspirations, even knowing all that will happen! You keep in your heart your material possessions, and these, what use will they be before My Son? They will be of no use, they will only serve to increase satan's spoils. IT IS IN THIS THAT YOU ARE ALREADY BEING TESTED BY THE MALIGNANT ONE, WHO
HAS SET AS HIS TARGET TO DEFEAT AND MAKE FALL THOSE WHO BELONG TO MY MARIAN GROUPS, HE IS SCOURGING THEM GREATLY AND IT IS MY DUTY AS MOTHER TO ANNOUNCE IT TO YOU AGAIN SO THAT YOU ARE PREPARED. DO NOT ALLOW SATAN TO PENETRATE INTO YOUR MINDS OR INTO YOUR HEART.
My Son's Word is life and life in abundance, it is crystalline water that refreshes in the moments of desert. In the moments of doubt it is balm that leads you not to fall, but to arise like a plant that with water is fortified and grows and comes to be strong and to bear fruit. So I desire of you abundant fruits.
Being testimony of love towards My Son and towards Me is not only praying, it is not only attending the Eucharist but to live it continuously and putting God's Word into practice, being My Son's same Word that acts in every instant so that you place it over your interests, over your desires, over your aspirations and over your pretensions.
What, what do you lament about, what do you worry about if the future is future and that future is an instant, and the instant is an instant? What do you worry about if everything is in My Son's hands?
NO, BELOVED, MY FAITHFUL CHILDREN ARE NOT THAT WAY. MY FAITHFUL CHILDREN TRUST IN MY SON'S
WORD, IN MY INSISTENT CALLS TO MAINTAIN ABOVE ALL, THE MIND, YOUR THOUGHTS AND HEART FUSED TO MY SON AND HIS WILL, BEING REFLECTIONS OF THIS CONTINUALLY.
What are you waiting for if the coming Tribulation has already been announced to you? Man's plans will remain there, as plans, as vain projects … ON THE CONTRARY, YOU MUST FORGE PATHS IN THE SPIRITUAL, RISE ABOVE YOURSELVES AND ABOVE YOUR INTERESTS. MY CHILDREN DO NOT HAVE FACTIONS, MY CHILDREN DO NOT HAVE INTERESTS, MY CHILDREN DO NOT HAVE ANYTHING WORLDLY, MY CHILDREN HAVE LOVE OF MY SON, MY COMMITMENT AND MY SILENCE.
Beloved of My Immaculate Heart, still you have not learned to see your brothers and sisters seeing My Son in them. If this were so, you would not waste time, or the Gift of Speech in trivial and worldly matters, proper of those who do not know My Son and who do not Know Me.
The unity of all those who love My Son is urgent…
The unity of all those who call themselves Marian is urgent…
It is urgent that you abide with responsibility that call to form a "single flock under a single title and at the command of a single King"…
WELCOME ALL YOUR BROTHERS AND SISTERS, ALL; GIVE TESTIMONY OF MY LOVE AND OF MY COMMITMENT, GIVE TESTIMONY OF MY HUMILITY, that even being the Mother of Jesus, He pronounced: "Who is My Mother and who are My brothers?" So you welcome with love those who approach you. My Son did not come for the just, He came for the sinners. Therefore, welcome all who approach you with love, with charity, with tenderness and above all with humility.
My Beloved:
Belonging to a certain Catholic Group or Prayer Group or Christian Group does not give you the right to have a place of privilege beside My Son, on the contrary: "of the one to whom more is given, more is asked," and this is a great and strong commitment for each one of you.
My Heart burns with Love for the faithful People and at the same time bleeds from pain upon seeing those who have consecrated themselves to Me, acting like the hypocrites, like those Pharisees who knew much of the Word and did not put absolutely anything into practice.
THIS IS THE INSTANT OF PRACTICE SO THAT YOU ALLOW THE HOLY SPIRIT TO FILL YOU WITH ITS GIFTS
AND IN THAT WAY YOU BE CHILDREN THAT PRACTICE THE WORD
"IN SPIRIT AND IN TRUTH."
My Son approaches, each instant He is closer to you. Great manifestation will precede and follow Him before which you must be like children: "Let the children come to Me," says My Son. You must have the heart of a child and the mind of a child to see with eyes of love whatever plan My Son sends before you.
ALL IS SAID IN THE SACRED SCRIPTURE. THAT IS TRUE, BUT MY SON NEVER ABANDONS HIS PEOPLE AND LESS SO IN THIS THIRD FIAT OF SANCTIFICATION,
IN WHICH THE PEOPLE WILL BE TESTED AND REFINED MORE THAN EVER. LIKE THIS, LIKE THIS, WITH LOVE I WILL BRING YOU THE DIVINE WORD, THE WORD OF THIS MOTHER THAT WORRIES FOR HER CHILDREN.
DO NOT SPARE SPIRITUAL EFFORTS.
OF WHAT VALUE IS IT TO POSSESS WHAT IS MATERIAL IF YOU ARE GOING TO LOSE ETERNAL LIFE? STRIVE INSTANT TO INSTANT WITH ALL YOUR BEING, WITH ALL YOUR STRENGTH, GIVE IT ALL, FOR THE INSTANT IS ONLY AN INSTANT.
My Eyes upon blessing you, also shed tears seeing those who call themselves Marian behaving like "whitened tombs." No, children, this is not the path of My beloved children, this is the path of the enemy who penetrates your thoughts to deviate you. Be astute, see where the rest do not see so that you remain prepared before the tricks of evil.
My beloved:
Pray, France will be harshly lacerated.
Pray, My beloved, pray for the United States, it will weep greatly.
Not only from physical bread does man live but from that Spiritual Bread that gives Eternal Life, and this must be your goal: to fight to remain in Grace, to fight to live being the Holy Remnant, being mirrors of the work and behavior or My Son and being servants of your brothers and sisters as I was, a server of all, picking up the Church: Mystical Body, not drowning it; loving each other to link and strengthen the wall so that it is not defeated or distorted under any circumstance.
Satan is astute and as an aim has plotted to topple those who are Mine. I remain before you; My Hands and My Love remain open, JUST TAKE MY HAND, ASK ME TO KEEP AND GUARD YOU IN MY MATERNAL HEART SO THAT NOT THE DEVIL OR ANYONE OR ANYTHING TOUCHES YOU.
Unite and be one, form a single barrier of love, of humility, of charity, of forgiveness, of understanding and annihilate yourselves, annihilate the "human ego", for when it is raised it causes damage in you. Be merciful as My Son is Mercy, and each one of you be a Tabernacle where My Son remains worthily.
MY SON'S PEACE BE IN YOU AND IN ALL THOSE WHO READ AND LISTEN TO THIS, MY WORD.
I BLESS YOU AND I BLESS YOURS, AND ONCE AGAIN THE SEAL OF MY MATERNAL HEART BE WITH THOSE WHO LISTEN AND READ THIS WORD AND PUT IT INTO PRACTICE.
Mother Mary.
HAIL MARY MOST PURE, CONCEIVED WITHOUT SIN.
HAIL MARY MOST PURE, CONCEIVED WITHOUT SIN.
HAIL MARY MOST PURE, CONCEIVED WITHOUT SIN.