Wednesday, January 30, 2013
Message from Our Lord Jesus Christ
To His Beloved Daughter Luz De María.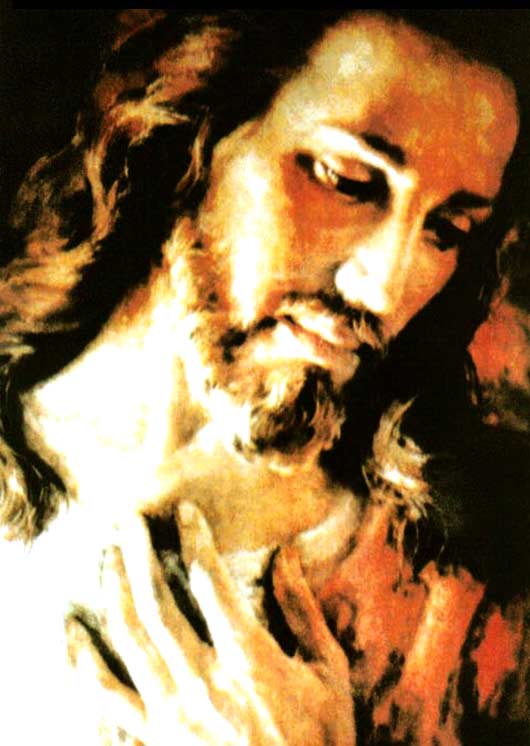 My beloved People:
I bless you, I bless you with My Love, with My Forgiveness and at the same time with My Justice.
THE WORLD MAKES MY CROSS MORE HEAVY EACH TIME, THAT CROSS WHICH I CONTINUE TO CARRY FOR EACH ONE OF YOU.
I COME IN SEARCH OF THOSE WHO DESIRE TO HELP ME,
OF THOSE WHO DESIRE TO CARRY THE CROSS FOR ME…
I come for My People, for those who are faithful, who commit themselves in "Spirit and Truth," who do not succumb before temptations or before your brothers and sisters when they do not understand you…
I come again to call you with My Cross loaded with man's daily sins…
I come again, I come to call you one more time…
You read My Calls and do not understand them, you continue to behave like infants, you still do not desire to ascend to Me. You pretend to imitate My Walk, My Acts and Works, but you do not comply with My Precepts, you do not comply with My Teachings and continue to be torn between My Truth and what is worldly.
HOW MUCH MORE MUST I CALL YOU? WITH HOW MANY WORDS MUST I CALL YOU?
HERE FROM MY CROSS, THE ONE THAT CONTINUES TO BE PRESENT EVERY INSTANT, I CALL YOU TO LIVE MY CALLS IN "SPIRIT AND TRUTH."
So many who call themselves My followers, they wish to draw Me to them with superfluous words that are not born from the heart; they forget that I search the depths of the soul.
HERE BEFORE YOU, FROM MY CROSS, I ASK YOU TO LOVE EACH OTHER, TO FIGHT AGAINST YOURSELVES, AGAINST THE EGOISM THAT CAUSES ME SO MUCH PAIN.
THE ENEMY CONSTANTLY STALKS YOU AND STILL YOU LET YOURSELVES BE WRAPPED UP BY HIM.
My Crown of Thorns tears My Eye, the one that does not cease to see you, that loves you, that blesses you, that searches you… So many Calls and still you continue as if you were little children!
In this instant My People must be strong, they must have grown. My People must be united; that is how I am gathering those who are Mine from all the corners of the Earth to form a single Battalion of Love. You can be experts in so many human things, but if you are not experts in love, you will never be able to be fully Mine.
I KEEP SO MANY LESSONS OF LOVE FOR MY PEOPLE, WHICH I WILL BE GIVING LITTLE BY LITTLE. YOU DO NOT
KNOW SO MUCH, MY CHILDREN, SO MUCH OF MY CREATION, YOU DO NOT KNOW SO MUCH ABOUT YOURSELVES, BUT YOU ARE STILL NOT READY DESPITE THAT YOU FIND YOURSELVES IN THE END OF THIS INSTANT.
The Signs do not cease, but you do not perceive them. My Word does not end, it will never be exhausted but for you it is not more than a passing word…
The Earth is depleted from human disobedience and My Heart aches because of it…
I HAVE GIVEN YOU SO MUCH AND STILL YOU DO NOT CORRESPOND TO MY CALL!
I come for souls, for Those for which I gave Myself…
I come for the faithful souls, for those who truly love Me…
THE GREAT BATTLE AGAINST EVIL BEGINS, THE IMPOSTOR APPROACHES, AND IN THAT SPIRITUAL
CONDITION IN WHICH HUMANITY FINDS ITSELF, YOU WILL NOT RECOGNIZE HIM AND WILL BE DECEIVED.
How My Heart bleeds for it! So many Calls on My Part and on the Part of My Mother and still you will be deceived!
The Earth, depleted from sin, will shake from place to place. The smoke of the volcanoes rises and causes havoc.
A great revolution will be born promptly, and how many innocents fall by the hard hand of those who do not have compassion! HOW I BLEED BECAUSE OF IT, HOW I ACHE BECAUSE OF IT!
You debate and argue in these instants so urgent for humanity, about the veracity of My calls. Can I not have several souls at my disposal to call you? And you do not question when you fall into sin above all sin against love of neighbor.
I CALL YOU IN THIS INSTANT TO BE FORGIVENESS, TO BE CHARITY, TO BE LOVE, TO SUBLIMATE YOURSELVES ASCENDING TO ME AS MY CHILDREN; I CALL YOU TO DIGNIFY YOURSELVES AS MY CHILDREN, BECAUSE IN THAT WAY, IN THAT WAY I FEEL HONORED AND LOVED BY YOU.
Pain approaches all of humanity. The enemy comes with his powerful weapon: division, and if My children are not fortified and possess a tested and unblemished faith, you will fall in his clutches.
FROM HERE, FROM MY CROSS, I SEE YOU WITH LOVE AND WITH PAIN.
My Hands pierced by nails, I offer them for you… My Feet aching and tired, I offer them for you… My injured Side bleeds for you.
My Crown of thorns, I offer it for you…
My shoulder injured by the weight of this Cross, I offer it for you…
The one who is God hangs on this Cross, shattered and dejected because of every offense of My children, offenses that in this instant are not lacking but abound in this world with a humanity that has forgotten Me, that discards Me without thinking, that forgets Me and does not recognize Me.
My children's weakness is so much that their own humanity bends them. How much I suffer from My Cross, how much pain for you!
I HAVE PASSED SO MANY TIMES BEFORE EACH ONE OF YOU ASKING YOU, BEGGING YOU TO HELP ME…
AND YOU TURN YOUR BACK TO ME…
A great pain approaches the earth, for all of humanity and then upon lamenting you will call Me Father. I will vomit the lukewarm.
I COME IN MY SECOND COMING TO GATHER THE GRAIN: MY PEOPLE, MY FLOCK, MY FAITHFUL… BUT FIRST YOU WILL PASS THROUGH THE TEST.
I come to place you before the mirror of your own conscience, and there you will see yourselves as you are, without pretense; there you will see that you are not as you say you are…
This Grace of Mercy is near for you… TRANSFORM YOUR LIVES BEFORE I COME!
I bless you, I love you, I call you to Unity.
MY CHURCH, MY MYSTIC BODY WILL BE GREATLY TESTED AND MY CHURCH AS INSTITUTION WILL BE GREATLY TRIED AND PURIFIED, but I do not abandon those who are Mine, I do not desert you; I take you by the Hand, I give you My Hand so that you give Me a greater catch.
I fill your lamps with the oil of My Love so that you have the assurance that you are not alone.
I WILL NEVER ABANDON MY PEOPLE, THEY WILL RISE WITH POWER, WITH MY POWER, WITH MY STRENGTH, AND THEY WILL GIVE ME A CHURCH RENEWED IN SANCTITY.
I bless you, do not separate yourselves from Me.
Your Jesus.
HAIL MARY MOST PURE, CONCEIVED WITHOUT SIN.
HAIL MARY MOST PURE, CONCEIVED WITHOUT SIN.
HAIL MARY MOST PURE, CONCEIVED WITHOUT SIN.