Monday, February 11, 2013
Message from Our Lord Jesus Christ
To His Beloved Daughter Luz De María.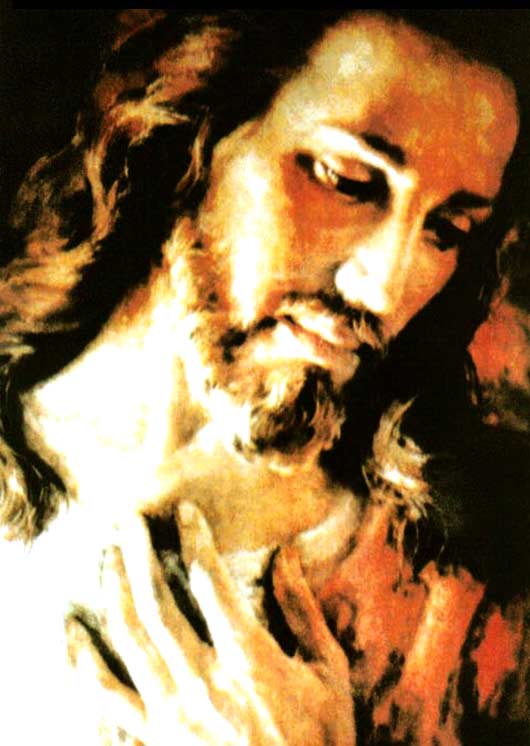 Beloved children, I bless you with My Love:
BE THOSE WHO FULFILL MY WILL AND RECEIVE MY WORD WITH CONFIDENCE, FAITH AND SERIOUSNESS.
I do not call My People for the sake of calling, I call them in the face of the agonizing state of humanity where licentiousness and the lack of good sense prevail. Man uses his senses to the max to fall into the clutches of the devil, consenting to all kinds of sins, be they actions or thoughts.
WOE TO THOSE WHO IN THE FACE OF IMMORALITY IN DRESSING
AND THE GENERATION OF THE FLESH GIVE THEMSELVES EXCUSES SO AS TO JUSTIFY THEIR SINS AND AS A DEFENSE FOR THEIR FAULTS!
THIS INSTANT IS DECISIVE and it is not up to man to define what is sin and what is not sin; sin is sin and neither justifications nor vain excuses exist. What concerns man is repentance and the firm purpose of amendment.
I COME FOR A PURE AND RENEWED CHURCH AND I WILL NOT FIND IT SO UNTIL IT IS PURIFIED.
MY CRIB WAS A MANGER AND MY BED A CROSS, I DID NOT ADORN MYSELF IN GOLD.
I COME FOR FAITHFUL SOULS THAT DO NOT SEEK JUSTIFICATIONS, THESE I WILL MAKE PASS THROUGH THE SIEVE OF PURIFICATION, BEFORE THEY CALL THEMSELVES MY PEOPLE.
My beloved:
What is worldly is worldly, and what moves within it carries danger for the soul; no matter how subtle it is, do not take any misstep.
My People are the humble of heart, those who recognize Me as Their God, those who love My Cross and My Mother…
I CALL YOU TO TAKE REFUGE IN MY MOTHER'S HEART IN INSTANTS OF CONFUSION, in which man gives an emphasis to human acts, setting aside the future of humanity and the crucible that awaits him before the perverse acts he commits.
Man's pain will pierce his entrails when atomic energy will be used by a power and famine will be heightened.
The planet shakes strongly and water embraces man, as if it were claiming how much man has harmed her and contaminated her.
UNITY IS STRENGTH THAT SURROUNDS MY PEOPLE, BEFORE IT NOTHING PENETRATES TO DISUNITE.
Do not forget that the devil will use his strategies so that My children walk separately and thus be vulnerable.
EACH ONE OF YOU IS A MISSIONARY OF MY LOVE, A DIFFUSER OF MY WORD…
BUT FOR THAT YOU MUST FIRST KNOW ME AND FULFILL MY PRECEPTS, IF NOT YOU WILL BE A LIGHT SHADOW OF MY LOVE AND SHADOWS ARE SHADOWS.
Man trusts in the economy for his security and forgets that I am the one who provides… The economy will fall into a deep hole, and the man of little faith will be shaken to bewilderment and beyond.
While humanity fixes its stare on an event, the perverse see how their plans are being fulfilled, forgetting that I do not abandon My people, I only allow them to be purified and willingly seek Me out.
I COME WITH A SWORD TO LIBERATE MY PEOPLE FROM THEIR CAPTIVITY.
I COME WITH STRENGTH AND POWER, AND EVERY INHABITANT WILL KNOW THAT "I AM WHO AM." I will be announced from on high by a multitude of My Legions; your Brothers of Journey and the Elements will announce that "I am who Am." There will be no one who can resist My Coming, I am the Lord of all of Creation. The day and night will fuse to give Me passage, I will separate the wheat from the chaff and the evil one will not oppress My People anymore.
My beloved:
MAN IS… AND I…, "AM WHO AM."
My faithful will be tested more than in any other time, when they are confronted with a reality they did not know and that will pierce their heart. Here faith in Me must prevail and you must continue to walk by My Side without faltering.
The Earth continues to be contaminated with nuclear energy, also water and man will mutate, this will happen as the great rulers gaze on.
Pray for Mexico, it will suffer.
Pray for India, it will suffer.
Pray for Brazil, it will weep.
My beloved, remain faithful to My Orders. My Providence remains with each one of My children, fidelity to My House is essential, no matter how hard it seems.
DO NOT ENTER INTO CONFABULATIONS WITH MODERNISMS,
MY LOVE RENEWS ITSELF FOR EACH ONE OF YOU IN THE INSTANT IN WHICH YOU TURN TO ME.
I bequeath to you My Love, receive it, do not let it pass.
I love you.
Your Jesus.
HAIL MARY MOST PURE, CONCEIVED WITHOUT SIN.
HAIL MARY MOST PURE, CONCEIVED WITHOUT SIN.
HAIL MARY MOST PURE, CONCEIVED WITHOUT SIN.