Saturday, February 16, 2013
Message from the Blessed Virgin Mary
To Her Beloved Daughter Luz De María.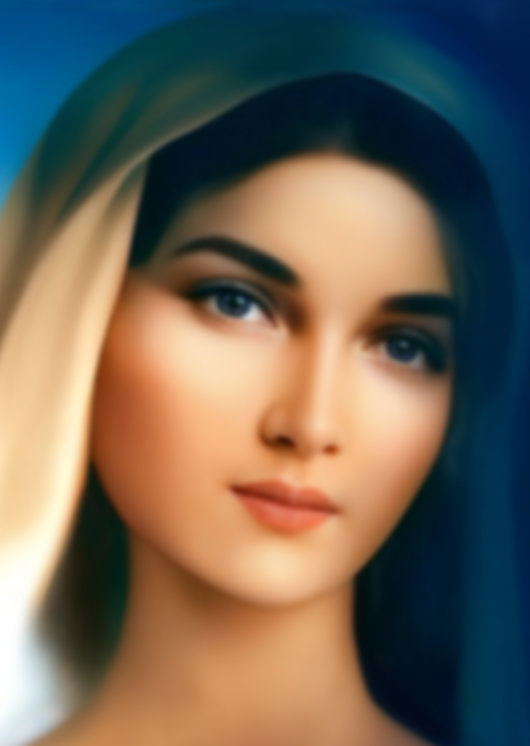 Beloved children of My Immaculate Heart:
YOU LIVE WITHIN MY HEART TO BE PROTECTED FROM ALL EVIL,
SOME EXIT MY HEART IN SEARCH OF WHAT IS FICTITIOUS AND LOSE THEMSELVES
IN WHAT IS WORLDLY…
The heroes are not the ones who win the first battle but those who persevere applying the lessons they receive to reach the goal.
ONWARD, CHILDREN! DO NOT FEAR. THIS MOTHER DOES NOT ABANDON HER CHILDREN.
UNITED TO MY HEART WE WILL WAGE THE LAST BATTLE AGAINST THE DEVIL AND HIS OWN, UNITED TO MY HEART WE WILL CRUSH THE SERPENT'S HEAD.
My beloved, the instant of Purification is a sign that faithful children like you still exist. You must understand that not only with prayer will you succeed, but also by nourishing yourselves with My Son's Body and Blood, being testimonies of Love, testimonies of My Son, faithful to His Word and doers of His Will.
The instant is coming in which Churches will close, and that is when you will be conscious that you have always been living temples of My Son and you will know when you have carried that temple offending Him or with dignity.
Beloved:
For Heaven it is not inconsequential or indifferent each occasion in which you set aside unhealthy diversion, the invitations that are not good for the soul, what you have sacrificed to remain on the side of Heaven knowing that what is spiritual is first and that My Son has called each one of you by your name and you have responded.
EVERY OCCASION IN WHICH FAITH IS DEMONSTRATED AND MAINTAINED IS RECEIVED BEFORE THE PATERNAL THRONE AS AN ACT OF ADORATION AND YOU ARE IMMENSELY BLESSED AND STRENGTHENED BY IT.
Acts of faith and sacrifices are accumulated merits that unite you to Heaven and elevate your spirit. Your Brothers of Journey rejoice before these acts of love and faith, and they remain at your side protecting you.
Children, the path has become so narrow that each one of you must lighten your step before what is worldly and leads you to fall. You must lighten your step by strengthening faith, the only way for you to overcome the terrible trials that are approaching for humanity and especially for those who are conscious of what is happening on Earth.
THOSE WHO HAVE SCORNED HEAVEN'S PROPHECIES WILL LAMENT AND MOAN BECAUSE OF THIS ACT OF INDIFFERENCE, AND IF THEY HAD BELIEVED THEY WOULD NOT HAVE GONE ASTRAY.
The marching of an army is heard firmly advancing towards those who, unprepared, will be surprised and will lament because of impiety.
The center of the Earth burns before the sentiments men emanate, they penetrate the earth leading it to allow volcanoes to emanate this ardor and surprise with their fury.
THE SPIRIT MUST BE PREPARED TO RESIST THE TRIALS, THE ATTACKS, THE BETRAYALS AND THE ENVY THAT THE DEVILS SPREAD THROUGH THE AIR. And those who doubt or do not have faith and remain distanced from My Son, absorb all this negativity filled with evil, being receptors of it and pouring it over their neighbor.
Man's ignorance is feeling like he can judge; Wisdom leads to seeing the blessing each soul carries.
IN THIS INSTANT THE PURPOSE OF EVIL IS TO INFILTRATE THE MINDS OF PEOPLE AND DOMINATE THEM. This fertile ground is found in those who are lukewarm, in the proud, in the foolish, in those of a hard heart and in those who do not allow themselves to be converted to good.
Evil is able to make humanity feel comfortable with it, leading humanity to believe that what humanity achieves, no matter how improper it is, is a normal act if its life. So before these dominated by evil, the persecution of the Mystic Body - the Church - will be cruel and will not give rest. In the face of this what is undue is fear, what is right is to strengthen yourselves in faith.
The House of My Son on Earth is in discord, with threats and bent by the power of evil; masonry has taken the reigns of the carriage guiding it through very difficult and deviant paths, which will be transmitted to the faithful succeeding in making My children doubt between what is correct and incorrect in the Doctrine.
Do not forget that My Son is Love, He humbled Himself and said yes to what was yes and no to what is not correct. The mind of human beings must dislodge negative sentiments so that you walk in rectitude and discern before what you must not do and offend My Son.
Beloved children of My Immaculate Heart:
BLESSING COMES FROM ON HIGH FOR THE FAITHFUL, IN EVERY INSTANT THEY WILL BE HELPED.
From on high comes blessing and a great defender of My Son's People will arrive and his holiness will be recognized and he will fight against evil for the salvation of souls; just like a voice cried out in the desert, so again a voice will cry out in the desert…
Each Fiat (yes) of this Mother, has the seal of My Son's Love for His People. The Church will be tested to its core, but My Son's armies will descend to help you.
DO NOT FEAR, EVEN THOUGH THE EARTH SHAKES, EVEN THOUGH THE SPIRITS OF MEN DECIDE WAR AND PLAGUES NEAR, THIS MOTHER WILL GIVE YOU WHAT IS NECESSARY TO OVERCOME. I received you at the foot of the Cross and in It My Son's People will take joy and will be decked with gold of Ophir.
Pray, beloved children, for Australia.
Pray for Iran, it will suffer.
Pray for the United States, it will lament.
ADVANCE IN A SINGLE HEART WITH THE SURENESS THAT YOU ARE NOT ALONE, MY SON AND I CARRY YOU IN OUR ARMS.
I bless you with My Love, I bless you with My Peace.
Pray the Holy Rosary.
Mother Mary.
HAIL MARY MOST PURE, CONCEIVED WITHOUT SIN.
HAIL MARY MOST PURE, CONCEIVED WITHOUT SIN.
HAIL MARY MOST PURE, CONCEIVED WITHOUT SIN.