Wednesday, February 20, 2013
Message from the Blessed Virgin Mary
To Her Beloved Daughter Luz De María.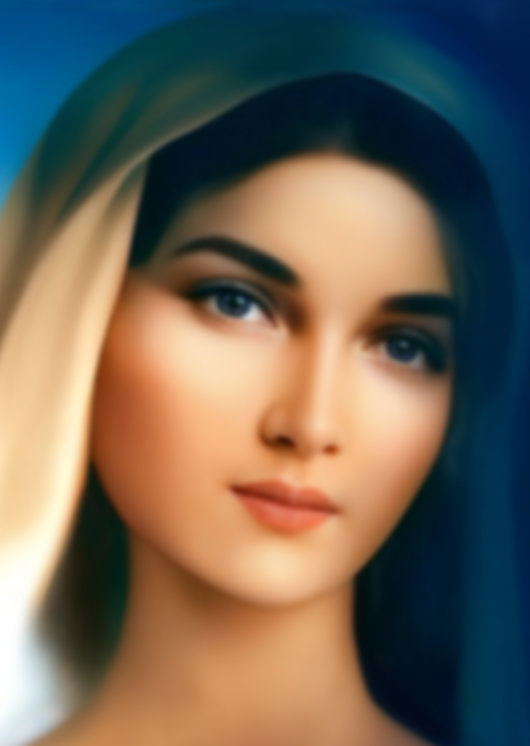 Beloved children of My Immaculate Heart:
Receive the blessing of this Mother who comes to Her children, again like many other times, with My Heart open, which is "Refuge of Sinners."
I INVITE YOU TO STAY IN UNITY AND FORGIVE EACH OTHER AS MY SON FORGIVES HIS OWN.
At this time, more than others, you as the People of My Son and as My children, SHOULD BE KEPT IN UNITY. The malignant legions pounce on the people of My Son to destroy it. And what great and powerful weapon than disunity?
Beloved, My Son came to scatter the seed, good seed all over the Earth, but vultures came, took some seeds that were not secured to the fertile soil and taken to dry land where gave fruit but not good fruit but devoid of love, devoid of peace, devoid of obedience and ignorant of dedication to their brothers. These fruits fully human, guided by evil, were rapidly taking power in the House of My Son here on Earth, toured the halls, bringing darkness everywhere, distorting the Will of My Son and instead, replacing it with the disdain and whims of the evil.
So much prayer I have asked for My Favorite children, the Priests! ... and in many of them this evil human seed has borne fruit but not the fruit of My Son, but the fruit that fell on barren soil, and distorting the Word of My Son and letting themselves be invaded by evil whims darkened the House of My Son, closed the windows so Divine Light do not penetrate, closed doors to plot in secret and under the dark planned the fall of the Church of My Son.
EVIL WILL NEVER PREVAIL OVER GOOD, MY SON WILL NEVER ABANDON HIS CHURCH, HIS MYSTICAL BODY,
BUT THESE SOULS WHO SURRENDERED TO DARKNESS, WILL MAKE THE MYSTICAL BODY PASS BY THE PATH
OF
THE MOST CRUEL PAIN IN THE HISTORY OF MANKIND.
YOU REMAIN IN FAITH, KNOW AND RECOGNIZE MY SON, KNOW AND RECOGNIZE THIS MOTHER WHO LOVES YOU, that reinforced with My love for you and the Holy Rosary before which demons are driven away, you remain standing strengthened in the faith, but to obtain this you should know My Son, you must penetrate the Scriptures, accepting the Word and accepting the Commandments and accepting the Mandates bequeathed by My Son.
YOU, BELOVED PEOPLE, CHILDREN OF MY IMMACULATE HEART, DO NOT YIELD TO THE MODERNISMS, DO NOT SUCCUMB TO THE NEW DOCTRINES THAT THEY WISH TO IMPLEMENT. The Doctrine is one "love God above all things and your neighbor as yourself." The Law of Love is unchangeable, insurmountable, and it entails obedience to My Son.
Beloved Ones, the snake moves among the People of My Son stealthy and silent, without you becoming aware and is poisoning large amount of My children to react against their brethren to come to treason, to bring darkness to all My beloved children. BUT, "AM I NOT HERE WHO I AM MOTHER OF ALL HUMANITY AND I
WILL NOT ALLOW THE ENEMY TO CRUSH THE MYSTICAL BODY?"
PRAYER IS NEEDED, MEDITATION IS NEEDED SO DREAD AND FEAR DO NOT INVADE YOU AND PREVENT YOU FROM REASONING AND DISCERN BETWEEN WHAT IS PROPER AND WHAT IS NOT RIGHT.
YOU WILL BE LEADED TO FALSE DOCTRINES, REFORMS AND MODERNISMS THAT ARE NOT THE WILL OF MY SON, WHICH ARE CONTRARY TO THE WILL OF MY SON. DO NOT GIVE IN, HOLD ON TO MY SON.
You have to keep faith, fused with Divine Will, and so won't be deceived. Do not join those who come to you with false news of new reforms that are not commensurate to the Love and Fidelity that My Son preached to His People.
My Son comes in His Second Coming to rescue His faithful. This will occur after the Purification of the whole
Church, after the impostor is driven from the throne of Peter here on Earth. IT'LL COME THE SAME PETER TO
SIT IN HIS CHAIR NEXT TO MY BELOVED SON AND WILL REIGN IN THE HOLY AND REMNANT CHURCH.
But I, as the Mother of all Mankind, I do not desire that anyone perish. You, My beloved, listen and remember that prayer and fidelity to My Son is continuous, from moment to moment, not momentary, not to convenience, but continuous.
PRAYER IS THE PRACTICE OF LOVE AND SURRENDER, OBEDIENCE AND FIDELITY, without these requirements is not maintained the tree facing the Heaven, but instead decays and falls to the ground, being dragged by the crowds inflamed following the falsity of evil monster that claws and prepares to destroy the Church of My Son.
DO NOT BE TROUBLED, MYSTICAL BODY, DO NOT BE TROUBLED WHEN YOU HEAR THAT THE HOUSE OF MY SON HAS BEEN DEMOLISHED, BECAUSE THE HOUSE OF MY SON REMAINS IN EACH ONE OF YOU.
You are the Tabernacles where My Son is maintained and loved. The buildings are evidence of man's love for My Son, but the true Tabernacle is each one of you, Temple and Tabernacle of the Holy Spirit.
BE FAITHFUL, IT IS NECESSARY THAT EVERY CREATURE PRAY, EVERY CREATURE REFLECTS, THAT EVERY CREATURE INTIMATE WITH MY SON AND CALL TO THIS MOTHER. The one that does not approach My Son, do not think of My Son, who does not carry in his heart, that does not go to this Mother, he will fall into the clutches of evil. No building stand without a solid foundation as they are what keep it in perfect condition. Take you, My children, the weapon of My Rosary and join this Mother, I will come to you with My heavenly legions to fight the son of wickedness.
Beloved children:
DO NOT FEAR, WHY YOU FEAR?
WHERE IS YOUR FAITH IN THE PROTECTION OF MY SON?
WHY YOU FEAR IF YOU KNOW THAT THE GATES OF EVIL AND HELLFIRE NEVER WILL DEFEAT THE CHURCH OF MY SON, BECAUSE HE IS THE HEAD OF THE MYSTICAL BODY?
Beloved Ones, at this moment you are living way to Calvary, but remember that after the Crucifixion and the Resurrection comes the Resurrection, the Eternal Life, and the Truth. Do not believe the lies of the wicked and his henchmen.
Pray for My beloved Vicar Benedict, pray, pray for him, send your love for wolves will not destroy him.
REMAIN PREPARED AND BE LOVE TO MY SON. I GIVE YOU MY LOVE, LOVE ONE ANOTHER AND DO NOT BE LIKE THOSE PHARISEES WHO PROCLAIM LOVE BUT DID NOT PRACTICED IT.
There are those Pharisees who come to the House of My Son beating his chest to see who enter them and then denounce them. No, the true ones do not act this way.
Pray, My beloved, pray for Costa Rica, it will suffer.
Pray for England it will be the cradle of evil.
Pray, My beloved, pray for Jamaica, it will suffer.
Nature appalled at the arrival of the wicked, react and bring sorrow to mankind, you keep yourselves prepared. Today I call you to love as in one People, in one Heart, to remain prayerful souls, do not to follow the stream of what you listen, do not fear therefore that the forces will be exhausted, because the Crossroads to Calvary is only starting.
HOLD YOUR HANDS AND IN ONE HEART, UNDER THE FAITH IN ONE GOD,
DELIVERED TO MY SON AND TAKE MY HAND AND HARBORED IN MY HEART,
GO ON TO CRUSH THE HEAD OF THE SERPENT, USURPER OF THE THRONE OF MY SON HERE ON EARTH.
I bless you, I love you, do not fear, I am not in the desert, I meet with My beloved children, whom I love and those who I will defend them as I am Mother of all of you.
HEADS UP, RAISE THE SOUL AND SPIRIT THAT IS BEFORE MY SON,
CONSTANTLY LIVE IN WORSHIP OF THE HOLY TRINITY,
PROCLAIM THE GREATNESS OF GOD AND PROCLAIM THE RESURRECTION OF MY SON, PROCLAIM THE REDEMPTION OF MANKIND AND PROCLAIM THAT THIS MOTHER IS THE QUEEN OF MANKIND.
I bless you, stay in the peace of My Son and within my Immaculate Heart.
DO NOT STAGGER, DO NOT STAGGER, DO NOT STAGGER.
Mother Mary.
HAIL MARY MOST PURE, CONCEIVED WITHOUT SIN.
HAIL MARY MOST PURE, CONCEIVED WITHOUT SIN.
HAIL MARY MOST PURE, CONCEIVED WITHOUT SIN.