Sunday, February 24, 2013
Message from Our Lord Jesus Christ
To His Beloved Daughter Luz De María.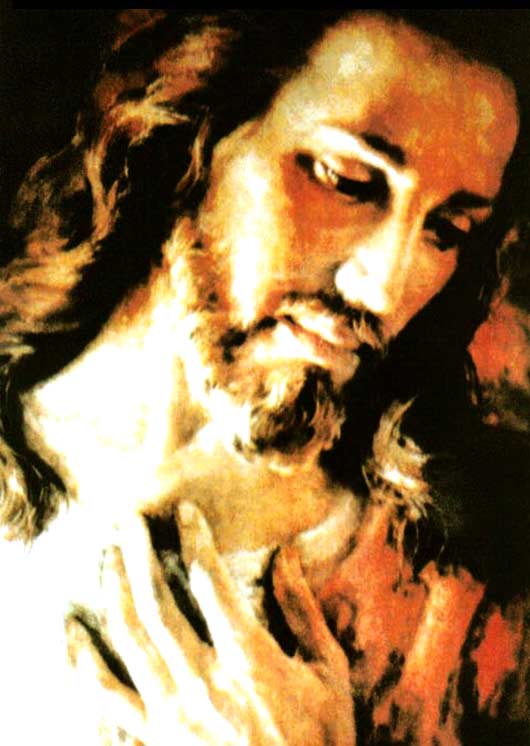 My dear children:
YOU ARE MY DELIGHT, YOU ARE THE APPLE OF MY EYES ...
FROM THE WOMB OF YOUR MOTHER I KNOW YOU ...
IN THE PALM OF MY HANDS I HAVE HELD YOU ...
I HAVE LULLED YOU IN MY ARMS AND I HAVE GUIDED YOU THROUGH THE WAY ...
GOING AHEAD OF YOU WITH WATER TO QUENCH YOUR THIRST ... YOU ARE MY PEOPLE THAT I DO NOT ABANDON.
My People... My People, you are following false gods dosed in small doses to avoid to be perceived as going against My Love, giving you to evil.
The demonic spirit takes their loot among those who have left the faith and gravely offend Me, throwing away their lives, leaving them drifting and drifting, being caught in the nets of evil.
Beloved Ones:
BIG AND SERIOUS CHANGES MIX IN EVERYDAY MAN, CHANGES IN THE SOCIAL, POLITICAL AND RELIGIOUS.
STAY ALERT WITH THE MIND, REASON AND HEART, MORE ATTACHED TO ME THAN IN PREVIOUS MOMENTS AS NOT LIKE OTHERS THAT YOU ARE GOING TO LIVE.
The powerful look at you like a code, I would look at you from the breadth of My Mercy, so insistently I call you back to This One who loves you. The moment you expected accelerated the move and the direction of the Prophecies and you have not yet consecrated Russia to the Immaculate Heart of My Mother, being connoisseurs those who are consecrated to My service, of the importance of this Consecration. It would change the destiny of mankind.
Have known that the Third Secret of Fatima revealed by My Mother and they have neglected to avoid creating controversy with My People, which blindly walks as if he knew what My Mother announced, the heart of man
will remain alert and attentive about what descends from above and will seek the sanctity of the institution of
My Church, will differentiate between the true and the imposter will give for good to my children, this being however, serious offense against Me and My Mother, who will definitely be discarded as an object.
MY MINISTERS, DO NOT DENY THE EXPLANATION OF MY WORD; I AM WHO I AM AND WILL NOT SILENT MY VOICE. IF ONLY YOU LISTEN TO ME! ...
My people must be guided by the Truth, without interest of any kind, without economic projections, but led to
Spiritual Growth and towards fulfilling My Commandments. To do this there will be no other way than the Purification of My Church. I have not wanted sumptuous temples, instead I wanted each one of you to be a doer of My Word in Spirit and Truth.
YOU HAVE GRIEVED MY HOLY SPIRIT, SERIOUSLY.
At this time my love is with those with humble and simple heart, with those who love Me and are abiding My Truth.
My children must remain prepared with healthy and clear mind, heart emptied of lies in order to receive My Calls of Love and they adopt them as the Treasure they are.
MY PROPHETS WILL BE PERSECUTED TO SILENCE ME, BUT THEY WILL NOT SUCCEED.
MY WORD IS ETERNAL AND WILL KEEP COMING TO MY PEOPLE, I WILL NOT ABANDON YOU.
Pray, My children, for yourself so that faith does not waver.
Pray for Japan, it will suffer.
Pray for China, it will spread fear.
Beloved Ones, the winds will be stronger, foreshadowing awakened hardness. Volcanoes release their anger when the father of lies will take to My people, making them captive.
CHILDREN, DO NOT FEAR, DO NOT FEAR.
I WILL SEND FROM ABOVE MY LEGIONS TO DEFEND MY CHURCH AND WITH THEM I WILL SEND YOU A DEFENDER WHO WILL FIGHT AGAINST EVIL AND AGAINST THE ANTICHRIST AND WILL DEFEAT HIM.
Eventually My captive People will be freed after having suffered and been led like sheep to the slaughter.
I WILL SHOW MY POWER TO UNBELIEVERS AND
I'LL THROW THEM INTO THE FIRE FOR HAVING BLASPHEMED AGAINST ME.
CHILDREN, DO NOT GET OVERWHELMED.
I: THE ALPHA AND THE OMEGA, WILL SEPARATE THE GRAIN AND TAKE YOU TO MYSELF.
I bless you.
Your Jesus.
HAIL MARY MOST PURE, CONCEIVED WITHOUT SIN.
HAIL MARY MOST PURE, CONCEIVED WITHOUT SIN.
HAIL MARY MOST PURE, CONCEIVED WITHOUT SIN.