Wednesday, February 27, 2013
Message from Our Lord Jesus Christ
To His Beloved Daughter Luz De María.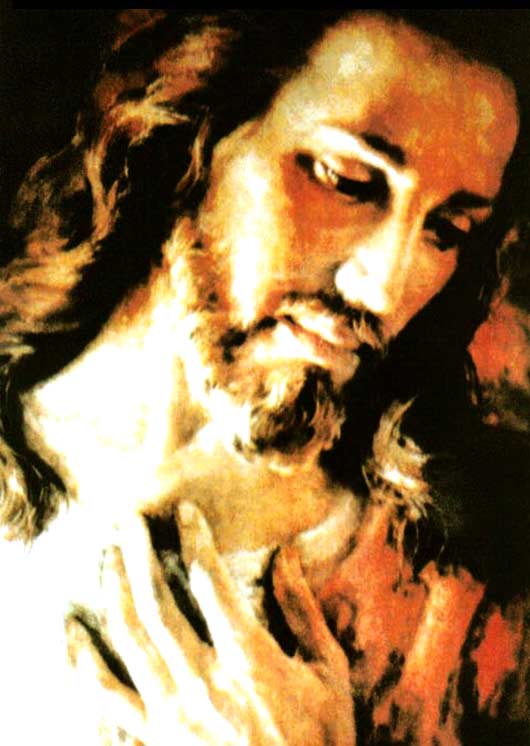 My beloved children:
I bless you, I love you. As the Sun at its zenith distributes its love and its light for all of Creation, in the same way My Love is given to all. I do not leave anyone without receiving it and without being a participant of My Love.
BUT IN THIS INSTANT I FIND MYSELF LIKE A BEGGAR OF MY OWN LOVE;
BEFORE EACH ONE OF YOU I KNOCK AT THE DOOR OF THOSE HEARTS OF STONE, OF THOSE WHO DO NOT LOVE ME, OF THOSE WHO REFUSE ME DAILY BREAD, THAT BREAD THAT FOR ME IS MY OWN LOVE IN EACH ONE OF YOU.
In this instant I am a King without a Palace, My Palace has been taken from me and is in dispute. With My Heart lacerated and newly crucified…
I COME TO MY PEOPLE TO SOLICIT PRAYER, PATIENCE, LOVE, CHARITY, FORGIVENESS AND HUMILITY.
I COME TO MY PEOPLE SO THAT THEY OFFER ME ALL THEIR SACRIFICES, SINCE YOU HAVE DENIED THIS KING HIS PALACE AND YOU WANT TO STEAL HIS CROWN AND SCEPTER.
TO MY BELOVED INSTRUMENTS OF THIS INSTANT:
I call you to remain faithful and standing, to not succumb before the persecution of those scholars who deny My presence in each human being, who deny My Mother's Love in each one of you and for each one of you.
DO NOT SUCCUMB BEFORE THE THREATS, DO NOT SUCCUMB BEFORE THOSE WHO DENYING THE EXPLICITNESS OF MY WORD, CALL YOU TO BE SILENT.
Woe to the one that out of fear of man himself stops loving and obeying His Christ and His Mother! Those are not My true instruments, but those who proclaim My Truth and My Call, even when they bring on persecution for them. I have chosen them for these difficult instants…
And who to those who fear man more than Me! This instant in which you live is decisive, I am Infinite Mercy and also Divine Justice.
Woe to the one I find lukewarm because I will vomit the lukewarm from My Mouth, I will throw him with the chaff.
Woe to the one who leaves Me for man!
Woe to the one who shows himself before Me to be lukewarm to keep up appearances, because I will make him fall, I will make him fall amidst the chaff and will separate him from the wheat!
I COME FOR MY PEOPLE, FOR THE FAITHFUL WHO ACCOMPANY ME, FOR THE PEOPLE WHO FIGHT, FOR THE PEOPLE WHO SUFFER,
FOR MY CHILDREN WHO SAY YES, YES, AND SAY NO TO WHAT IS NO.
Woe to those of My Instruments who are lukewarm before Me!
Woe to those I have called to My Works and are lukewarm before Me, and before men they show a different face!
FIDELITY MUST REIGN, not the world or what is worldly; not appearances, not holding on to human respects, not looking good before your brothers and sisters and being false before Me.
Have you forgotten that I know you from your mother's womb? You do not fool Me, you fool man, but you do not fool Me. I need faithful People dedicated to Me, dedicated to making reparation with immovable faith so that they do not fall into the clutches of those who with false modernisms want to make My Mystic Body succumb to acts contrary to My Will.
YOU, FAITHFUL PEOPLE, ARE MY WARRIORS AND MY WARRIORS MARCH IN FIRST PLACE, THEY DO NOT WAIT TO BE CALLED BUT COME OUT TO MEET THE BATTLE, WITH LOVE AS THEIR FLAG AND WITH FAITH IN ME AND IN MY MOTHER AS THEIR SHIELD.
So much, so much will humanity suffer since it has spilled over the Planet its own irreverence towards Me! Everything, everything that exists - nature and Creation - lives in unity to My Will, only man rebels against Me, but Creation comes marching with a sure step to meet man and to pass him through the crucible.
I announce to you with pain that demons are upon man and you allow them to pass and enter. You hear this and forget it, and you act dominated by evil. The devil does not rest and continually lashes against your souls, lashes against your thoughts and the use of reason, he lashes against human intelligence to make it decline and so that you act like those who do not know Me and continually despise Me.
If these are My People, woe to this King! No, beloved children, you have forgotten that before Me each one of you is found just as you are.
SOON IT WILL BE MY SECOND COMING SINCE THE INSTANTS HAVE BEEN QUICKENED AND I WANT TO FIND YOU TRANSPARENT, WORTHY OF MY LOVE AND OF MY HELP.
Nature will make the Nations tremble, soon, sooner than you imagine. I will dethrone the proud one, the one who humiliates his brother and sister, I will make him taste the chalice of bitterness. IT IS NOT MY JUSTICE BUT MY MERCY, SO THAT IN THESE INSTANTS YOU TURN TO ME AND RETURN TO THE PATH.
My beloved People:
I invite you to pray for the Middle East.
I invite you to pray for Korea, urgently.
I invite you to pray insistently for the United States.
My People:
WHAT HAS BECOME OF YOU THAT I SEEK YOU BUT DO NOT FIND YOU?
WHERE ARE THEY HIDING YOU, MY PEOPLE?
WHOM DO YOU LISTEN TO IF YOU DO NOT LISTEN TO THIS YOUR KING EVEN THOUGH I HAVE NO PALACES OR CROWN?
WHO DO YOU LISTEN TO IF YOU DO NOT LISTEN TO ME?
My Mercy does not run dry, it does not run dry for those who are Mine, still I will send a Creature filled with My very Love, to defend and guide My Church in the instants of greater tribulation. This beloved Creature will come to you with My Word in his mouth and to fight alongside My Mother to rescue those who are Mine.
You are My great Treasure, you are My Living Tabernacles: do not discard the calls of this King who comes for His subjects. Do not fear not even before injustice, or before the unforgiveness of those who judge you because of My Cause. DO NOT FEAR THOSE WHO TELL YOU, YOU ARE GOING TO BE TURNED AWAY FROM MY INSTITUTION, BECAUSE YOU ARE MY MYSTIC BODY AND MY BELOVED PEOPLE, AND I AM THE HEAD OF MY CHURCH.
Beloved People: I bless you, I bless you for remaining in faith, for being gallant and I CALL YOU ENERGETICALLY
TO OBEDIENCE, TO RISING ABOVE YOUR OWN HUMAN EGO, TO CRUSH IT WITH MY LOVE AND WITH FAITH IN MY WORDS. And before what is coming, know that I will never abandon you and My Mother will remain with you, instant to instant. The Woman clothed with the sun and the moon under Her feet will crush the head of the antichrist beside My Church, My Mystic Body, alongside My faithful and chosen.
I LOVE YOU, MY CHILDREN, AND YOU MY BELOVED INSTRUMENTS FOR THIS INSTANT,
YOU WHOM I HAVE CALLED TO FORM PART OF MY MISSION FOR THESE INSTANTS…
I CALL YOU TO NOT DECLINE, TO NOT TAKE ANY STEP BACKWARD, TO BE PERSEVERANT,
AND TO REMAIN HOLDING MY MOTHER'S HAND,
BECAUSE HOLDING MY MOTHER'S HAND THEY WILL NOT SILENCE YOU.
Pray, pray the Holy Rosary. Do not forget that devils are on Earth and woe to the one who lets himself be carried away by them, because they will untie and totally separate you from Me and My Mother!
BE LOVE AND DO NOT FORGET THAT WITHOUT UNITY THERE IS NO STRENGTH; that without unity there is no love, and that without unity man is only one creature, for whom it is difficult to take upon himself an entrusted task, if he is not reborn in humility, if he does not maintain unity within himself.
I bless you, and I call you to not fall, to not fear.
DO NOT FORGET THAT I FOUNDED MY CHURCH AND EVIL WILL NOT PREVAIL OVER IT, it will be purified but not defeated. My People, if necessary I will make manna descend from Heaven, but My People will not be alone, nor will they be abandoned.
I love you.
Your Jesus.
HAIL MARY MOST PURE, CONCEIVED WITHOUT SIN.
HAIL MARY MOST PURE, CONCEIVED WITHOUT SIN.
HAIL MARY MOST PURE, CONCEIVED WITHOUT SIN.