Saturday, March 2, 2013
Message from Our Lord Jesus Christ
To His Beloved Daughter Luz De María.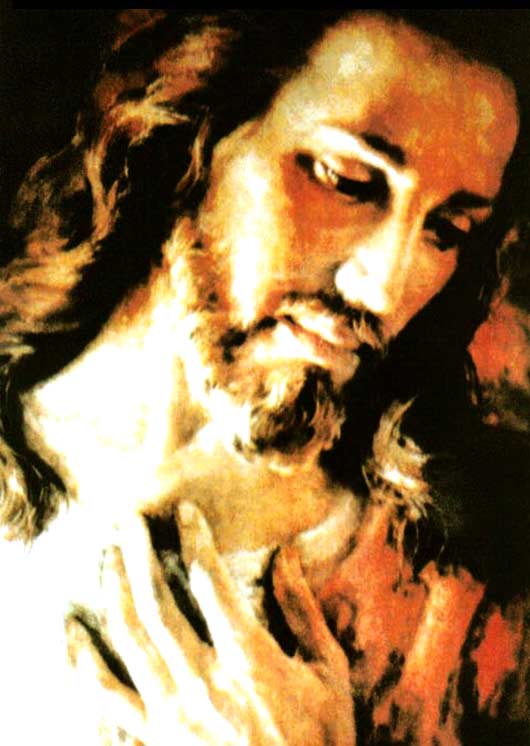 Beloved children:
LIFE IS MAN´S ACTION AND STEP TO BE EXAMINED AT THE END OF IT, THEREFORE YOU MUST NOT WALK BEING UNAWARE OF IT. REAL LIFE IS FOUND IN ETERNITY.
The Sun will not shine anymore because you decide it so; it is My Power and NOT man's.
Each step you take leaves its own footprint, and the footprint marks the path on which you walk.
HOW MUCH WOULD HUMANITY HAVE AVOIDED IF IT HAD CONDUCTED WITH PROPRIETY OBEYING MY MOTHER!
Children, from day to day you succumbed in the mud, without getting up and being food for the serpents that drag themselves through muddy ground. You did not lift your gaze beyond your eyes, with the malignant one having forged false idols so that you did not perceive the worldly things in which you move.
EACH ONE OF YOU HAS BEEN SENT INTO THIS LIFE WITH A PURPOSE; it has not been fulfilled in the great majority because they have not invited Me to enter into the intimate part of their being, and that is why they continue alone without asking for My Help and going astray continually.
Beloved, humanity turns without a path, it has been human pride that has not allowed you to see within that turning how much evil you drag behind yourselves, and you have allowed evil to germinate, clamping down within your heart, your mind and reason, thus invading your entire being until it spreads and contaminates the rest of your brothers and sisters.
Beloved, you will find brothers and sisters who criticize you and mock you, just so you will find those who do not understand you and are imposed on causing you to stray from the path that I have laid out; they do not wait for Eternity, rather they are people that have transformed themselves into small beings that want the same for their fellow men.
THIS IS THE INSTANT IN WHICH THOSE WHO ALLOW ME TO PENETRATE INTO THEIR BEING WILL FEEL THE RELIEF OF COMING OUT OF WHAT IS WORDLY AND SINFUL TO FIND THE BALM THEY SEEK WITHOUT KNOWING WHERE.
Those who are despised for My Sake are My chosen. Those who do not please the ones who insist on distancing you from Me, will receive and enjoy all of My Promises. Growth in faith is essential so that you do not allow yourselves to be distanced from Eternal Life.
THIS IS THE INSTANT IN WHICH HUMANITY IS CONVULSIVE FOR ONE REASON OR ANOTHER,
AND YOU CANNOT SEE THAT THE SIGNS AND SIGNALS MOVE BEFORE YOU
SO THAT YOU AWAKEN FROM THE LETHARGY AND PREPARE FOR THE EVENTS WITH WHICH HUMANITY WILL BE PURIFIED.
My Cross is not hidden behind a suit or dress, My Cross is life. My Cross is not used to cause respect, if in the heart I do not reign.
My Word is not correctly pronounced if I do not live within the person; even if that person knows all the history books, THE PERSON WHO DOES NOT LOVE ME IN SPIRIT AND TRUTH WILL NOT BEAR FRUIT.
My Mystic Body must walk in faith, I remain alive in the midst of those who are Mine, whom I call to not fall, to remain alert so that they do not lead you into error and to apostasy.
UNITY OF THOSE WHO ARE MINE IS INDISPENSABLE TO AVOID DISAGREEMENTS AND MISTAKES LEADING YOU TO STONE AND ANNIHILATE WHAT IS MY TRUTH.
I have sent My Word through My faithful instruments to explain and clarify to this Generation the perverse plans of evil, abomination, betrayal and the presence of the antichrist in the midst of My People. The antichrist and his allies will openly deny My Real Presence in the Eucharist, My Bloody Sacrifice, and will abolish the Marian Dogmas, denying the Purity of My Mother. This supplanter has already worked so that My People, sunken in sin be ignorant of My Truth, permissive and tolerant of what is told to them, complying with the closing of My Churches, forgetting Me and taking the breed of evil as god. These will be persecutors of My instruments, uniting themselves with those consecrated ones who diverted My Truth and who received false ideologies and unhealthy interests, and who from their pulpits will ridicule My faithful instruments, trying to silence My Calls.
MY WORD WILL NOT FADE, NOR WILL I ABANDON MY FAITHFUL INSTRUMENTS so that they are the ones who alert and proclaim loudly: My Truth, My Love, My Immolation the existence of Purgatory and hell itself. If not, where would the demons be if hell did not exist?
My beloved People:
CONTRARY CURRENTS WILL FLOW EVERYWHERE, BE OF ONE WORD, REMAIN IN MY HANDS AND WITHIN MY MOTHER'S HEART SO THAT YOU DO NOT DENY ME OUT OF FEAR.
The winds of evil blow without ceasing. Nations will betray one another and war will be merciless.
How much have I called you to see what atomic energy encloses! And you have not heeded My Calls raising your voice together so that it would not grow more. And the powerful Nations and the not powerful count with this horror, which will mutilate humanity.
MAN'S DISOBEDIENCE WILL BE HIS OWN SCOURGE…
BELOVED, REMAIN FAITHFUL BEFORE ALL ADVERSITY, DO NOT SUCCUMB, FOR I KEEP YOU FORTIFIED WITH MY LOVE. My Mother will combat against the malignant oppressor of My People and you will pray, being continually aware that you must walk holding My Hand where you go, because without Me you will be the prey of evil.
Do not fear before the truth I present to you, but be strong in Faith and be firm columns of My Church, for evil will pass, but it will not tear it down.
Beloved, pray for yourselves so that the demons do not make you fall, My beloved, pray for the United States, it will suffer.
Pray for Israel, the shadow of pain will purify it.
Be patient and virtuous, be humble.
I REMAIN WITH MY PEOPLE AND WITH MY FAITHFUL.
TAKING MY HAND THEY WILL WALK TOWARDS MY TRUTH.
I bless you.
Your Jesus.
HAIL MARY MOST PURE, CONCEIVED WITHOUT SIN.
HAIL MARY MOST PURE, CONCEIVED WITHOUT SIN.
HAIL MARY MOST PURE, CONCEIVED WITHOUT SIN.