Tuesday, March 5, 2013
Message from the Blessed Virgin Mary
To Her Beloved Daughter Luz De María.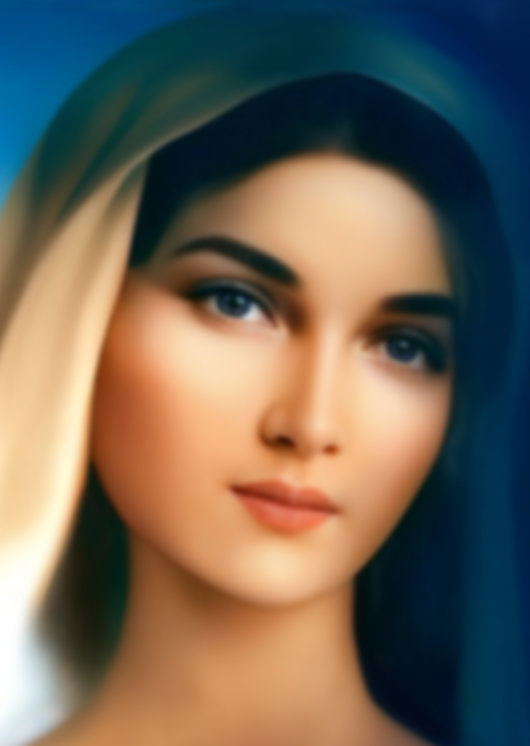 Beloved children of My Immaculate Heart:
I CARRY YOU WITHIN MY HEART AND AT THE SAME TIME I GESTATE YOU WITHIN MY WOMB SO THAT YOU KEEP IN MIND THAT YOU ARE PROTECTED IN EVERY INSTANT.
Do not forget that at the end of gestation come the labor pains, in which My Son's People will be harshly tested, persecuted, purified and will be greatly scourged by the hands of those who do not love, do not wait, do not trust, by those that have given their life into the hands of evil.
Beloved children of My Immaculate Heart:
YOU MUST NOT SUCCUMB IN ANY INSTANT, NOT EVEN WHEN YOU FIND YOURSELVES IN THE MIDST OF
PERSECUTION AND SLANDER, IN THE MIDST OF DESOLATION,
IN THE MIDST OF CLOSED TEMPLES,
IN THE MIDST OF THE DENIAL OF THE PRESENCE OF MY SON IN THE EUCHARIST, IN THE MIDST OF THE CONFUSION IN WHICH YOU WILL BE SUBMERGED AND IN THE MIDST OF THE DARKNESS THAT WILL SCOURGE MY SON'S CHURCH.
With pain I must manifest that many of My children, a large number of them, will take other paths, far from the Truth that My Son proclaims, far from the Divine Love that is My Son Himself and far from this Mother who received you at the foot of the Cross.
The coming confusion will make a great quantity of My faithful turn away from this Mother, cast out My Son from your hearts, since false doctrines will confuse you and you will not know if you are abiding by what is asserted, sent by My Son, or if you are only abiding by words of men.
THAT IS WHY IT IS NECESSARY, AS I ASKED OF YOU YEARS AGO, THAT YOU KNOW MY SON INTIMATELY,
THAT YOU KNOW THE SACRED SCRIPTURE PROFOUNDLY SO THAT THEY CANNOT DECEIVE YOU, BECAUSE THOSE WHO CALL THEMSELVES CHRISTIANS AND DO NOT TRULY KNOW MY SON, THEY WILL BE THE ONES WHO WILL FALL FIRST.
DO NOT FORGET THE PRAYING OF THE HOLY ROSARY, THAT CROWN OF ROSES YOU GIVE ME IN EACH HAIL MARY. The Holy Rosary is not only a prayer, it is the fruit of commitment of many souls beloved by Me and committed to Me until I revealed it. And now in this instant, in this now without time and in this time of no time, is when this Crown of Roses of the Holy Rosary must truly bear fruit.
My beloved:
HOW CLOSE TO THIS GENERATION IS THE GREAT WARNING! AND
HOW MANY OF YOU DO NOT EVEN KNOW WHAT THE GREAT WARNING IS!
In this instant, My faithful Instruments and My Prophet are a cause of mockery on the part of those who feel scholars in spirituality, on the part of those who reach through the media millions of souls and are misguiding them and hiding the truth from them, for I reveal the Trinitarian Will…, and the Trinitarian Will was already said in all My Apparitions from a long time ago.
THE WARNING IS NOT A FANTASY. HUMANITY MUST BE PURIFIED SO THAT IT DOES NOT FALL INTO THE FLAMES OF HELL. You will see yourselves and in that instant you will ache for not having believed, but many of My children will have already gone astray which we cannot recover so easily, since the impious will come to deny the Warning and to attribute it to the new technology.
Beloved children, beloved of My Heart:
APOSTASY LIES WITHIN MY SON'S HOUSE AND HIS PEOPLE, THE MYSTIC BODY,
THEY MUST REMAIN IN A PRAYING ATTITUDE AND AT THE SAME TIME A DEFENSIVE ATTITUDE,
FOR MY SON'S CHURCH WILL NEVER FALL NOR WILL IT BE DEFEATED, BUT IT WILL BE PURIFIED AND IN THAT PURIFICATION ALL, ABSOLUTELY ALL WHO BELIEVE AND WHO DO NOT BELIEVE WILL PARTICIPATE.
My Heart holds hope in you, My faithful children, whom I have entrusted special Missions and Works, not so that they excel before others, but so that they humble themselves like My Son was humbled himself.
The instant of Justice already approaches, My Son is closer in His Second Coming, be the wheat that My Son gathers with love and joy, do not be part of the chaff.
Help My beloved instruments, do not perturb them and when you defend them see in them My Son, who has called you so that you transmit the Truth and explain it to His People so that they do not fall.
I WILL BE BESIDE EVERYONE INSTANT TO INSTANT, WITHOUT RELEASING YOU FROM MY HAND.
How much will people suffer, My children!
How much, how much you will suffer not only due to persecution of your own brothers and sisters, but the events of this Earth, tired and exhausted, will totally be shaken! The geography will change and in that change, My children will suffer.
Today I invite you to pray, I invite you to pray for the president of the United States so that he reconsiders at least an instant and does not give rise to terrible instants in the midst of a bloody and gruesome war.
I invite you to pray for Israel, that people beloved by My Son, so that it does not fall into the temptation of power through force.
My beloved, very painful instants are approaching you.
I invite you to conversion.
I invite you to reconsider, but above all, this Mother today sends you a call, a Call of love and this Petition born from the depth of My Heart:
OVERCOME THE OBSTACLES, REMAIN STANDING, DO NOT DECLINE IN FAITH,
BUT ABOVE ALL I BEG YOU TO REMAIN IN UNITY AND TO NOT GIVE A PLACE TO ANY MOTIVE OF DISUNITY. UNITE, UNITY IS STRENGTH; DISUNION, NO MATTER HOW MINIMAL IT IS, NO MATTER HOW SMALL IT IS, OPENS A GREAT DOOR SO THAT THE ENEMY TAKES ADVANTAGE AND CAUSES GREAT DIVISIONS.
In this instants demons are scourging the groups in which My Divine Word is read, prayer groups and groups that want to fully fulfill the Divine Will, be astute, do not do not give reason to the enemy to disintegrate you.
REMAIN UNITED, THE ONLTY THING YOU NEED IS TO BE HUMBLE,
BECAUSE THE ONE WHO IS HUMBLE ACCEPTS THE MISTAKES MADE AND ALLOWS HIS OR HER BROTHERS AND SISTERS TO HELP YOU.
THUS WILL I CROWN THE HUMBLE WITH ROSES BECAUSE THEY BESIDE ME WILL BE THE PILARS OVER WHICH WE WILL CRUSH THE HEAD OF THE ENEMY.
Remain alert, do not waste these instants in what is worldly, do not waste these instants for passing friendships that cause you to fall into infidelity toward My Son, be strong be firm and remain beside the Cross, for in It all My Son's will overcome and resurrect.
I love you, you are not alone. Discern and do not let yourselves be taken away only by words, but discern, for here, this Mother who maintains you in Her Womb, loves you.
MY HANDS ARE BEFORE EACH ONE OF YOU,
TAKE THEM FOR I WILL NOT LET YOU GO UNDER ANY CIRCUMSTANCE.
My Son will send a Creature from on High that will help you, guide you and strengthen you. Listen, expect that in the midst of greatest persecution, he will be a balm for each one of My Children.
I bless you.
Mother Mary.
HAIL MARY MOST PURE, CONCEIVED WITHOUT SIN.
HAIL MARY MOST PURE, CONCEIVED WITHOUT SIN.
HAIL MARY MOST PURE, CONCEIVED WITHOUT SIN.