Sunday, March 10, 2013
Message from the Blessed Virgin Mary
To Her Beloved Daughter Luz De María.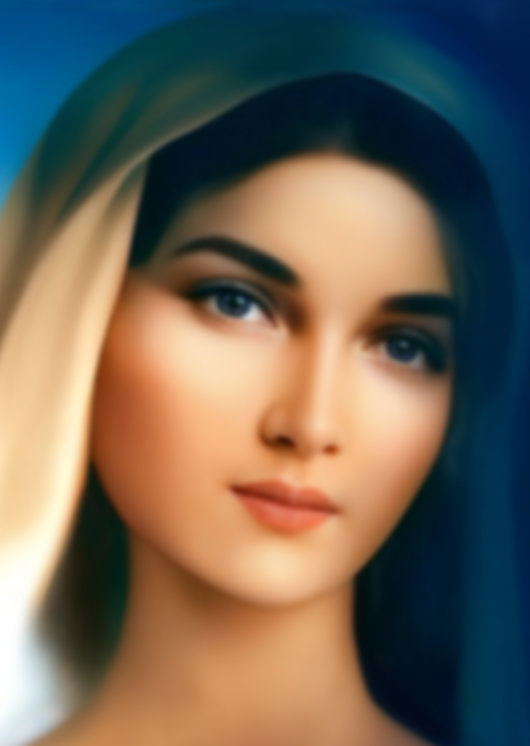 Beloved children, I bless you.
I INVITE YOU TO REMAIN ATTENTIVE TO MY CALLS.
I CALL YOU TO NOT DECAY, TO NOT STOP FULFILLING HEAVEN'S ORDERS AND CALLS.
Humanity debates about such superfluous things that My Heart is torn continuously. I see you… and out of Love I return again to invite you so that you are not lost.
EVIL PENETRATES CONTINUOUSLY INTO HUMANITY'S MIND so that humanity abandons what corresponds to
My Son, so that in the Cross you only see a sign and not what it contains within it: Love, Commitment, Obedience, Patience, the infinite…
You are not aware of what COMMITMENT means, you are not aware of what DISPOSITION is. You continue to wander without a path like a ship that is adrift allowing the waves to toss you wherever they wish, and those waves are everything worldly that continuously batters you and tosses you around mercilessly.
I INVITE YOU IN THIS INSTANT TO FOLLOW THROUGH WITH WHAT MY SON AND I ASK OF YOU, BUT EVEN SO I KNOW THAT IT IS FEW WHO WILL ACTUALLY DO IT.
My Son and I have already alerted you of the power of evil over the human mind and conscience, and we have warned you that evil penetrates into the unconscious to dominate you and so that you set aside all that we ask of you.
Not just recently, but across previous and long years that I have announced to you what you are living in this instant.
Not only does the Institution of My Son suffer, but the Mystic Body is harshly scourged by evil and will continue to be scourged each time with greater rigor, penetrating into one sense and another, penetrating due to pride, in others due to arrogance and in others due to false humility, but…
MY TRUE CHILDREN MUST REMAIN A SINGLE PIECE, UNMOVABLE IN LOVE AND IN MY SON'S CHARITY.
MY TRUE CHILDREN MUST TAKE EACH OTHER BY THE HAND AND PRAY THE OUR FATHER LOOKING TOWARDS HEAVEN, LOOKING WITH CONFIDENCE EVERY WORD THEY PRONOUNCE AND TAKING EVERY WORD TO THEIR HEART.
My Son's Mystic Body is strong, but I see it so weakened in this instant, weakened by human affairs and by everything earthly, which is what prevails in this instant and not what is spiritual.
How many souls are in a cloister offering themselves for you so that the Works that Christ has entrusted to you may be fulfilled! And sadly, I see My warriors leave their armor on the path out of fear of tomorrow - tomorrow that does not exist, SINCE TIME IS NOT TIME AND HAS RUN OUT.
This humanity will live great events, this generation that has reached the impossible when it comes to offending My Son, it has surpassed previous generations and for that I hurt as a Mother, since you have not known how to correspond to My Son's Love; you have not even known how to correspond to Me as Mother of a Humanity that does not deserve so much mercy, but I myself seek it for you, I solicit it from My Son because I am Mother of all and I do not see distinctions among you.
THE INSTITUTION OF MY SON'S CHURCH SHAKES AND WITH IT THE MYSTIC BODY…
Do not forget that I have My Hand before you to guide you, but do not forget that each one of you must know My Son, must be willing with His mind, with His thoughts, with His heart and with His reason, to open himself to what My Son solicits of you.
TIME AND AGAIN I WILL CALL YOU TO NOT ALLOW YOURSELVES TO BE SEDUCED BY FALSE DOCTRINES, MY SON INSTITUTED ONE DOCTRINE AND IF IT HAS BEEN DISTORTED…, YOU MUST FOLLOW THE STRAIGHT PATH.
I CALL YOU TO TURN BACK TAKING UP MY PREVIOUS CALLS in which I explained the institution's behavior in this instant.
You as Mystic Body, uphold the love towards Me and maintain willingness in your heart so that it is not a heart of stone but of flesh.
I INVITE YOU TO REMAIN ATTENTIVE AND ALERT, the Earth will shake greatly, soon.
I INVITE YOU TO RECONSIDER YOUR WORKS AND ACTIONS since the WARNING is closer than you yourselves think.
I INVITE YOU TO NOT DECAY, BUT TO TAKE STRENGTH, that strength My Son gives to those who are faithful, to those who although they do not understand Him, continue being faithful to Him.
My beloved:
THE BATTLE IS BARELY BEGINNING, THE COMING INSTANTS WILL BE ONES OF CALAMITY.
I only ask you that these My Calls do not become habit for you, because I am found in each one of them and in this instant that I send you this My Call, it is Me, the Mother of Humanity that speaks to you. And I ask you, faithful People, to hear Me on your knees, since you bow your head, you bend your knee before an important man of Earth and do not do it before My Son or before Me.
Give to God what is God's and to Cesar what is Cesar's, but still you do not understand this and give to God what corresponds to Cesar, and you give to Cesar the affairs and revelations of God. You walk completely backward but not for good, rather for continuing to enlarge man's enemy.
A Tsunami approaches and I have already announced it, but sin will continue to fall over the Earth, man celebrates as if this were not the instant of instants.
The sky will open before humanity's eyes and you will see fire descend from on high and you will remember My Son and Me and will cry out, but it will be too late; many of My children will die due to a meteor that will unexpectedly enter the Earth's atmosphere and reach the earth. Thus, once again My Son will show you that what man believes he predicts he cannot when My Son does not allow it.
Remain alert, trust in My Son's Word that will not cease to be directed to His faithful, nor will My Word cease to reach My faithful children.
WOE TO THOSE WHO HIDE MY SON'S WORD AND MINE OUT OF HUMAN RESPECTS! THIS IS NOT THE INSTANT OF SILENCE BUT THE INSTANT OF THE TRUTH, OF BATTLE AND OF RESCUING SOULS.
Pray intensely for Brazil, this country will suffer greatly.
Be faithful and constant, do not falter, for My Son is near and do not forget that the chaff cannot remain with the wheat, it will be separated. Do not precipitate the separation, remain alert but above all be faithful spiritually, do not deny yourselves Salvation.
I bless you, I love you.
Mother Mary.
HAIL MARY MOST PURE, CONCEIVED WITHOUT SIN.
HAIL MARY MOST PURE, CONCEIVED WITHOUT SIN. HAIL MARY MOST PURE, CONCEIVED WITHOUT SIN.