Wednesday, March 13, 2013
Message from Our Lord Jesus Christ
To His Beloved Daughter Luz De María.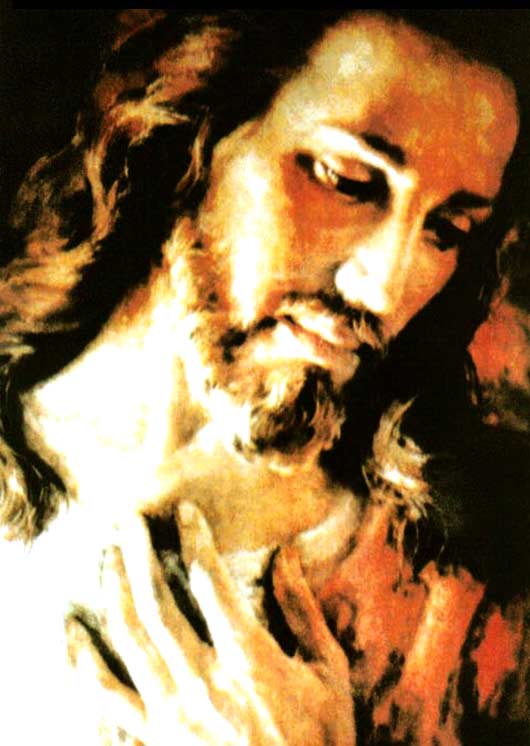 Beloved children:
I SEE YOU CONSTANTLY AS LITTLE CHILDREN, I GUIDE YOU WITHOUT ABANDONING YOU WHEN YOU STRAY.
In these instants, I see souls that suffer because of the hand of man himself. I explain to humanity the degree of My Love towards My children, not to frighten them with the coming events, but to alert them and so they awaken NOW, before it is too late.
My beloved:
How much I have granted to you so that you amend your path! And the more I give to you, the more you turn away from Me.
YOU SEE THE LAPSE OF TIME AS SOMETHING NORMAL, AND YOU DO NOT STOP TO SEE THE SINGS OF THE TIMES, WHICH REMAIN BEFORE YOUR EYES CONSTANTLY.
A darkness has come to nest in man's intelligence, caused by evil, maintaining you spiritually hindered to cause in this way, blindness and so that intelligence, reason and thoughts are not able to clear up what comes to you.
My beloved, in these instants the demons have launched themselves over all of humanity; they do not respect anyone, rather they have invaded you to attack you with all their fury and lead you astray from My Will, undermining the work that I entrusted to each one of you, since the weakness of those who are Mine is strength for the enemy. Evil takes the weakness of those who are Mine, takes insensitivity, takes pride, takes free will and leads you to act according to its whim, so as to grow itself. This is what My children cannot elucidate.
My children have My Protection, the Protection of My Mother and of all her Custodians and intercessors, and I, who am Infinite Love, respect human freedom, watching you fall time and time again, without this being a motive for you to reconsider.
BELOVED, YOU ARE ALREADY LIVING THE TRIBULATION, AND STILL YOU DO NOT SEEE IT.
The capacity to reason has entered into a vegetative state that drives you to make wrong decisions expecting better times, and those times will not return until My Church is passed through the crucible and returns to Me, just as I wish it: pure, clean, loving, a mirror of My Work….
I VEHEMENTLY CALL MY CHILDREN TO UNITE IN MY HEART, TO NOT SEPARATE BUT TO UNITE. TO NOT ENTER INTO CONTESTS, BUT TO REINFORCE UNITY.
When a body remains sick, whatever virus that proliferates around it attacks the body; thus also in the spirit, when division and interests penetrate above My Will, evil penetrates with force to separate, divide, since it is more favorable to fight separately against those who are Mine than when they remain united.
Due to this, I cry out and ask My faithful instruments for obedience and truth. Since I have approached with My Love and My Justice, and I will pass those who do not preach My Truth through a sieve.
THESE INSTANTS ARE INSTANTS OF CONFUSION AND WHOEVER DOES NOT PROCLAIM THE TRUTH IS NOT MY INSTRUMENT BUT AN ALLY OF EVIL THAT DRIVES US OFF COURSE, BRINGING DARKNESS NOT LIGHT.
I have called many but few are the chosen.
In the confusion in which My People will live, those who speak in My Name will rise up. Only and only those who preach against perdition, calling each thing by its real name…, only those are My chosen ones.
My People:
Pray must not decline, pray for My Church and for the upcoming events.
Pray so that My just are not lost and united wage battle against evil.
My People possess My Spirit to guide them. Except that if this People have become worldly to the max, only those who have distanced themselves from what is worldly and sinful, will hear the Voice of My Spirit.
BELOVED, MY WORD IS THE SAME AS YESTERDAY, TODAY AND ALWAYS.
IT DOES NOT VARY ACCORDING TO CIRCUMSTANCES.
I invite you to pray for Israel, it will suffer.
I invite you to pray for the Institution of My Church.
I call you to pray so that the light of My Holy Spirit illuminates you
And you do not allow yourselves to be confused by wolves dressed in sheep's clothing.
Be gallant, do not separate yourselves from Me, for darkness advances in leaps and bounds towards humanity. Do not ignore the pleas from My Mother and Yours; I have entrusted My People to My Mother.
Plague nears without borders stopping it. Turn to My Mother.
MY PEOPLE, MY PEOPLE, DARKNESS DISTANCES YOU FROM ME, WHAT APPEARS TO BE MY WILL IS NOT.
BE SENSIBLE AND REMAIN ON SPIRITUAL ALERT.
I love you.
My blessing be in each one of you and Yours.
Your Jesus.
HAIL MARY MOST PURE, CONCEIVED WITHOUT SIN.
HAIL MARY MOST PURE, CONCEIVED WITHOUT SIN.
HAIL MARY MOST PURE, CONCEIVED WITHOUT SIN.