Thursday, March 28, 2013
Message from the Blessed Virgin Mary
To Her Beloved Mary. Holy Thursday.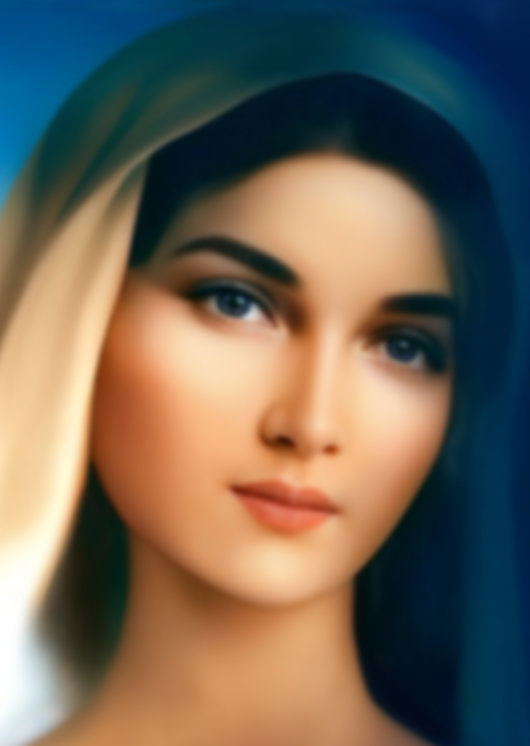 Beloved children of My Immaculate Heart:
The path of My Son's People is paved little by little.
IT IS THE INSTANT OF THE HARVEST OF WHAT WAS PLANTED, EACH ONE OF YOU WITHIN YOU MUST KNOW IF YOU FULFILLED OR NOT AS MY SON ENTRUSTED YOU TO DO.
I have protected the land when the seed was exposed in times of permanent rain so that it was not lost. I have protected the seed before the inclement sun so that it would not dry up and so be able to bear fruit. In every instant, I have been the Mother of all of Humanity… I have protected My instruments chosen by the Trinitarian Will to bring the Word in every age of human history.
IN THIS INSTANT THE SEED HAS BORNE FRUIT;
IN THIS INSTANT MY SON COMES TO SEPARATE IT FROM THE SEED THAT HAS NOT BORNE FRUIT AND GROWS AS CHAFF INSTEAD IN THE MIDST OF MY SON'S FAITHFUL PEOPLE.
You continue to ramble since you are not capable of truly looking within yourselves. The human ego has risen powerfully over each one of you; it is few who strive to demolish their internal ego and allow the Holy Spirit to invade them completely so that with that blessing they be guided by the path of Truth.
You are hard-headed People, a scourged People, not only by the inclemency of Nature but by the pride of man himself. A suffering People because you have despised your Lord and God. A NATION OF MY CHILDREN WHO IN THIS INSTANT HAVE NOT BEEN ABLE TO UNDERSTAND THE IMPORTANCE OF BEING CONSCIOUS THAT THE INSTANT HANGS BY A THREAD.
Beloved children:
How many calls to My Son's People! And still those who call themselves learned continue to use the wisdom they claim to have to cause My children to deviate from the true and straight path. Many, many try to decipher My Son's Infinite Love and My Word given to humanity in My Apparitions, where I made known all that is essential for avoiding greater suffering for this generation and that I explain in this instant.
My Heart exhales love, it is love, it is workmanship of the Eternal Father's love and even so I am not understood by those who call themselves My faithful, My children, My followers, and it is that the one who follows Me must first love and follow My Son with total disposition. I WANT MY CHILDREN TO BE FIRST OF ALL THE FAITHFUL PEOPLE OF MY SON; I GUIDE YOU, BUT YOU MUST BE FAITHFUL TO MY SON.
My beloved, you find yourselves in the instant of instants, so expected and so announced, so elucidated and at the same time so feared, so revealed by Me and so hidden by men, so longed for by those who love me and feared by those who do not know My Maternity. BUT THE INSTANT IS POWER AND JURISDICTION OF THE FATHER, AND THIS GENERATION HAS ABUSED OF THE GENEROSITY OF THE FATHER, OF THE MERCY OF MY SON AND HAS SINNED AGAINST THE SPIRIT. Each one of you is a temple of the Holy Spirit and how I hurt seeing those temples wandering and deviating throughout the Earth without really being conscious that without My Son they are nothing!
IN A HUMAN BEING'S LIFE EVERYTHING PASSES, ONLY MY SON REMAINS IN ACTUAL STATE INSTANT TO
INSTANT, and just as He shed tears of blood at Gethsemane upon seeing this generation fall into perversity and degeneration, in the same way He shed tears of blood to embrace you and so you would not be lost. YOU HAVE NOT BEEN ABLE TO COMPREHEND THE GREATNESS AND THE INFINITUDE OF MY SON'S LOVE.
Instead you desire and seek to gain status among My Son's People, as great protagonists that shred the history that contains My Calls to Humanity, but you have forgotten that first you must be experts in love, precisely that Love that is, was and will be, that has contained, that contains and will contain My Son's Infinite Mercy for each one of you. This without Divine Justice being exerted by Mercy, but brought by humanity itself - a humanity, hurting yes, but at the same time a humanity that denies itself Salvation.
My beloved faithful, ACCOMPANY MY SON IN THAT DAILY CALVARY IN WHICH YOU MAINTAIN HIM WHEN YOU DO NOT DARE TO FULFILL THE MISSION CONFERRED TO EACH ONE OF YOU: salvation and being multipliers of My Son's Word. You still remain with the seed of My Son's Love and Word in your hand and you do not dare to spread it: some because of fears, others because of human respects, others because they do not want to be signaled out and others because they do not dare to uproot themselves from what is worldly and temporary, from what is false and sinful.
This is the reason for which I come to you, beloved faithful People, so that each one of you be a lamp for the one who still continues submerged in the long darkness of sin, of what is worldly and deceitful. How will you be able to recognize the one who will come to be the persecutor of those who are Mine if you do not rise above yourselves setting aside that which is not convenient for the health of your spirit?
MY SON'S PEOPLE MUST BE FAITHFUL AND REMAIN ACTIVE LEADING A LIFE OF CONTINUOUS PRACTICE IN THE LAW OF DIVINE LOVE AND WHAT IT ENTAILS.
My beloved, silence makes itself present, the same silence that spoke to My Son in Gethsemane makes itself present now in the midst of humanity.
I call you to pray intensely for the United States.
Pray, My People, children of My Immaculate Heart, pray for Japan.
My beloved, do not cease in your prayers for My beloved Chilean People.
WHEN THE MOTHER ADDRESSES THOSE WHO ARE HERS IT IS FOR LOVE OF HER SON FOR HIS PEOPLE, AND THIS IS THE CAUSE FOR WHICH I WILL NOT CEASE TO CONSTANTLY BRING MY WORD TO YOU.
How much pain and how many cries from those who are Mine!
How this Maternal Heart is torn before the lament of the nations!
How much pain man causes Me, discarding the love he carries within himself he launches himself like a wild beast against the defenseless to defile them!
My beloved:
YOU DO NOT WALK AND DO NOT ADVANCE IF YOU DO NOT PRAY, YOU DO NOT WALK AND DO NOT ADVANCE IF YOU ARE NOT CONSCIOUS THAT PRAYER NEEDS TO BE CONSTANTLY NOURISHED WITH LOVE FOR YOUR BROTHERS AND SISTERS, with food for those who suffer hunger, with help for those who are helpless. Yes My beloved, those are My People, which I will present to My Son, those who pray practicing the Law of Faith, the Law of Love, the Law of Brotherhood, the Law of Obedience, the Law of Charity and the Law of Kindness.
My beloved, RISE UP FROM THE MUD, IT IS NOT FOR YOU, YOU ARE HANDIWORK OF THE FATHER, FOR YOU MY SON HAS GIVEN HIMSELF AND FOR YOU I AM HERE, I WHO AM YOUR MOTHER.
Do not fear, do not fear, be conscious of the evil you commit and be conscious of all the good that as My children and united to My Heart, you can present to My Son as the great fruit that He expects from you.
I love you, I do not abandon you.
DO NOT LOOK AT WHAT MOVES AROUND YOU RATHER LOOK WITHIN YOURSELVES,
CORRECT WHAT YOU MUST CORRECT AND DO NOT FORGET THAT THE INSTANT WHICH YOU MUST NOT FEAR BUT MUST GO OUT TO MEET APPROACHES, BECAUSE THERE THE OWNER OF THE VINE WAITS FOR YOU.
My blessing be with you, and in the silence that speaks within your being, submerge yourselves in that silence and renew yourselves.
I bless you.
Mother Mary.
HAIL MARY MOST PURE, CONCEIVED WITHOUT SIN.
HAIL MARY MOST PURE, CONCEIVED WITHOUT SIN. HAIL MARY MOST PURE, CONCEIVED WITHOUT SIN.