Sunday, March 31, 2013
Message from Our Lord Jesus Christ
And the Blessed Virgin Mary. to Their Beloved Daughter Luz De María. Easter Sunday.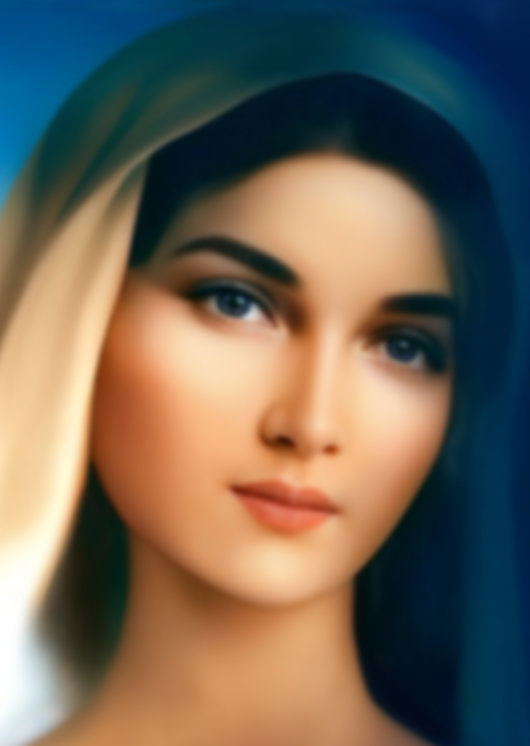 My beloved People:
Beloved children of My Immaculate Heart:
IN A SINGLE DIVINE LOVE, IN THE UNITY OF OUR HEARTS AND IN THE ONENESS WITHIN THE INFINITE MYSTERY, WE CRY OUT TO EACH HUMAN PERSON BEFORE THE URGENCY OF BECOMING AWARE OF HIS OR HER INTERNAL SPIRITUAL STATE.
Beloved, man's behavior denotes his course of action, but this does not exempt him or free him from falling or remaining in what is incorrect. It is precisely the internal mystery in the human person that denotes the presence of My Holy Spirit, when this Presence acts within the guidelines that I established for My People, guidelines of Love, without which man will not be able to be a faithful copy of My Love.
I Am the same one who spoke in the past to the Prophets and dictated the Commandments for His People…
I Am the same one who yesterday, in total unity within the Trinitarian Mystery, became human and gave himself for the Redemption of all men…
I Am the one who in each one moves and strives constantly, drawing you in to free you from evil…
I Am Who Am, the same yesterday, today and always…
I Am the one who created, the one who made himself human, the one who lives in each one of you, the one who comes for what is his: "My People"…
I Am love and justice, justice and mercy, mercy and forgiveness…
I Am the one who gives justice measured according to each person's acts…
I Am the one who has waited, who waits and will wait for His children, without tiring…
My beloved:
IT IS NOT WITH AN EXALTED HUMAN EGO THAT YOU REACH ME,
BUT WITH A CONTRITE AND HUMBLE HEART, WITH DESIRE FOR AMENDMENT, WITH FAITH AND HOPE THAT I WILL NOT ABANDON YOU.
My People have moved through long and painful paths, drawn and marked by them by accepting false gods that have led them to face desolation and the crucible.
This instant does not differ from previous ones, this instant details all the previous behavior of man and has placed it upon him, and has increased his ignorance and hence his offenses and crimes.
I COME FOR WHAT IS MINE, I COME IN MY SECOND COMING FOR MY PEOPLE…
FOR THOSE WHO REMAIN BEFORE ME, IN SPIRIT AND TRUTH, WITHOUT FALSITIES OR DUPLICITIES BUT IN A CONSTANT ACT OF ADORATION TO ME.
Children, what surrounds you has been transformed by you, provoking a purifying reaction, product of humanity's irresponsible action, that as fruit of its own behavior lends itself to receive the total fulfillment of My Mother's announcements throughout the Earth, being despised by My own Church, whom I have convoked not only to pray but to intercede for one another, in this instant in which the doors of pain remain open.
Beloved children of My Immaculate Heart:
With how much ease you accuse one another, taking the rod in your hand, forgetting your own errors!
Woe to those who constantly crucify My Son, crucifying Him in their brothers and sisters!
Woe to those who without mercy transgress against Divine Mercy and spill their errors upon My Son's People confusing them and dragging them to perdition!
Woe to those who foster division with falsity in their word in these instants of bitterness for all of humanity, bitterness they drank in isolation and now has been spilled overwhelmingly and abundantly as atonement of the Purification of this generation!
Man's arrogance has led him to ignorance and has placed him before the demons that move with total freedom and permission of humanity, promoting and shedding every class of vices and horrors of the flesh. Greater degeneration has not previously taken place; it has pierced man's mind dominated by evil.
Satan has not stopped only with those who are not consecrated, but has transcended to the Consecrated, taking those who are not faithful to My Son to lacerate the faithful, who will be prey of great persecutions and betrayals. THE CONSTERNATION WILL BE SUCH THAT DESOLATION WILL TOUCH EVEN THOSE FAITHFUL TO MY IMMACULATE HEART, FOR WHICH I BEG YOU TO CONSECRATE YOURSELVES CONSTANTLY TO MY IMMACULATE HEART.
Children, the instant is running out and humanity will be greatly purified…
I DO NOT COME TO YOU WITH A DIFFERENT CALL BEFORE A TRUTH THAT I CANNOT HIDE,
A TRUTH PREVIOUSLY MENTIONED AND EXPLAINED IN THIS INSTANT WITH THE CURRENT LANGUAGE SO THAT MY CHILDREN DO NOT SAY: I DO NOT UNDERSTAND!
My Son's Side is doubly pierced and My Heart lacerated time and time again.
I convoke My Apostles of these instants so that with commitment, fused to My Divine Son, they be lamps filled with oil and do not restrict their brightness but that they be true mirrors in which My Son sees Himself.
THIS INSTANT IS NOT FOR THE LUKEWARM, FOR DEMONS LAUNCH THEMSELVES NOT ONLY UPON THOSE WHO ARE LUKEWARM BUT UPON ALL SOULS.
This instant is for those who as apostles of these instants and united to Me, give themselves in a continuous act, not only of reparation but of donation and action to rescue their brothers and sisters: My children.
LOOK AT THAT BEGGAR OF LOVE…
LOOK AT MY SON, HE COMES FOR HIS PEOPLE, NOT WITHOUT THIS PEOPLE FIRST LOOKING AT THEMSELVES.
Beloved children of My Immaculate Heart:
Pray for one another so that confusion does not lead you to fall.
Pray for the leaders of the great Nations so that the spirit of evil does not lead them to advance the great scourge of war.
My beloved People:
I bless you and call you to not forget My Mother who calls you.
Your Jesus and Mother Mary.
HAIL MARY MOST PURE, CONCEIVED WITHOUT SIN.
HAIL MARY MOST PURE, CONCEIVED WITHOUT SIN.
HAIL MARY MOST PURE, CONCEIVED WITHOUT SIN.