Monday, April 8, 2013
Message from Our Lord Jesus Christ
To His Beloved Daughter Luz De María. Given in Buenos Aires, Argentina.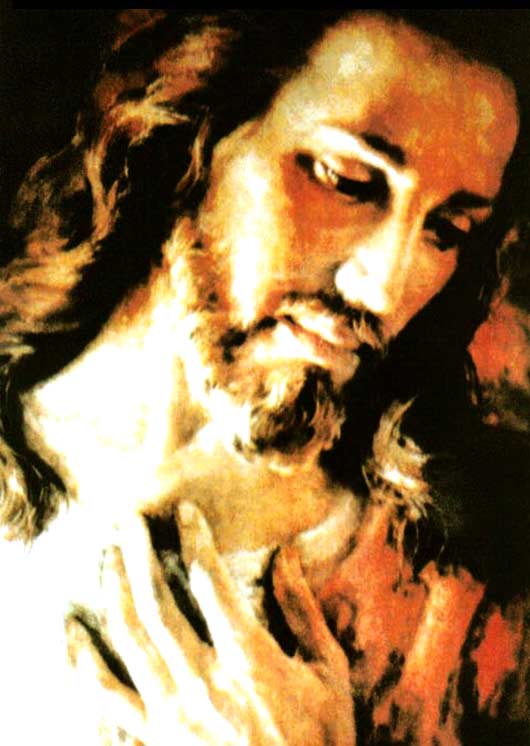 My beloved People:
MY BLESSING SPREADS THROUGH ALL OF CREATION, I EMANATE MY LOVE TOWARDS MY CHILDREN.
I do not come to ask for commitment, if it is not nourished by the surrender towards My Will, that surrender that prepares man to see Me in everything, even in that which he does not understand, since human gaze cannot perceive My Plan of Salvation.
You live constantly, instant to instant, in a continuous act of donation of My House towards you… and you do not see it.
Humanity, you seek your Christ where you should not, and you seek Me where you should not!
You have detracted from My Word; you have transformed it into a personal desire, and you do not understand that I do not give Myself for one but for all. My Cross is not for one but for all of humanity, that humanity whom I have sought thirsting for love and obedience. That obedience which I do not find except in those who are simple and humble of heart.
Beloved children:
DIVISION IS THE WEAPON OF EVIL. And it has principally penetrated into man's heart, separating him from Me. Human pride does not cede but resists, being dragged by evil until it is the first cause of division.
IN THIS INSTANT THAT IS NOT AN INSTANT, THE BATTLE RAGES, AND I: INFINITE LOVE, WATCH YOU WALK IN HUMAN WILL, ENBELLISHED BY FREE WILL, LIGHTLY FORGETTING MY ORDERS. As the ocean comes and goes in its constant surge, so do people take Me and forget Me.
Man is an empire forged in My Father's love for all, so that man attains salvation without forgetting that he lives in unity and fraternity. I have been cast out of that empire, My Throne has been usurped and I have been stripped of My Vestments, putting in their place the human ego. The same one that in the past led My People to fall, the same one that in the instant of instants, surges in the midst of My Children and drags them until it annihilates My Will in each one of them.
The freedom you yearn for is not My Freedom; the freedom man seeks is the debauchery and depravation this generation yearns for without ceasing.
I DO NOT OPPRESS MY PEOPLE, I HAVE ANTICIPATED THEIR FUTURE WHICH I KNOW AND WHICH THEY HAVE PRECIPITATED.
The scourges advance, one after another without stopping, from land to land, from Nation to Nation, from person to person, without you truly repenting.
Pray, My beloved, pray for France.
Pray, My beloved, pray for Czechoslovakia, it will suffer.
Pray, My beloved, pray for Guatemala, it will suffer.
Children, darkness has clouded man's gaze and with it, reason and the heart have been darkened to the max, adulterating My Will according to human convenience, adulterating My Word, condescending with sin and moral decadence.
MY PEOPLE, I WILL NOT ABANDON YOU; YOU WILL NOT SUCCUMB EVEN THOUGH YOU FEEL YOU FALTER, YOU ARE NOT ALONE; I GO BEFORE YOU, MY FAITHFUL.
DO NOT SEPARATE YOURSELVES FROM ME; DO NOT ALLOW YOURSELVES TO BE CONFUSED. HEED ME, DO NOT FEAR. Do not disobey My Calls so that confusion does not separate you from Me. Love Me truly so that those who are confused do not lead you to perish.
I will bring to light some who, with My Word in his mouth, will be a sword that subdues evil and its creature, so that those who are Mine are not confused; He will defend you and My Love will be distinctive of My Presence in him.
Water and fire will be purifiers of what you have contaminated; purification comes from on high.
I WAIT FOR MY PEOPLE, LIKE THE FATHER WHO WAITS FOR HIS SON WHO RETURNS REPENTANT.
I bless you My beloved. I love you.
Your Jesus.
HAIL MARY MOST PURE, CONCEIVED WITHOUT SIN.
HAIL MARY MOST PURE, CONCEIVED WITHOUT SIN.
HAIL MARY MOST PURE, CONCEIVED WITHOUT SIN.