Monday, April 15, 2013
Message from the Blessed Virgin Mary
To Her Beloved Daughter Luz De María.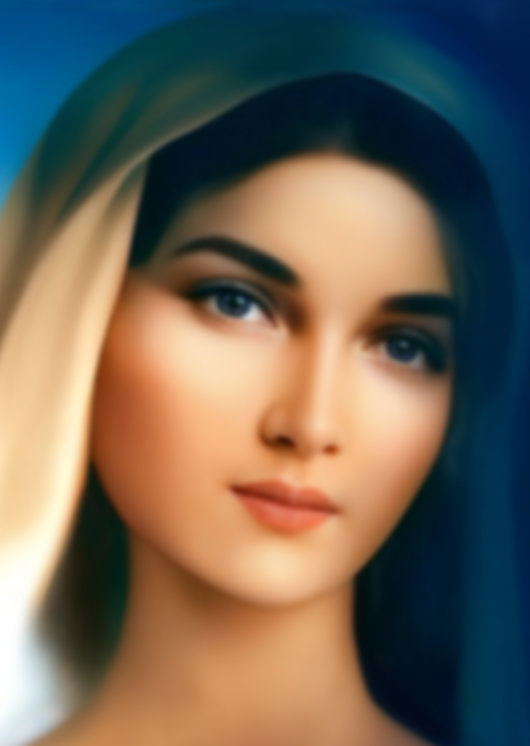 Beloved children of My Immaculate Heart:
I BLESS YOU, I KEEP YOU UNDER MY PROTECTIVE MANTLE CONSTANTLY, WHICH I HAVE EXTENDED OVER ALL OF THIS HUMANITY, AT ONCE SUFFERING AND SINFUL.
These are instants of tribulation for all this generation, instants in which you will be severely purified, not only by My Son's Hand, but by all those scourges that present themselves and remain among you.
My beloved, today I especially invite those who remain in My Prayer Groups, who are My faithful:
- I invite you to be true and to love one another as the true brothers and sisters that you are.
- I invite you to respect one another and to love the responsibilities and assignments that each one of you has within each mission. That is how all are extremely important in these instants.
UNITY IS THE NOURISHMENT OF COMMUNITIES, UNITY IS FOOD FOR BROTHERHOOD.
My beloved, I cannot bring you nor address you with only words of Love and Mercy before a humanity that insistently ignores My Son's Calls and My Calls.
Instants of trial are approaching, so many that you yourselves will be astonished…, you will seek and turn to one place and another, and you will not find consolation.
My beloved:
PRAY THE HOLY ROSARY.
RECEIVE MY SON: THE DIVINE FOOD THAT STRENGTHENS YOU CONSTANTLY. YOU WILL NOT FIND A GREATER FOOD THAN THE BODY AND THE BLOOD OF MY DEARLY BELOVED SON.
You seek Me, you seek Me and do not find Me… it is because you do not turn to My Son, and by not turning to Him you do not find the Mother without the Son.
My Son's Church will be purified, in the upcoming instants it will be harshly tested, disobedience harshly undermines and harms My Son's Church without the Church trying to delve into the root of all the evils that have afflicted it and have threaten it from yesteryear.
My beloved:
I invite you to pray strongly for Brazil.
I call you to pray for Japan, it will suffer greatly. I invite you to pray for world peace.
My beloved:
BE AWARE OF THE INSTANT IN WHICH YOU LIVE, DO NOT REMAIN INDIFFERENT TO WHAT HAPPENS BECAUSE OF THOSE MINDS THAT DOMINATE HUMANITY.
DO NOT BE ARROGANT, DO NOT CONTINUE TO WALK AS IF NOTHING WERE HAPPENING; OPEN YOUR
HEART, THAT HEART WHICH EVIL HAS SOFTENED AND WEAKENED,
OPEN IT TO MY SON SO THAT HE ANNOUNCES TO YOU WHAT HIS WILL IS AND SO THAT YOU HEED HIS CALLS AND THE CALLS THAT I, AS MOTHER, BRING TO YOU.
Prepare yourselves, but do not worry only for your personal spiritual life, but also worry and toil for the sprit and the soul of your brothers and sisters, do not seek only your personal spiritual wellbeing, but the fraternal welfare; WORRY ABOUT HELPING YOUR BROTHERS AND SISTERS SPIRITUALLY, OTHERWISE SPIRITUAL EGOISM WILL MAKE YOU FALL.
This is the instant in which you must be a single Heart: My Son's Heart, and in It, you must remain united to Me in favor of your brothers and sisters, in favor of all those who remain here on Earth beside you.
OFFER UP, BUT DO NOT OFFER UP WITH PAIN; OFFER UP WITH LOVE, and that which you do not yet understand, and that has been My Son's Will, love it, love it even if you do not understand. Do not be like those who come before My Son to tell Him that they love him and when they face His Holy Will, like the most prideful and arrogant, do not understand It or accept It and let themselves be carried away by very human emotions.
My Beloved:
THE INSTANT OF PERSONAL TRUTH IS CLOSER TO YOU, that instant that will make you see yourselves undisguised, that instant that is blessing and mercy, since there you will see yourselves as you are and you will be able to tell yourselves if you have acted in truth or if you have maintained a mediocre spirituality and a false religiosity.
My Beloved:
THESE ARE NOT INSTANTS FOR LOOKING AT THE WORKS AND ACTIONS OF YOUR BROTHERS AND SISTERS, BUT INSTANT TO SEE ONE'S OWN PERSONAL BEHAVIOR the personal, and in this constant growing, fusing with My Son and upon fusing with My Son, allowing Me to protect you and guide you without deviation.
I love you, but as a Mother I must speak to you with the Truth.
I bless you, remain united.
Mother Mary.
HAIL MARY MOST PURE, CONCEIVED WITHOUT SIN.
HAIL MARY MOST PURE, CONCEIVED WITHOUT SIN.
HAIL MARY MOST PURE, CONCEIVED WITHOUT SIN.