Wednesday, April 24, 2013
Message from the Blessed Virgin Mary
To Her Beloved Daughter Luz De María.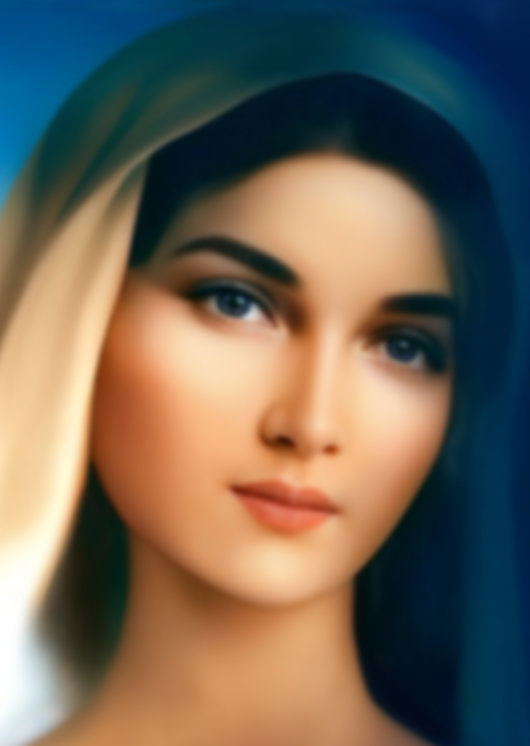 Beloved children of My Immaculate Heart, I bless you:
MY HAND REMAINS EXTENDED TOWARDS YOU TO GUIDE YOU TO MY SON IN INSTANTS IN WHICH THE ABERRATION OF HUMANITY SUBMERGES YOU IN THE CONTINUOUS ABYSS OF SIN.
Beloved children, a heavy cross arrives for you: the Cross of Purification, the Cross of Pain. Do not forget that pain is atonement and atonement makes you turn your gaze towards My Son, towards His Love, towards His Mercy.
THE BITTER CHALICE OF TRIBULATION WAS SPILLED OVER YOU.
SIN, IN ITS DIFFERENT FORMS, HAS BROUGHT TO YOU THIS HEAVY CROSS THAT YOU CARRY TODAY.
THIS INSTANT IS THE INSTANT OF INSTANTS, WHICH I HAVE ANNOUNCED IN EVERY PLACE WHERE BY THE GRACE OF MY SON, I HAVE MADE MYSELF PRESENT.
As Mother, I do not abandon you but alert you so that you return to the path and do not stray more.
My beloved:
The water will rise again and will cause great destruction.
Pray, do not forget that prayer minimizes what will take place.
Prayer is always heard by Me.
Go to receive My Son in the Sacrament of the Eucharist. Remain close to Him and pray the Holy Rosary, for it is the weapon with which you repel the forces of evil.
Pray, My beloved, pray for the United States. It will suffer greatly.
Pray, My beloved, pray for England. It will suffer, it will suffer.
Children, REMAIN UNITED, DO NOT SEPARATE. My Son's Church must remain united to My Son, do not accept modernisms, but on the contrary, adhere to My Son's Guidelines, do not forget the Commandments, be people of Peace and of Love. In this way you will be better children, better parents, better brothers and sisters, and better citizens of the World.
REMAIN ATTENTIVE TO THE SIGNS OF NATURE. It alerts you continuously. Be in solidarity with those who suffer, those who experience trials and difficulties, for the events will happen to a large degree one after another and this will not give you time to help one another. Do not see the pain of your brothers and sisters as something distant, instead suffer it as your own, since all of humanity will be purified.
My beloved, I: YOUR MOTHER, REMAIN BEFORE EACH ONE OF YOU AND GUIDE YOU TOWARDS MY SON. My Motherly Love remains open for all of humanity. All are My children, and I welcome all within My Immaculate Heart. I do not want the fires of hell to consume you.
MY LOVE WANTS TO WELCOME EVERYONE, MY HEART IS AN ARK OF SALVATION.
DO NOT HESITATE TO TURN TO ME. I, YOUR MOTHER, LOVE YOU.
DO NOT HESITATE TO ASK FOR MY INTERCESSION IN THESE INSTANTS IN WHICH HUMANITY
IS QUICKLY HEADING TOWARDS AN ENCOUNTER WITH HIS OWN EFFECT AND RESULT OF ITS SIN.
My beloved:
Sin is a magnet that brings misfortune upon each one of you; this is why I continually call you to amend your path so that you bring blessing upon yourselves.
BE LOVE, BE UNITY, DO NOT FORGET THAT MY SON HAS COMMANDED YOU TO LOVE ONE ANOTHER, TO REMAIN UNITED, TO BE IN SOLIDARITY WITH ONE ANOTHER AND TO BE HUMBLE.
In this instant I call you again, as My Son calls you, to form that indestructible wall that you must build upon My Son's Love.
Beloved children of My Immaculate Heart:
MY BLESSING REMAINS WITH YOU, DO NOT CLING TO WHAT IS MATERIAL, IT IS TRANSITORY.
SEEK THE KINGDOM OF GOD AND THE REST WILL BE GIVEN UNTO YOU.
WHOEVER REMAINS FUSED WITH MY SON SHOULD NOT FEAR, HE PROVIDES WHAT IS NEEDED.
The mind of those who walk far from My Son will bring a great pain because of the death of innocents.
Pray from this instant, for those innocents who will perish.
Be a beacon of light that brings blessing, that brings love and peace upon the Earth.
Be those souls devoted to My Immaculate heart and offer the suffering of each day for what approaches humanity.
DO NOT FORGET THAT MY SON LOVES YOU, DO NOT FORGET THAT I REMAIN BEFORE YOU, DO NOT TURN AWAY FROM ME.
HERE I AM WHO AM YOUR MOTHER, AND I PROTECT YOU WITH MY MANTLE; I BLESS YOU AND I COVER YOU.
My Blessing be with each one of you and with those who, hearing My Word, start again and return to the True Path: the Path of Light, turning away from darkness.
My Blessing be with you, beloved children.
HAIL MARY MOST PURE, CONCEIVED WITHOUT SIN.
HAIL MARY MOST PURE, CONCEIVED WITHOUT SIN.
HAIL MARY MOST PURE, CONCEIVED WITHOUT SIN.
Mother Mary