Thursday, May 16, 2013
Message from Our Lord Jesus Christ
To His Beloved Daughter Luz De María.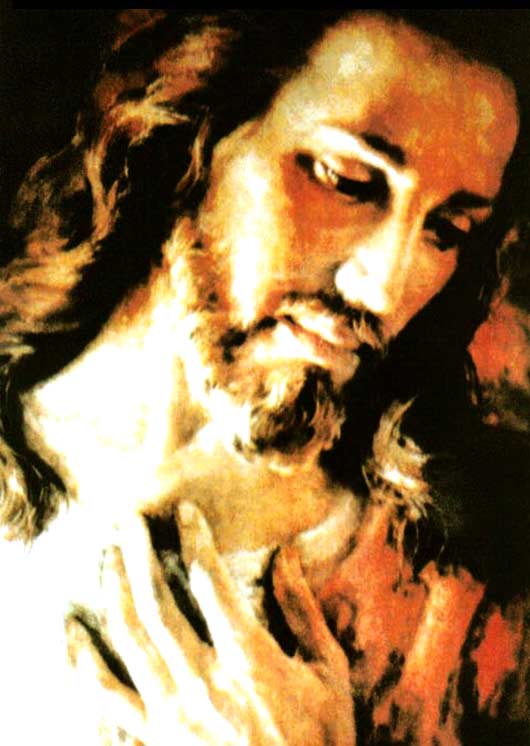 Beloved children:
MY PEACE BE WITH EVERY HEART.
PRAYER IS A BALM FOR THE SOUL IN INSTANTS OF PAIN AND IN INSTANTS OF GIVING THANKS.
My children come to Me when pain knocks at their door, forgetting they are in the world passing through, because I come for My People. They are in the world, but they are not of the world!…
How many turn away dedicating themselves to proclaim that what I have announced is not fulfilled! They will lament living what I have announced, and they did not prepare, they did not change, they did not change their life driving them to distraction in what is worldly and sinful, offending me constantly.
The conscience has been transgressed by immoral modernisms, falling into the trap of total indulgence of the flesh. Men dress as women and women have appropriated male dress.
IN THIS INSTANT, THIS GENERATION CRUCIFIES ME CONTINUOUSLY.
In My lament I see the Churches that are empty and those that are not continue to be empty, for there are few people who come worthily and with joy to participate in the Eucharistic Sacrifice. Coming to My House has become a social act, not an act of love and this offends Me gravely.
Corruption undermines the governments of the Earth, foolish men will lead humanity to suffer because of the arrogance and ignorance of their rulers, they will lament the horror they will cause. They have introduced their arrogant ideals, rotten and indiscriminate, with reforms contrary to My Commandments, feigning kindness for the Nations, although behind comes the shadow that harms, overwhelms and freezes thinking. Communisms: scourge of the past and scourge of the present instant; it rose and grew. What man will stop it?
The cries of the aborted innocents run throughout the Earth that receives them, and the Earth laments with them. Thus will the destiny humanity has chosen be, weeping will seize them when they see the heinous sins committed against the gift of life. It will be a mirror they will not be able to hide, consciousness will be present in everyone and what acts and works they have committed will be, in an instant, the derision of souls; the life of each one will be present before him or her, without being able to escape from this Act of My Mercy. A second will seem an eternity, human time will stop, and for instants you will live in My Time the denials towards Me, towards My Mother and towards yourselves.
The merchants will be driven away from My House with the rigor of My very Love. Those who have despised My Mother will know Her greatness and will plunge into a profound pain for having offended Her.
THE WARNING WILL BE TOTALLY PERSONAL, AND EACH WILL LIVE HIS OR HER ERRORS.
MY MERCY WAITS FOR YOU, THAT IS WHY I ALERT YOU.
Beloved children:
DO NOT MISTRUST OR TAKE WITH CONTEMPT THESE CALLS, MY WORD IS FULFILLED ON MY TIME, MY WORDS ARE NOT IN VAIN.
My faithful are not afraid but wait for Me with joy, they know themselves to be loved and protected by Me. I will await the arrival of those who are Mine until the final instant.
The awakening of the internal fire of the earth will shake man; cry out to My Mother.
Beloved, pray for Mexico, it will suffer and lament.
Pray for Japan, it is contaminating the Earth.
Beloved, the Sun exhales its heat and suffering will reach the defenseless Earth.
My children, turn to Me, do not turn away, trust in Me, you are My Flock that I love and as Shepherd of souls, I watch over you so that you are not lost. My Love goes out to meet those who seek Me.
THE FUTURE IS UNCERTAIN IF YOU REMAIN FAR FROM ME.
THE FUTURE IS AN ASSURANCE OF JOY FOR THOSE WHO LOVE ME IN SPIRIT AND TRUTH.
Do not forget that after the darkness the Sun of My Love comforts those who are Mine. Do not lose heart, My strength is the strength of each one of you. Look on high, lift your souls without fear.
My People, walk carefully, for the enemy sends his allies onto your path to make you lost, to make you fall into sin and separate you from Me. Do not turn away from the mission each one of you has before you.
Do not worry, someone will come in aid of My People, someone who, loving Me, will help and defend you from the infernal clutches.
Live in unity and do not forget that time is an instant. Time is shorter than man thinks.
I, YOUR JESUS, DO NOT ABANDON YOU, you are My children. What Father abandons His children?
MY BLESSING BE IN THE HEART OF EACH ONE AND IN THE REASON OF EACH ONE
SO THAT UNITED WITH ONE ANOTHER,
YOU BE A SINGLE BATTALION OF MY INVINCIBLE AND INIMITABLE LOVE.
I seal you with My Love.
Your Jesus.
HAIL MARY MOST PURE, CONCEIVED WITHOUT SIN.
HAIL MARY MOST PURE, CONCEIVED WITHOUT SIN.
HAIL MARY MOST PURE, CONCEIVED WITHOUT SIN.