Sunday, June 9, 2013
Message from Our Lord Jesus Christ
To His Beloved Daughter Luz De María.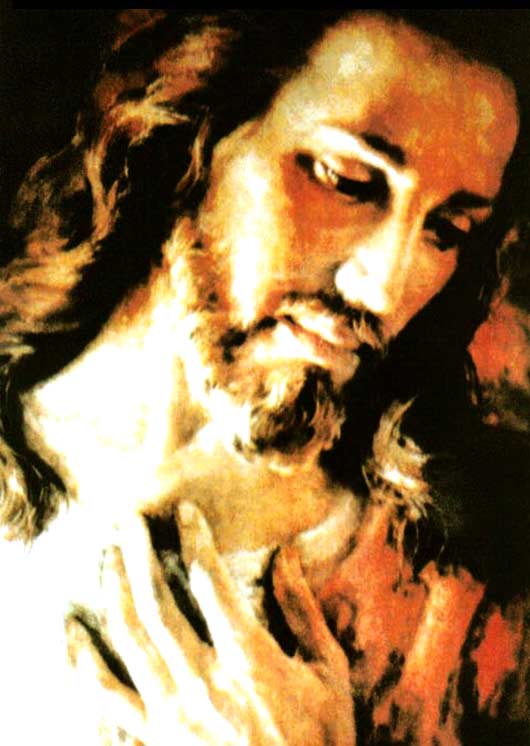 My beloved People:
I HAVE CALLED YOU CONSTANTLY, WITHOUT CEASING…
AND YOU HAVE IGNORED MY CALLS…
And this Beggar of Love continues from heart to heart seeking what belongs to Him and you deny Me…
BUT THIS INSTANT OF INSTANTS HAS ARRIVED IN WHICH I COME FOR MY PEOPLE, I COME TO GATHER THE FRUIT MY PEOPLE MUST PRESENT TO ME.
And how many will I find with empty hands?...
And how many will I have to separate, since out of their own will they have refused to give themselves and to give Me their heart and their will, their steps, their thoughts and their mind?…
How many have let themselves be invaded continuously by the world and by the machinations of the antichrist, man's great enemy in this age?…
I COME WITH POWER WITH ALL MY LEGIONS TO MOVE AND SHAKE THE EARTH.
THE GLOBE WILL RECOGNIZE THAT ITS KING COMES AND ALL THAT EXISTS WILL SHAKE BEFORE MY
MAJESTY, EVERY CREATURE WILL KNOW I HAVE ARRIVED, THAT I COME FOR WHAT IS MINE, THAT I COME FOR MY PEOPLE.
How is it that you do not think?…
How is it that you do not reason that if I sent man to Earth to populate it, I will also come to gather the harvest man must give to Me?…
I COME SOON, AND MY SECOND COMING WILL BE TRIUMPHANT. I WILL COME ACCOMPANIED BY MY LEGIONS, AND THEY WILL BE FELT IN EVERY HEART AND IN EVERY HUMAN PERSON.
Those who have recognized Me will know I am their King, and those who have not recognized Me will tremble in horror and terror. You are My Creation, and I love you; you are My Children, and for you My Passion continues actual state before each one of you, but you do not look at Me…
You keep Me permanently crucified. My Blood pours out for you, for what you have wrought, for what you will suffer. I suffer infinitely because of it, My Heart tears with Love from here, from My Cross. I INVITE YOU TO RECOGNIZE ME, TO LOVE ME AND TO CONVERT.
My Mercy tells you that it is not too late and at the same time, My Justice makes itself present before each one of you, not to judge you, but to give you the opportunity to look at yourselves.
My Beloved:
MY LOVE IS NEAR, YOU WILL LOOK AT YOURSELVES, IT WILL BE AN INSTANT THAT WILL SEEM AN ETERNITY BECAUSE MY LOVE WILL CROSS ALL THE EARTH FROM NORTH TO SOUTH, FROM EAST TO WEST AND EVERY HEART WILL KNOW IT IS BEFORE ME and will not be able to hide absolutely any feeling, because I know what dwells in the depth of each being.
My beloved:
NATURE RISES WITH POWER BEFORE A MAN THAT OFFENDS ME WITHOUT CEASING, and Nature, upon recognizing Me as its Lord, shakes asking for Me to COME NOW!
I beg you to pray for Japan.
Pray, My beloved, for the United States.
Pray, My beloved, pray for Brazil, it will suffer greatly. My beloved:
RETURN TO ME SOON, DO NOT FOREGT THAT I CONTINUOUSLY LOOK UPON YOU AND THAT MY LOVE IS GREATEST WHEN YOU COME REPENTANT BEFORE ME.
My beloved, each one of you, receive me with a contrite and humble heart. Love Me, Love Me to the Cross, for in It we encounter one another, I love you and bless you.
I BLESS ALL THOSE WHO HEAR ME.
I BLESS ALL THOSE WHO READ MY WORD WITH LOVE. I BLESS THEIR FAMILIES.
Give Me your will so that you work and act as I work and act. Remain in My Peace.
Your Jesus.
HAIL MARY MOST PURE, CONCEIVED WITHOUT SIN.
HAIL MARY MOST PURE, CONCEIVED WITHOUT SIN.
HAIL MARY MOST PURE, CONCEIVED WITHOUT SIN.