Wednesday, June 19, 2013
Message from Our Lord Jesus Christ
To His Beloved Daughter Luz De María.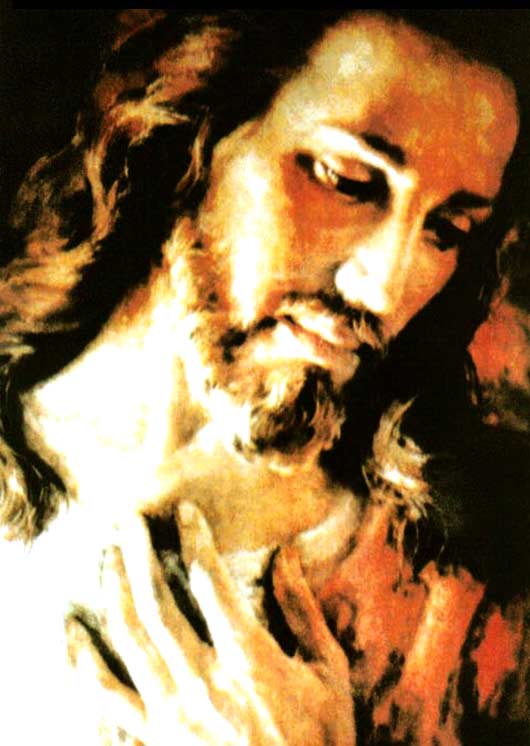 My beloved People:
WALK WITH THE ASSURANCE OF MY PROTECTION I NEVER FORSAKE THOSE WHO ARE MINE.
I REMAIN BESIDE MY FAITHFUL.
My People will be shaken, not defeated. My Presence does not part from those who seek My Help and do not turn away from My House.
My beloved:
I CALL YOU TO PAY ATTENTION TO MY WORD do not get distracted with mundane banalities. These rush you to the mud and hold back man's spirit. Even though I remain in each one of you, when you are more of the world than Mine, you push Me away and put Me aside.
MY SIDE HAS AGAIN BEEN PIERCED AND MY CHURCH WILL SUFFER ANEW, it will be blamed again and again. Be assured that I, in the midst of this tribulation, will come with My Blessing for My faithful, for My children who remain attentive to My Word and faithful to Me.
DO NOT NEGLECT MY MOTHER'S CALLS.
I invite you to remain in prayer, in prayer of love for one another.
I invite you to remain united, to not point at one another, for this gives reason the enemy of man to gain strength and weaken you.
BE MERCIFUL AS I AM MERCIFUL WITH YOU.
My beloved People, how many onslaughts are coming! I alert you once more so that the spirit, the most elevated part of man, remains ready to turn to Me.
My Church will again drink the bitter cup, but My Mother comes constantly with Her Love, Her Tenderness and Her Powerful Intercession to hold those who are weakened.
My Mother: My First Disciple, is Teacher of all those who want to follow Me; do not neglect or despise Her Calls.
My beloved People:
With how much ease you forget My Word! This lacerates My Heart.
BE THOSE SOULS WHO MARK THE PATH IN EVERY INSTANT, THUS GIVING TESTIMONY OF THE ONE WHO DWELLS IN YOU, OF MY LOVE, OF MY PEACE, OF MY HUMILITY AND OF MY CHARITY. Do not fear being singled out for being different from the rest of the world.
I COME FOR MY SMALL FLOCK,
FOR MY HOLY REMNANT THAT REMAINS IN MY WILL.
I COME FOR WHAT IS MINE, FOR THOSE WHO WALK WITH EYES RAISED TO HEAVEN,
THERE WHERE I AM FOUND.
Your brothers of journey: your Guardians will be sent by Me, in difficult instants for humanity, they will defend you, and they will help you. Do not fear, you are not alone. My House descends and helps My People.
The one who will come with My Word to each heart is more than a Prophet, breaking down hearts of stone. I alerted you so that you are not confused.
I invite you to pray for Argentina, it will suffer.
I invite you to pray for France, it will suffer greatly.
I invite you to pray for the Institution of My Church.
MY BELOVED, MY PEOPLE, DO NOT GROW DISCOURAGED.
YOU WHO LOVE ME KNOW THAT WHAT I ANNOUNCE IS FULFILLED.
You see suffering in place after place, a consequence of ill-used human will. This has awakened Nature who feels the nauseating sin that suffocates it and oppresses it, who sees an indifferent man, a man that has forgotten Me.
The volcanoes burst and fire emerges anew. The Earth shakes with force in a desire to renew itself and cleanse itself from the contamination that the misguided human spirit has left fall upon it.
I, AS A BEGGAR OF LOVE, WITH MY SIDE OPEN, BLESS MY FAITHFUL. I anoint you with the oil of My
Love so that you do not fear and so that you remain assured that what I announce to you is out of Love, not to cause you fear, for My Heart ardently desires to rescue those who on occasion come to Me and who love Me, but still resist recognizing Me.
I CALL YOU WITH PROMPTNESS TO RETURN TO ME.
KEEP IN MIND THAT TIME IS NOT TIME, AND THE INSTANT HAS CEASED TO BE AN INSTANT.
Do not forget that My Love is infinite like My Mercy is infinite. Keep in mind that I am the Just Judge, and I do not give to that son or daughter what he or she does not deserve because of his or her own will, since My Will is that all My children be saved and come to Me.
Remain united. Even if you are singled out and even if your hearts are shaken before the news that reaches you, remain assured that I, in My Infinite Love, will not desert My People, and if they continue being faithful to Me, they will be My Holy Remnant.
I URGE MY PRIESTS TO BE HOLY, TO PREACH WITH MY WORD, TO SERVE ME, GIVING THEMSELVES FOR MY PEOPLE. This instant is not for continuing in banalities, but on the contrary, to remain vigilant with your lamps filled with oil because I come for those who are Mine.
I bless you, My Heart remains attentive to receive you, My Love burns for each one of you.
I love you.
My blessing be in you.
Your Jesus.
HAIL MARY MOST PURE, CONCEIVED WITHOUT SIN.
HAIL MARY MOST PURE, CONCEIVED WITHOUT SIN.
HAIL MARY MOST PURE, CONCEIVED WITHOUT SIN.