Friday, June 28, 2013
Message from Our Lord Jesus Christ
To His Beloved Daughter Luz De María.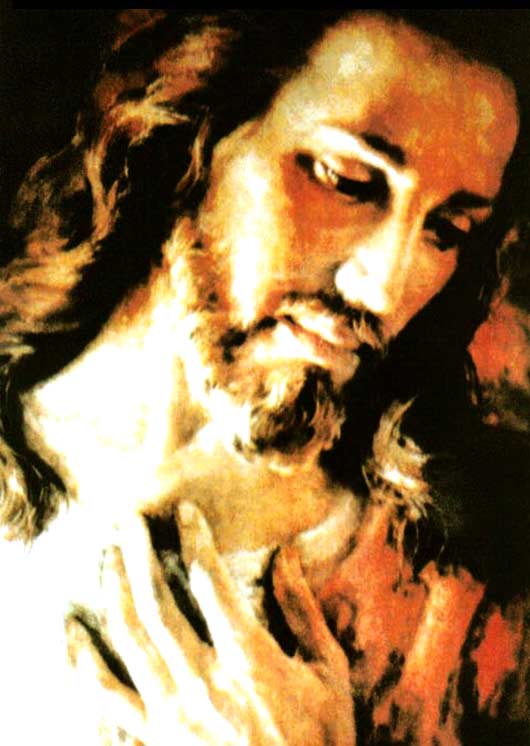 My beloved:
I AM LOVE, TRUTH, MERCY AND JUSTICE… THIS IS MY TRUE LOVE, NOT ANOTHER:
I AM EQUITY AND I GOVERN EVERYTHING IN ITS RIGHT MEASURE.
I wait for the repentant sinner, he or she must not fear turning to Me but must welcome the instant before My Love is with you and allows you to see the works and acts of your life. Even so, some will say the Warning is not a Divine Act and will turn away even more from My Presence: hating My Justice, they will hand themselves over into the clutches of evil.
I Am Merciful Love and Merciful Justice, I am not indifferent to humanity's response, I am not indifferent to each step you take, My gaze is everywhere, searching for souls who are thirsting for Me.
I see the works of men, not to condemn them in every instant, but to help them and so they return to Me quickly, before My Love calls them and reveals their behavior, even that which they hide in the depths of their heart and believe I have forgotten…
I call, but the response resides in the will of each one of you, in the consciousness you maintain of Me and of the responsibility of living in this generation, which offends Me by ignoring Me.
EVERY HUMAN BEING KEEPS HIS OR HER OWN MISSION IN LIFE.
MY EYES ARE NOT CLOSED TO HUMAN ACTS;
EVEN THE SMALLEST OF THEM IS KNOWN TO ME.
Woe to the one who serves Me and betrays Me in secret! You cannot serve two masters. I allow man to act according to his will, and you forget that I am Just.
THE GREATEST OFFERING IS THAT OF THE ONE WHO GIVES ME HIS WILL AND ALLOWS ME TO SHAPE HIM….
UNION WITH MY WILL IS THE GREATEST ACT THAT A MAN CAN OFFER ME, AND I GIVE HIM WHAT I HAVE.
Happy the one who refuses the world and welcomes My Call with love and faith, he knows I do not forsake those who are Mine. But the one who serves Me today and not tomorrow is like the sea that comes and goes; but the one who loves My Will is like the sun: he is always shinning and giving light.
BELOVED, THE INSTANT DESERVES RECOGNITION FROM ALL THOSE WHO ARE MINE, THE URGENCY FOR CHANGE AND THE CERTAINTY OF WHAT IS COMING.
This generation does not comply with My Calls, it sees them and its gaze is darkened before the ignorance of My Love. Man loves at his convenience, this is a false love; the one who does not love is not free.
My beloved:
MY WILL IS THAT YOU ARRIVE TO THE KNOWLEDGE OF THE TRUTH AND REMAIN IN FAITH.
THIS GENERATION WILL NOT PASS WITHOUT MY WORD BEING FULFILLED, I WILL COME FOR MY PEOPLE; WITHOUT REST I SEARCH FOR YOU… AND YOU REFUSE TO TRUST IN MY CALLS.
Beloved:
Pray for Brazil, it will suffer.
Pray for Mexico, it will suffer.
Pray for Hungary, it will suffer.
My People will drink of the bitter cup, in the face of the aberrations committed against Me.
The water will not cease to cause man problems, unexpectedly. The climate will be a constant unknown for you that you will not be able to be sure of how it will remain.
My beloved, the offenses to My House return to humanity causing those who are Mine pain. A cosmic event will keep humanity in distress.
My children, My Words are fulfilled in My loving oblation for all. It will not be an unexpected event that reaches you, but the reality of what I have announced to you. You remain under My Will, and time, which is not time but an instant, falls like sand, without you being able to stop it.
My People know of My Truth and know My accurate Word: "Heaven and earth will pass away, but My
Words will not pass away."[1]
MY CHILDREN CONTEMPLATE MY GLORY…
MY CHILDREN ANNOUNCE MY COMING…
MY CHILDREN TRUST IN ME…
MY CHILDREN DO NOT FEAR…
MY CHILDREN KNOW THAT MY LOVE DOES NOT FAIL…
MY CHILDREN KNOW THAT I WILL PROTECT THEM, that is why they do not falter, no matter how strong the winds are, all will pass away, but My Word will not pass away and My People will remain in My Love.
I AM THE ALPHA AND THE OMEGA.
THE WORK OF MY HANDS IS MY GLORY.
I love you.
Your Jesus.
HAIL MARY MOST PURE, CONCEIVED WITHOUT SIN.
HAIL MARY MOST PURE, CONCEIVED WITHOUT SIN.
HAIL MARY MOST PURE, CONCEIVED WITHOUT SIN.