Tuesday, July 2, 2013
Message from the Blessed Virgin Mary
To Her Beloved Daughter Luz De María.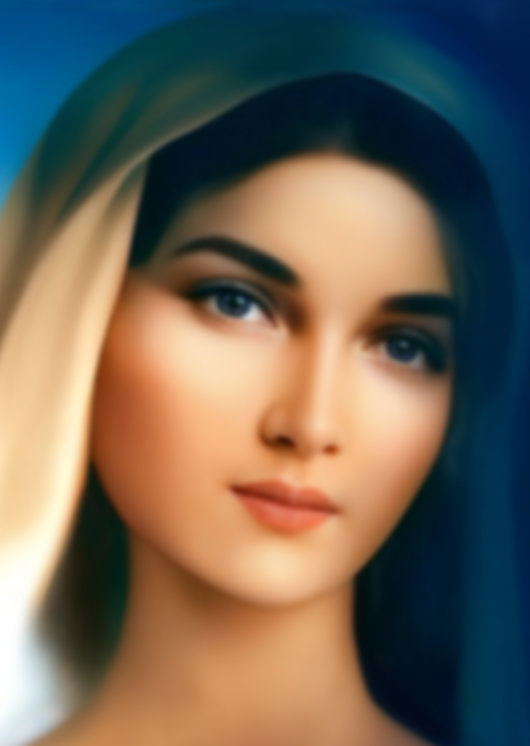 Beloved children of My Immaculate Heart:
CHILDREN, I CALL YOU TO REMAIN WILLING TO BE CLAY IN THE HANDS OF MY DIVINE SON…
TRUE CHRISTIANS ARE THOSE WHO ALLOW THEMSELVES TO BE MOLDED AT WILL BY MY SON.
In these instants, in which human will prevails, sin prevails, to the point that man will act against himself and then will forget he was created by God and will become an enemy of God and of himself, his conscience will be seized by the forces of evil that will lead him to see any wrongdoing as natural.
MY PRIESTS SONS MUST CALL MY SON'S PEOPLE TO REMAIN ALERT BEFORE THE EXISTENCE OF EVIL that uses its strength directly attacking the human being and grafting works on man's conscience and heart that directly assault the Gift of Life and respect to his /her gender and identity.
My beloved:
DO NOT LOSE FAITH, IF YOU REPENT FROM HAVING WALKED IN EVIL… MY SON'S ARMS REMAIN OPEN TO RECEIVE YOU.
Those who do not recognize evil will be like bread without yeast: they will not grow and will remain with a heart of stone.
Beloved, the battle for souls never ends, as the instant passes, it will be more bloody before man's refusal of good; they will enthrone the antichrist and he will freely overrun humanity with the slogan of evil: Division.
REMAIN ATTENTIVE, THE ANTICHRIST COMES FOR HIS PLUNDER.
DO NOT BELIEVE THAT EVIL DOES NOT EXIST; IT DOES EXIST, LIKE THE ETERNAL FIRE, WHERE THE SOULS WHO HAVE CHOSEN THEIR PATH INCORRECTLY REMAIN.
The Vatican will be hit and the evil committed and the good it has ceased to do will be known, but the Church must not lose Faith, continue forward.
Humanity has contaminated childhood, and this is a great sin for which they must expiate, since they have distorted the values and the human will at a tender age, causing the tender tree to grow twisted.
Society's debauchery has immobilized the conscience. Innocence has been lost because of the debauchery in which man lives.
Television negatively influences the mind of all, and especially that of children; these being bearers of mistaken thoughts, they act outside of all correction.
My beloved:
Pray for Brazil, it will weep greatly.
Pray for Jamaica, it will be tested.
My beloved, pray for the Church.
I WELCOME ALL WHO CONFESS BEFORE ME THAT MY SON IS GOD.
CHILDREN, DO NOT FEAR TO LOVE MY SON, HE WILL NOT GIVE YOU A STONE INSTEAD OF BREAD. MY DIVINE SON HAS GIVEN HIMSELF FOR EACH SOUL AND REMAINS ATTENTIVE TO EACH ONE OF YOU WITHOUT EXCLUDING ANYONE.
Be the glory of My Son. Continue to give testimony of living in the world but not in what is worldly.
Beloved children, the shortage of food advances without stopping before the constant scourges of nature; nature advances with all its elements.
DO NOT FEAR, PRAY, GIVE YOURSELVES TO MY SON AND PRAY THE HOLY ROSARY.
WITH EACH HAIL MARY PRONOUNCED WITH DEVOTION, THE DEVIL IS DRIVEN AWAY.
The paths of humanity manifest themselves contrary to My Son's Will. Be, My beloved, those who are prudent, kind and simple of heart, those who speak with Truth and know what is going to happen and prepare in spirit to conquer.
I REMAIN HERE, I, YOUR MOTHER, WAIT FOR YOU.
WHAT I KEPT IN MY HEART I WILL MAKE KNOWN TO THIS GENERATION.
The humble one attains the glory of God. The humble one grows in holiness.
My beloved, I remain at the side of each one of you, I will not leave you from My Hands. Be strong, do not be weakened by scandals, My Divine Son is much more than what you expect: He is Majesty, Glory, Power and at the same time Mercy and Justice.
THESE ARE DIFFICULT INSTANTS IN WHICH FAITH WILL BE TESTED, BUT THE ONE WHO GIVES ME HIS OR HER HAND I WILL GUIDE SO THAT HE OR SHE DOES NOT GO ASTRAY.
My Son does not abandon His People, He will send someone to guide you with equity and justice, he will make the Sun rise over the Holy Remant and will give you the strength of those who remain adhered to My Divine Son.
I bless the one who reads this call. Children I love you.
Mother Mary.
HAIL MARY MOST PURE, CONCEIVED WITHOUT SIN.
HAIL MARY MOST PURE, CONCEIVED WITHOUT SIN.
HAIL MARY MOST PURE, CONCEIVED WITHOUT SIN.